Sourdough Discard Loaf with Cornmeal, Cheddar, and Jalapeno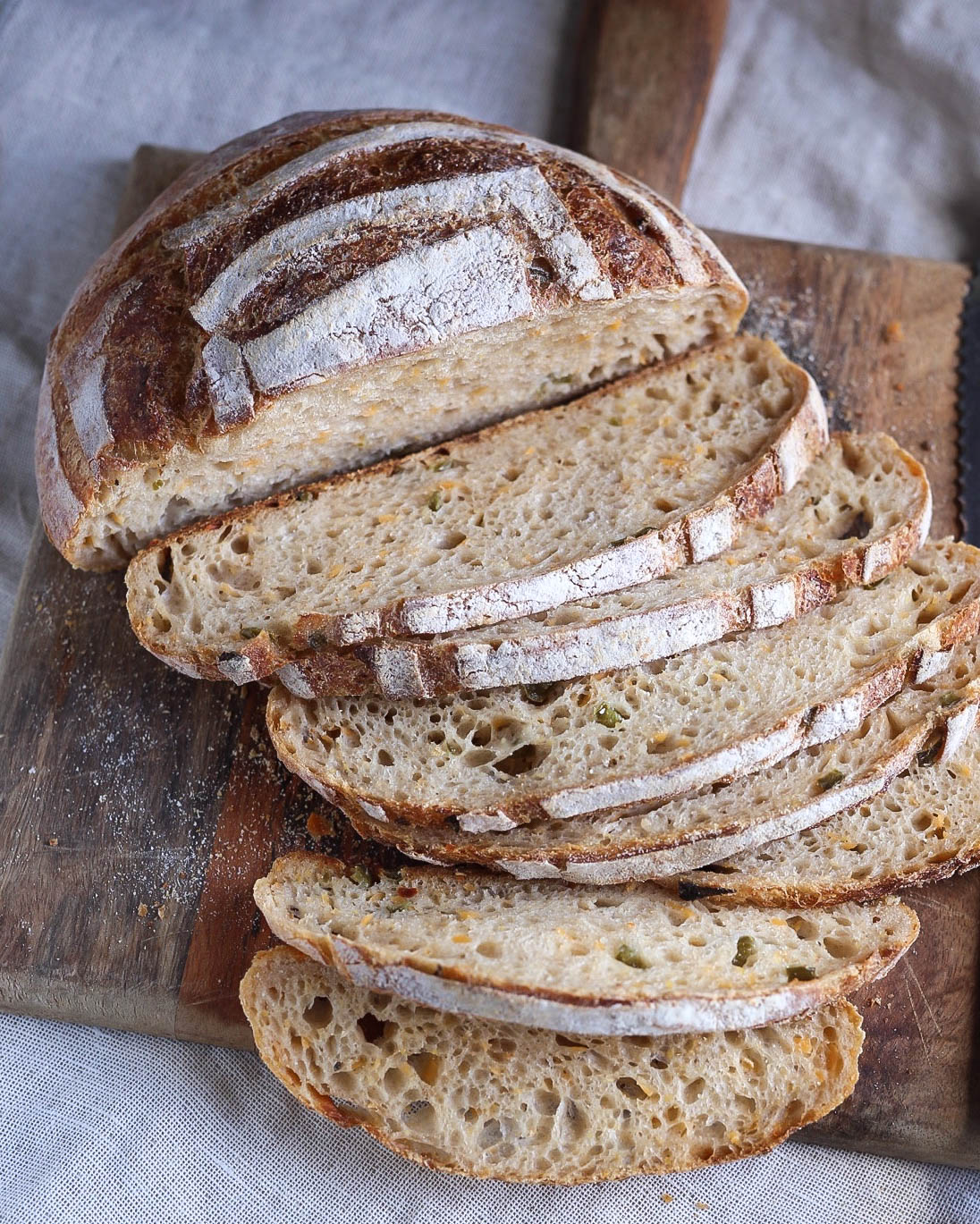 Decades ago, I spent a summer working at bread bakery in my hometown of Austin, Texas. Among the breads they offered was a "corn bread"–not, mind you, a baking powder-leavened quick bread, but a yeasted loaf made with cornmeal. The memory of that bread got me thinking about whether it would be possible to incorporate some cornbread elements into my beloved sourdough. I decided to experiment. The goal: a sourdough discard loaf with cornmeal, cheddar, jalapeno. Although the recipe is still something of a work in progress (more on that below), I really can't complain about the results.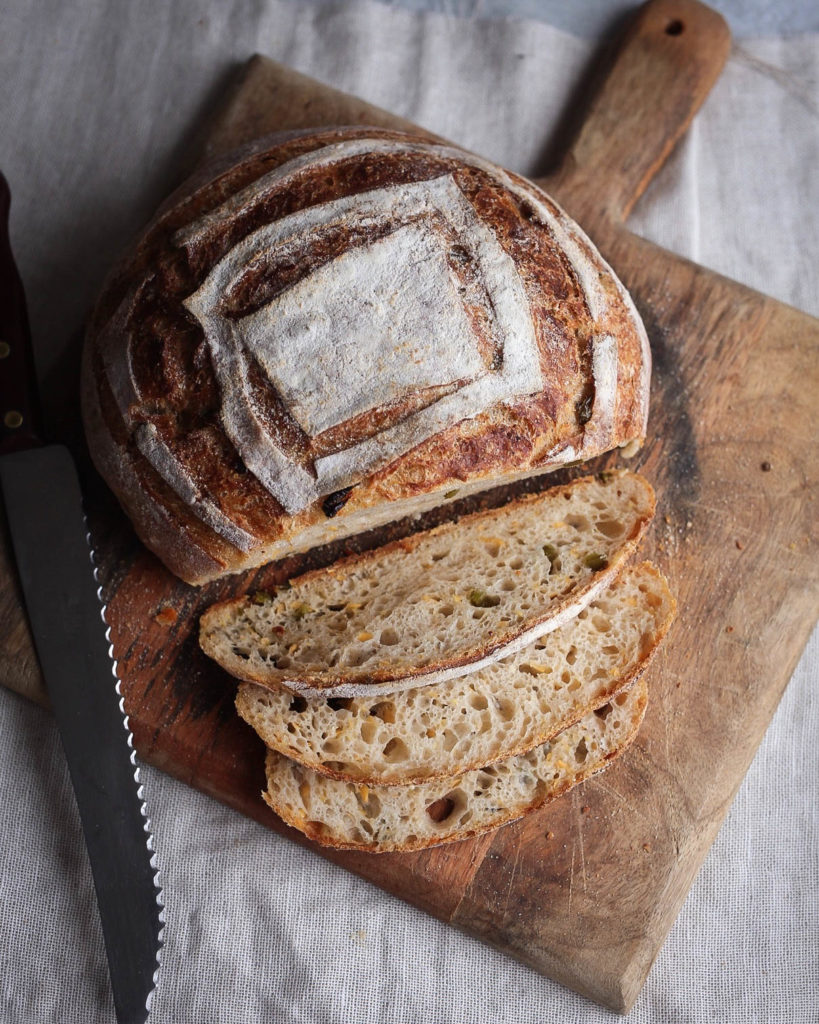 Normally, I will test a recipe several times before sharing it with you here. But given the huge surge of interest in my recipe for a Country Loaf with Discard Sourdough Starter, and the tastiness of my initial attempt at this variation, I thought it was worth sharing the recipe now.
A few notes: This bread is leavened exclusively with discard starter. More details about the origins of the basic recipe and the quirks of using sourdough discard as your sole leavening agent can be found in the "Country Loaf with Discard Sourdough Starter" post linked above. I did make some changes to the basic recipe here. One of my biggest concerns was how the additions, especially the cornmeal, might hinder gluten development. With that in mind, I tried to promote some extensibility by doing a true autolyse before adding the starter. In addition, because cornmeal grains are kind of sharp/jagged (for lack of a better description), I decided not to include cornmeal in the initial flour mix, but instead cook it into a porridge, which was then added via lamination, along with the jalapeno and cheddar, before transfer to the bulk rise container.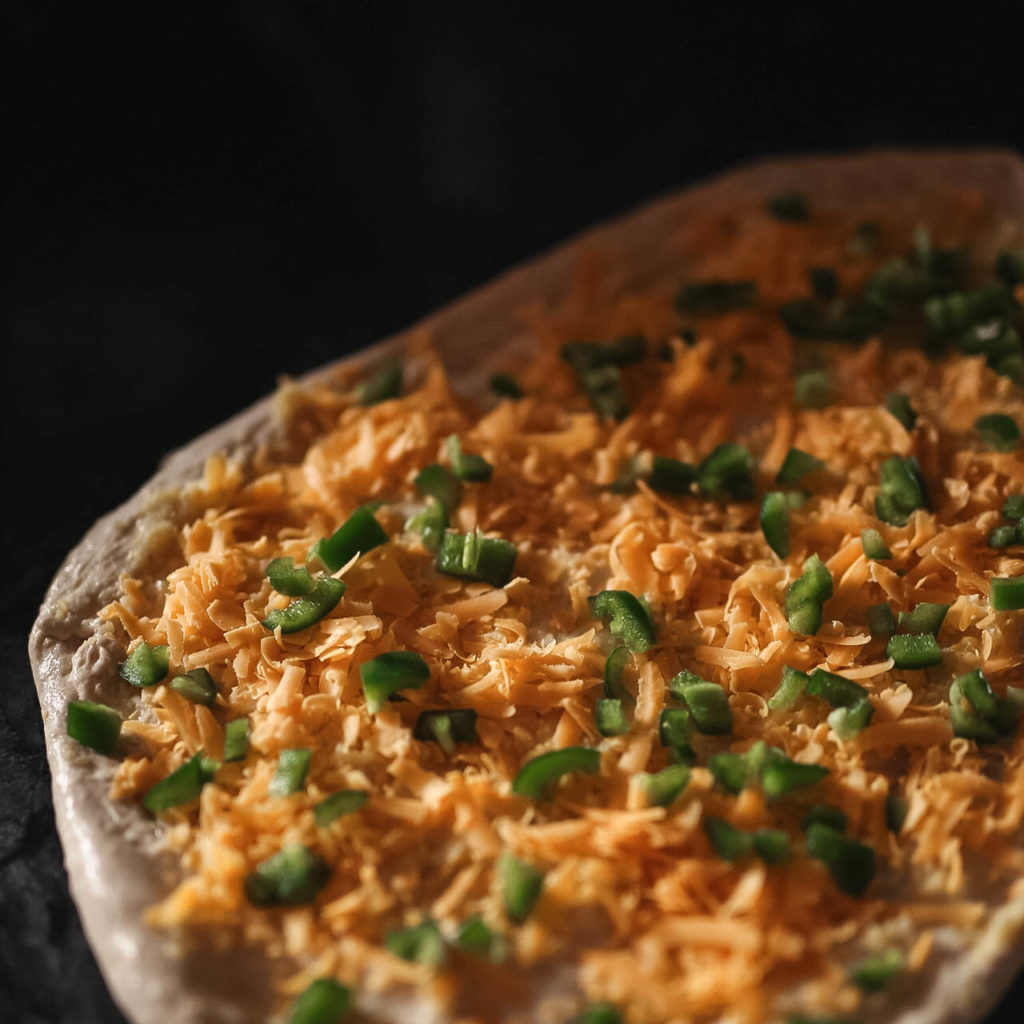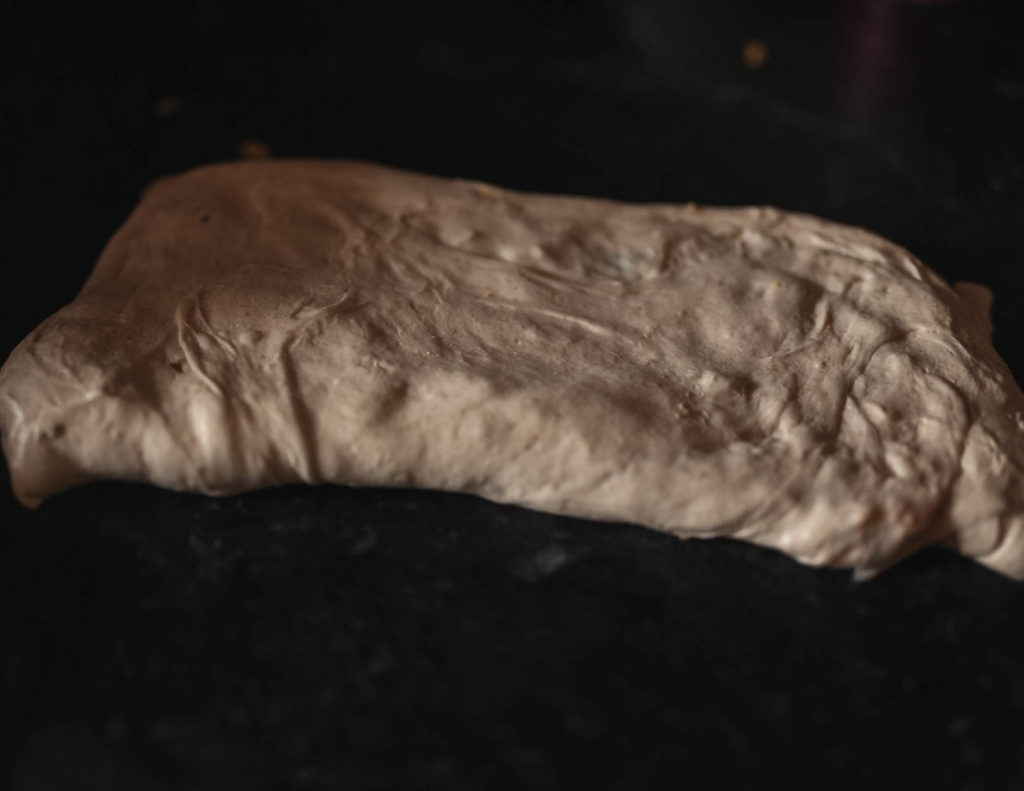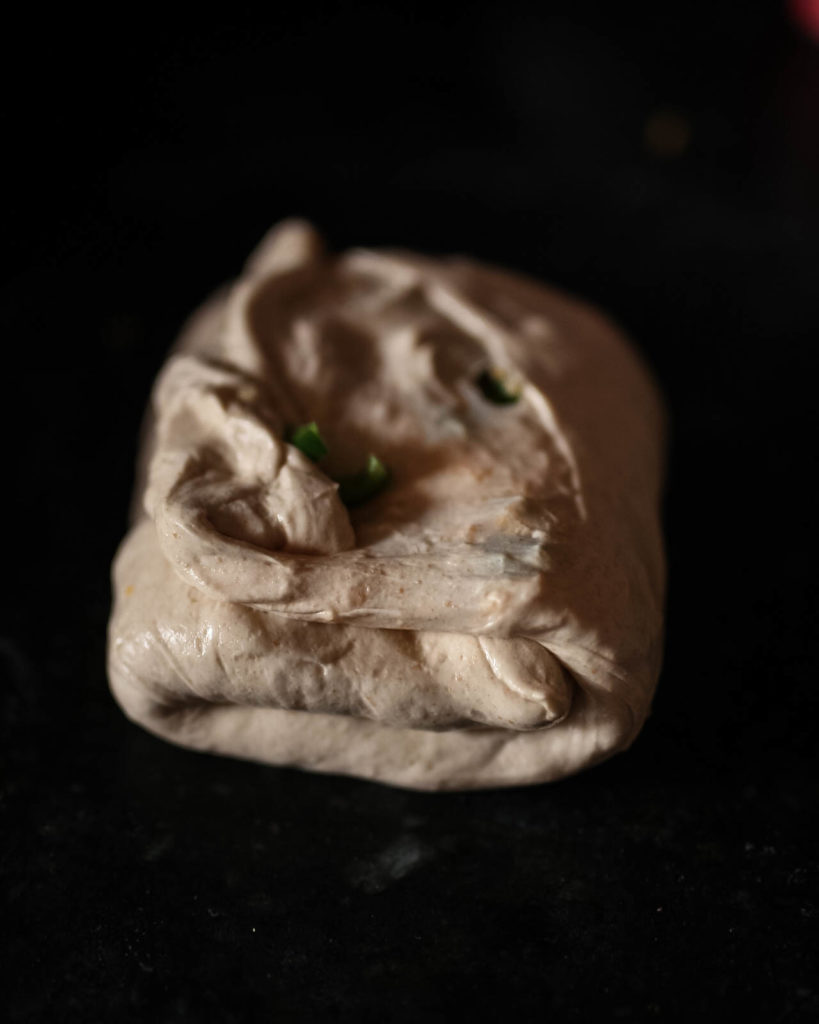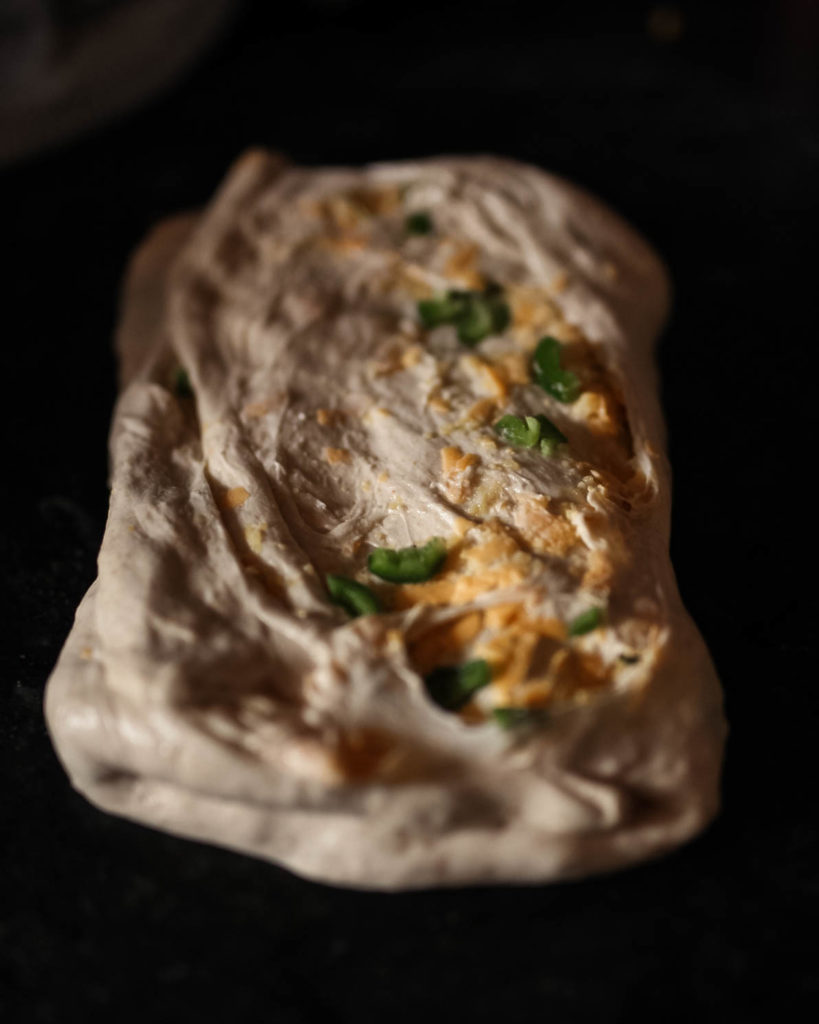 I was also a bit concerned about the jalapeno and/or cheese scorching, so I baked the bread at a slightly lower temperature–20 minutes covered at 475 F, followed by 25 minutes uncovered at 425 F. Finally, in the past, I would use fridge-cold water to mix the dough for a discard starter loaf, in order to slow down the bulk fermentation while I was away from home at work during the day. Since I'm teleworking full-time now, that consideration has dropped out, and I used room temperature water here.
Ultimately, I ended up with a crust that was somewhat lighter and softer than usual, and the loaf was an absolute dream to slice. Also, the smell as it was baking was delightful. I've enjoyed it with salted butter, in some seriously delicious avocado toast, and as a perfect accompaniment to black bean soup.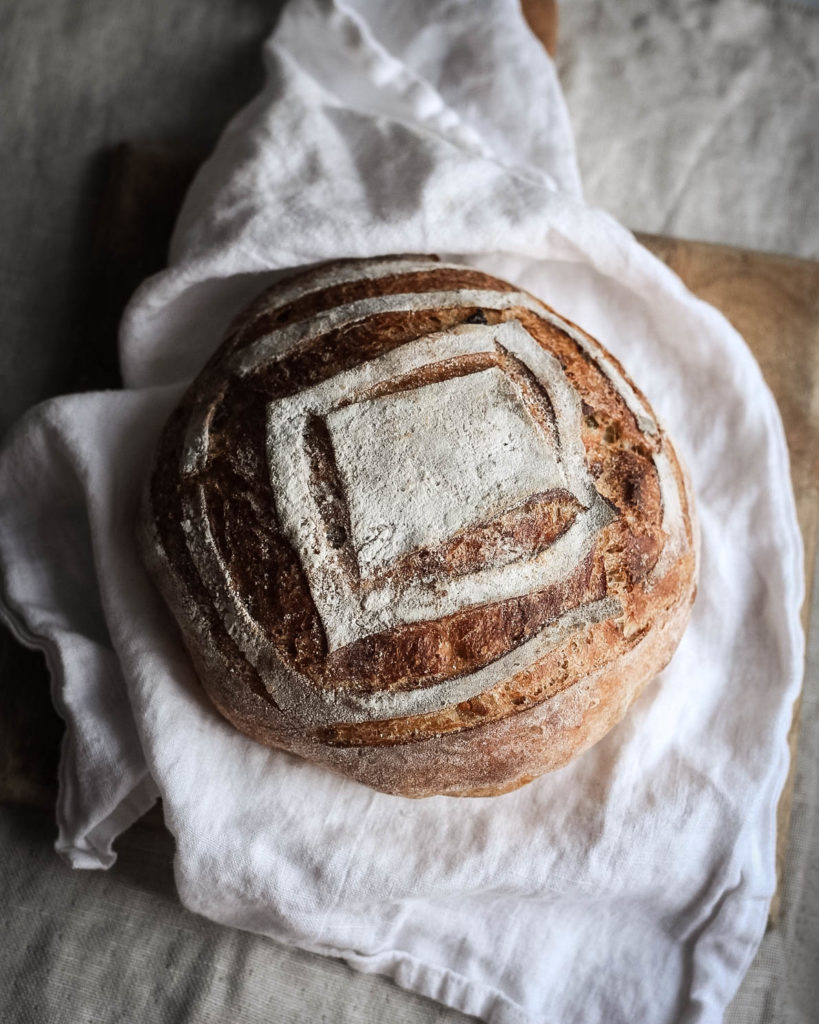 So what are my caveats? I think the hydration level of my dough ended up being crazy high–maybe even 90%. With the water in the autolyse and the additional water added with the discard starter and salt, I was already up to 80% hydration. But then I added the cornmeal porridge (and cheddar and jalapeno), which I estimate probably increased the hydration by at least 8-10%. Because of this, and because I think I had a bit of an overproofing situation, I ended up with an extremely soft and puffy dough, which was basically impossible to shape as normal. I did the best I could to gently nudge it into a boule. Surprisingly, however, it scored easily when removed from the fridge the next day, and the resulting bread was great.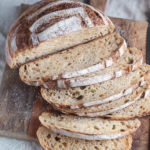 Sourdough Discard Loaf with Cornmeal, Cheddar, and Jalapeno
A discard-starter-leavened loaf with southwestern flavors.
Ingredients
For the bread:
230-240

g

spring water or bottled water

at room temperature; divided (see recipe and notes)

270

g

bread flour

30

g

whole wheat flour

30

g

discard sourdough starter

6

g

table salt or fine sea salt

65-75

g

cornmeal porridge

(see recipe below)

1

medium jalapeno pepper

seeded and finely chopped

56

g

extra sharp cheddar

shredded
For the cornmeal porridge:
1/4

cup

yellow cornmeal

(I used medium grind)

1/4

cup

boiling water

1

cup

water

dash

salt
Instructions
In a large, wide mixing bowl, combine 210 g spring water and the bread flour and whole wheat flour. Mix until no dry bits of flour remain, and then set aside for 1 to 2 hours. (This is the "autolyse.")

Meanwhile, make the cornmeal porridge: In a small bowl, combine the cornmeal with 1/4 cup boiling water, and allow it to sit for 10 minutes to soften. In a small saucepan, combined the softened cornmeal mixture, 1 cup water, and a dash salt, and bring to a boil, then reduce the heat, and simmer, stirring constantly, until a thick porridge forms. Remove the pan from the heat and transfer the cornmeal porridge to a small bowl to cool.

Add the discard starter and 10 to 15 g spring water to the autolysed flour, working it in with your hands and/or a bowl scraper until thoroughy incorporated. Cover lightly and allow to rest for 30 minutes.

Add the 6 grams of salt and an additional 10 to 15 g spring water to the dough, again working it in until incorporated. Cover lightly and allow to rest for 20 minutes.

Lamination: Turn the dough out onto the counter and stretch it into a large rectangle. Distribute 65-75 grams cornmeal porridge evenly over the dough, spreading it gently. Sprinkle the chopped jalapeno and shredded cheese on top of the cornmeal porridge, pressing down slightly to help the mix-ins adhere. Now, fold the dough in thirds like a business letter. Rotate the resulting rectangle 90 degrees, and gently press and stretch it into a slightly larger rectangle. Do another buisness letter fold. Again, slightly flatten and stretch the resulting rectangle and fold it in thirds one more time. Transfer this little package of dough to a bulk rise container, cover it, and allow it to rest for 30 minutes.

Strech-and-folds: After 30 minutes, perform your first stretch-and-fold. Repeat at 30 minute intervals 3-4 more times (for 4-5 total stretch-and-folds). Then allow the dough to rise undisturbed until it has increased by 50-60% in volume. (This could take anywhere from 6-12 hours.)

Shape the loaf: When the dough has sufficiently risen in the bulk rise container, gently tip it onto your work surface and do a gentle preshape. Dust with flour, cover with a light tea towel, and allow to rest for 15-20 minutes. Now shape the dough as desired (boule, batard, whatever), transfer it to a well-floured banneton, cover, and place in the refrigerator overnight (preferably 12+ hours).

Place a cast iron dutch oven or similar bread-baking vessel in the oven and preheat the oven to 475 f.

Flour the top of the dough, and gently turn the loaf out onto a piece of parchment. Score as desired. Remove the preheated vessel from the oven, carefully place the dough inside, replace the cover, and bake covered for 20 minutes. Remove the cover from the dutch oven, reduce the oven temperature to 425 F, and continue baking for another 25 minutes, until the crust is golden brown.

Remove from the oven and allow to cool fully before slicing.
Recipe Notes
– I've specified spring water/bottled water for the bread in the recipe above because, where I live, the tap water is heavily chlorinated, which will kill the wild yeast in my starter. But you may be able to use tap water in your community.
-You'll note that I've given ranges of quantities for some ingredients–specifically, water and the cornmeal porridge. When I made this bread, I used the amounts on the high end of these ranges, and my dough was extremely soft and puffy, which made it quite tricky to shape, though the resulting bread was lovely. For slightly easier handling, use the smaller amounts of spring water and cornmeal porridge.
-Because I was concerned about the additions hindering gluten development, I used bread flour here, but I think unbleached all-purpose flour would also work (at least King Arthur brand)
-For other relevant thoughts, see my original Country Loaf with Discard Sourdough Starter post.
---
---