Small Batch Banana Sweet Rolls with Nutella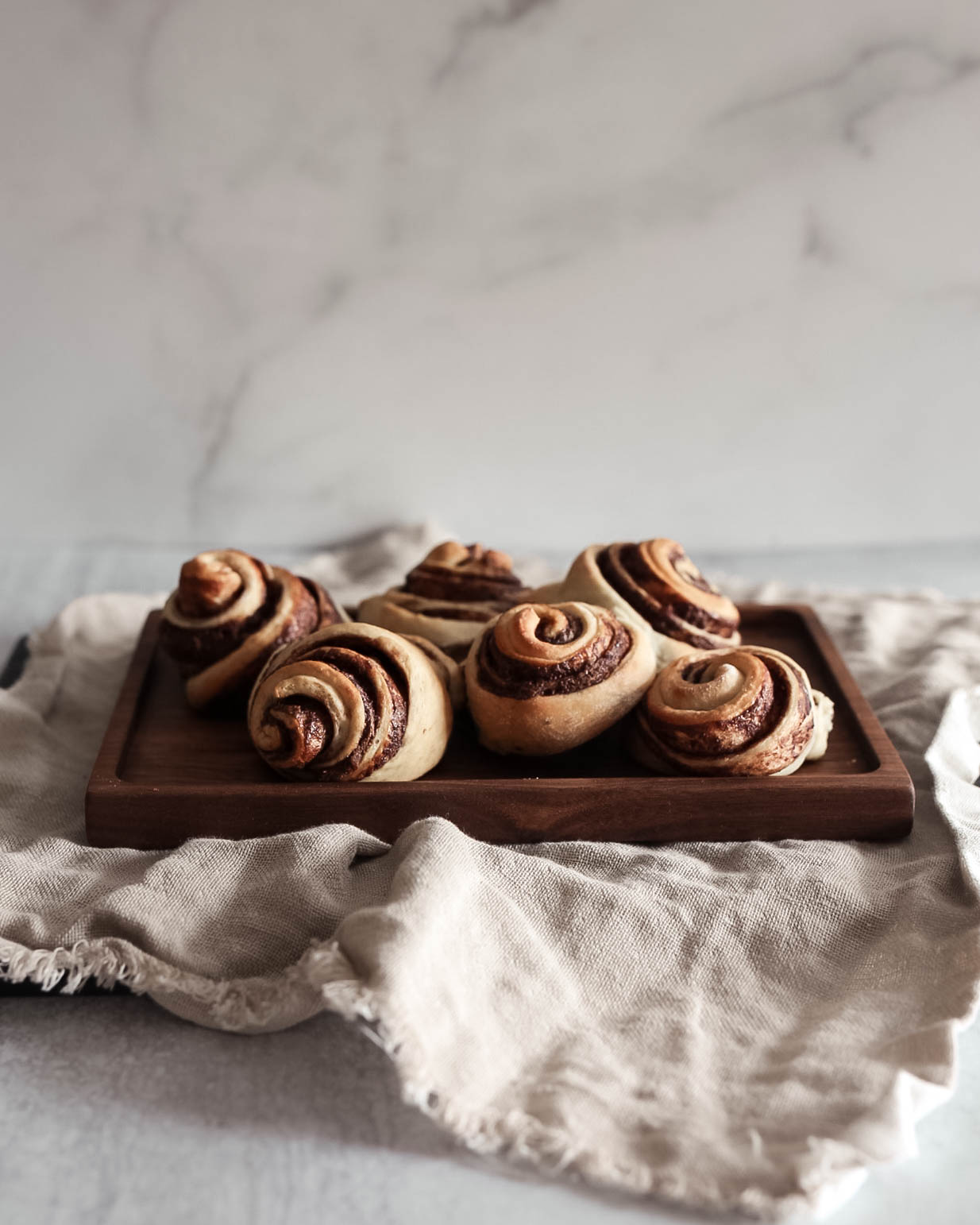 Give me a yeast bread over a quick bread any day. These rolls were created on a whim when I was looking for a new way to use up some of the overripe bananas that seem to inevitably accumulate on my counter. Google led me to a King Arthur Baking Company recipe for "Yeasted Banana Sandwich Bread," but, me being me, I decided to make things make things unnecessarily complicated. In this case, I transformed the dough into individual sweet rolls swirled with chocolate hazelnut spread.
Even my first batch was delicious, but it took a few (okay, about ten) tries to get the recipe to a point that I felt it was ready to share. The addition of banana appears to inhibit gluten formation, and this, combined with the fact that the King Arthur recipe is fairly high hydration, produced a very soft dough. Fine for sandwich bread, but a pain to try to turn into swirly sweet rolls. Ultimately, I modified the recipe by reducing the milk slightly and increasing the butter. I also changed the proofing schedule, allowing the dough an initial rise in the fridge overnight, and then a final proof the next morning after the rolls are shaped.
These rolls are just barely sweet, with subtle banana flavor, which is exactly what I want for breakfast!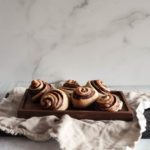 Small Batch Banana Sweet Rolls with Nutella
The dough for this recipe is adapted from King Arthur Baking Company.
Ingredients
Dough:
1/3

cup (80 g)

whole milk,

lukewarm

200

g

bread flour

(see notes below)

20

g (1.5 tbsp)

unsalted butter,

at room temperature

1 1/8

tsp

instant yeast

22

g (1 tbsp)

honey

75

g

ripe banana,

lightly mashed
Filling:
4

tbsp*

chocolate hazelnut spread (such as Nutella)

*approximate – see notes below
Instructions
Add all dough ingredients in the bowl of a stand mixer fitted with a dough hook. Use a silicone spatula or wooden spoon to roughly combine, and then turn the mixer on low.

Knead on low speed for 7-10 minutes, or until dough is smooth and stretch and passes the windowpane test.

Transfer the dough to a medium bowl that has been lightly coated with vegetable oil. Cover with plastic wrap and refrigerate overnight, or for at least 6 hours. (The dough will rise in the fridge.)

In the morning, remove the dough from the refrigerator and transfer it to a lightly floured work surface. Roll the dough out into a large-ish rectangle. (Mine was about 10 inches by 12 inches).

Spread a thin layer of chocolate hazelnut spread over the middle third of the dough rectangle. Fold the right third of the rectangle over the chocolate-coated middle third, like a business letter, and spread another thin layer of chocolate hazelnut spread on top. Fold the left third of the dough rectangle over this second chocolate layer, completing the "business letter fold."

Rotate the resulting long, thin rectangle 90 degrees, so that the longer side is facing you. Roll it out into a larger rectangle, about 6 inches in width.

Use a pizza cutter, bench scraper, or sharp knife to cut the rectangle into 4 long strips. Then cut each strip in half, to create 8 shorter strips.

Line a baking sheet or baking pan with parchment paper.

Roll each of the strips, cut side up, into a swirly roll, and transfer to the baking sheet. (I arranged them in a snake-like pattern, but go with whatever you fancy!) Cover with plastic wrap (I coat it with a bit of nonstick spray), and allow to rise at room temperature for about 45 minutes, until puffy.

Meanwhile, preheat the oven to 350 F.

Bake the rolls for 20-25 minutes, or until the tops are lightly brown and the interior is 195-200 F on an instant read thermometer.

Allow to cool slightly, and enjoy!
Recipe Notes
You may ask: Can I use all-purpose flour instead of bread flour? In this recipe, no. (Unless you have some vital wheat gluten to add to the mix.) Because of the banana, you need the higher gluten content of bread flour to make the dough manageable.
The chocolate hazelnut spread amount is approximate–you really do want to spread very thin layers. Feel free to use less or more as necessary.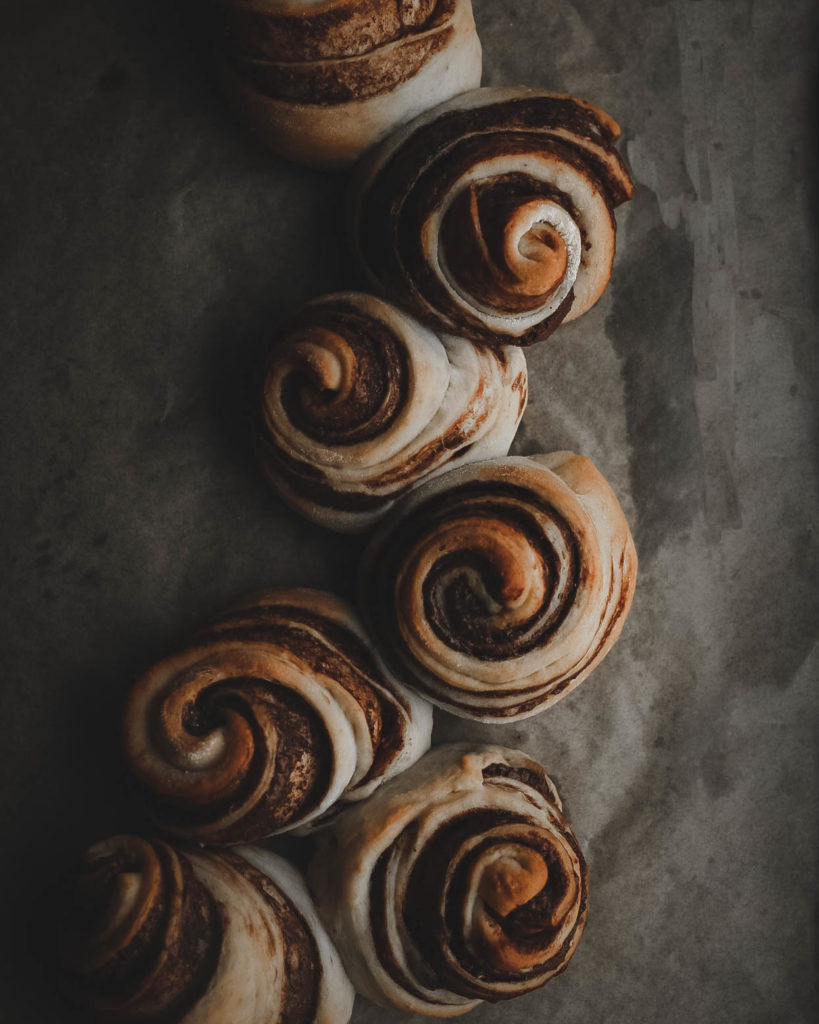 ---
---