Low Effort, High Reward Cooking, and a Savory Biscuit Template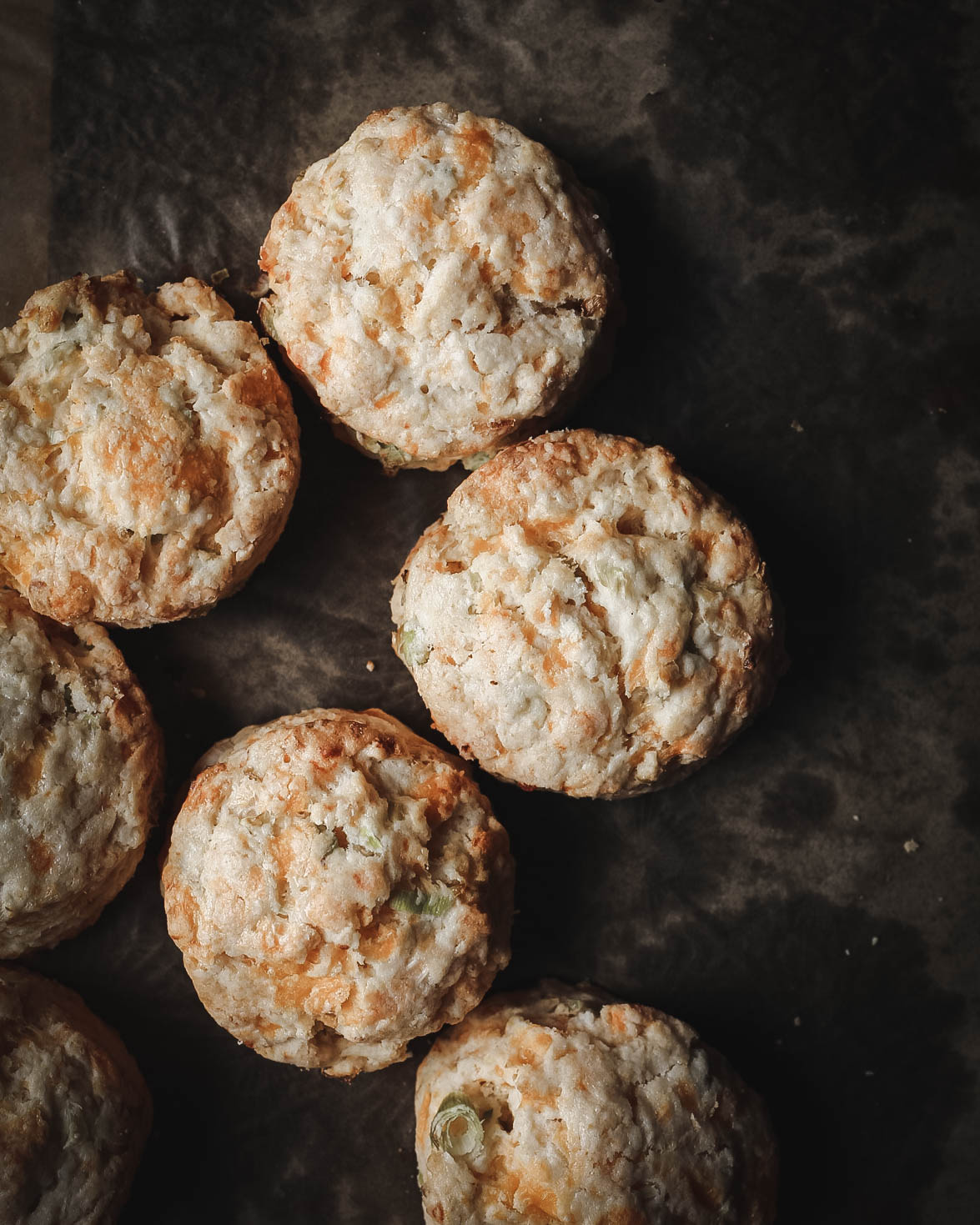 People often assume that I cook as much as I bake. In fact, there's an inverse relationship between my cooking and baking. As I've devoted more and more of my free time to baking, I rarely have had the time or energy to do much cooking at all.
Back when I had to commute to work (i.e., my entire professional life until a few months ago), I could rarely muster energy to do much more than slice some cheese and bread for dinner. When I did cook, I would turn to recipes–often in the "comfort food" genre–that required minimal prep and mess but yielded high levels of deliciousness.
In my new socially isolated, teleworking life, I cook more frequently. The food I cook, however, is much as it was before. I am always in search of low effort, high reward recipes. The holy grail for me is a subset of this genre: the recipe that is greater than the sum of its parts. Although I own dozens of cookbooks, there are a few recipes that I find myself making over and over again.
Deb Perelman, of Smitten Kitchen, is a master of the low effort-high reward genre, and, not surprisingly, many of my standbys come from her blog. My favorites include the Quick Pasta and Chickpeas, One-Pan Farro with Tomatoes, and Mushrooms and Greens with Toast.
Another of my all-stars is David Lebowitz's French Lentil Salad with Goat Cheese and Walnuts, which is way more delicious than a lentil salad has any right to be. My favorite salad ever is probably Nigella Lawson's Watermelon, Feta, and Black Olive masterpiece, which appeared in her cookbook Forever Summer before watermelon+feta became trendy.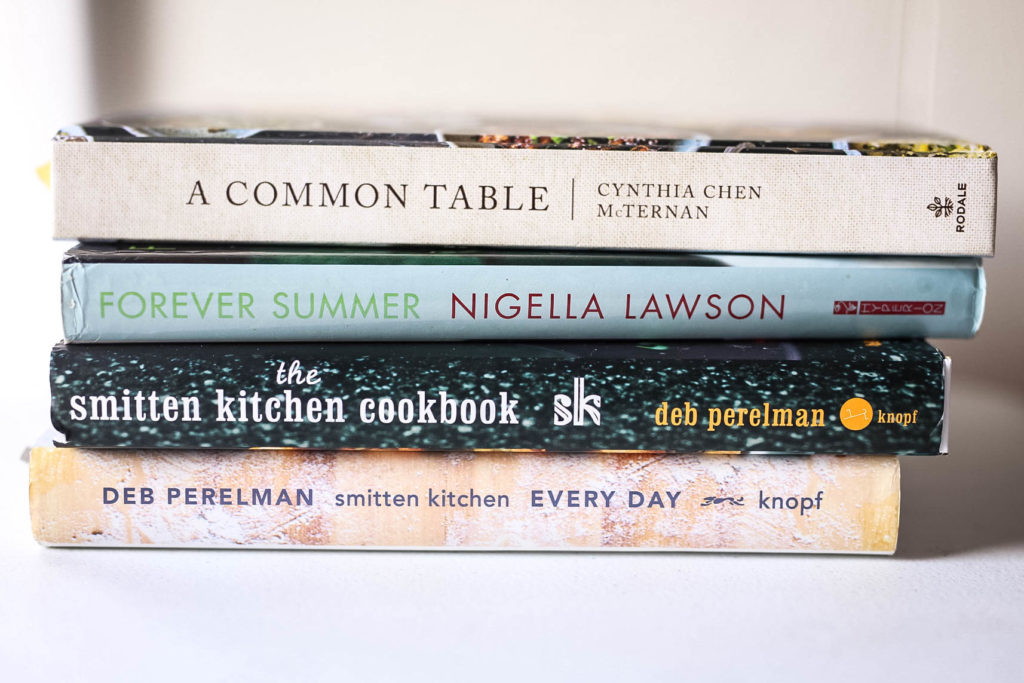 The ultimate greater-than-the-sum-of-its-parts recipe has to be Cynthia Chen McTernan's Ginger-Scallion Chicken and Dumplings, from her cookbook A Common Table. The recipe has only six ingredients and can be made start to finish in a couple of hours, yet tastes bafflingly rich and complex.
Of course, low effort, high reward baking is a thing, too. For breakfast, I recently discovered (or rediscovered) the simple yet magical "Dutch Baby"/oven pancake. Regular pancakes are another simple joy. My current favorites are these sourdough discard pancakes.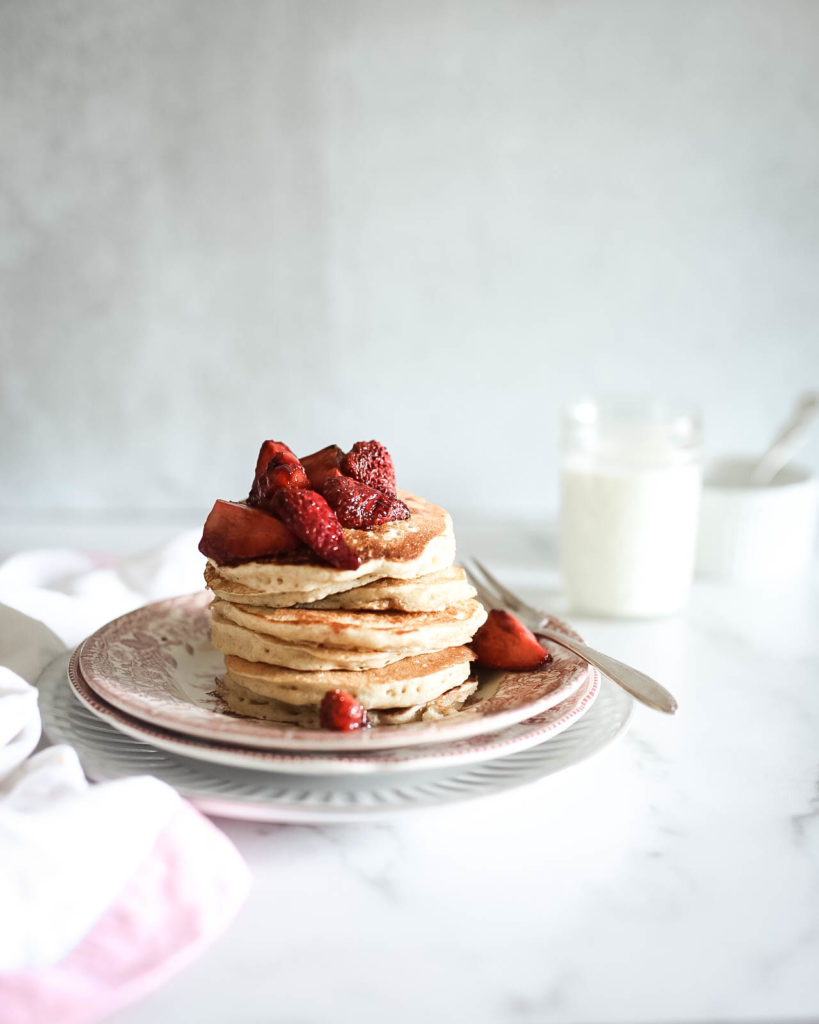 I go through breakfast phases–there have been months-long stretches in which I had to have oatmeal every morning, or repeated egg sandwiches. The last few months, I have been constantly craving savory biscuits (or "scones"). Luckily, biscuits are a classic low-effort, high-reward bake–the dough comes together in minutes, and the baking time is quick as well. For a couple of weeks, I riffed on the Bon Appetit Sour Cream and Onion Biscuits. But lately, I can't get enough of Cynthia Chen McTernan's Cheddar and Scallion Biscuits, as modified based on what I have in the fridge.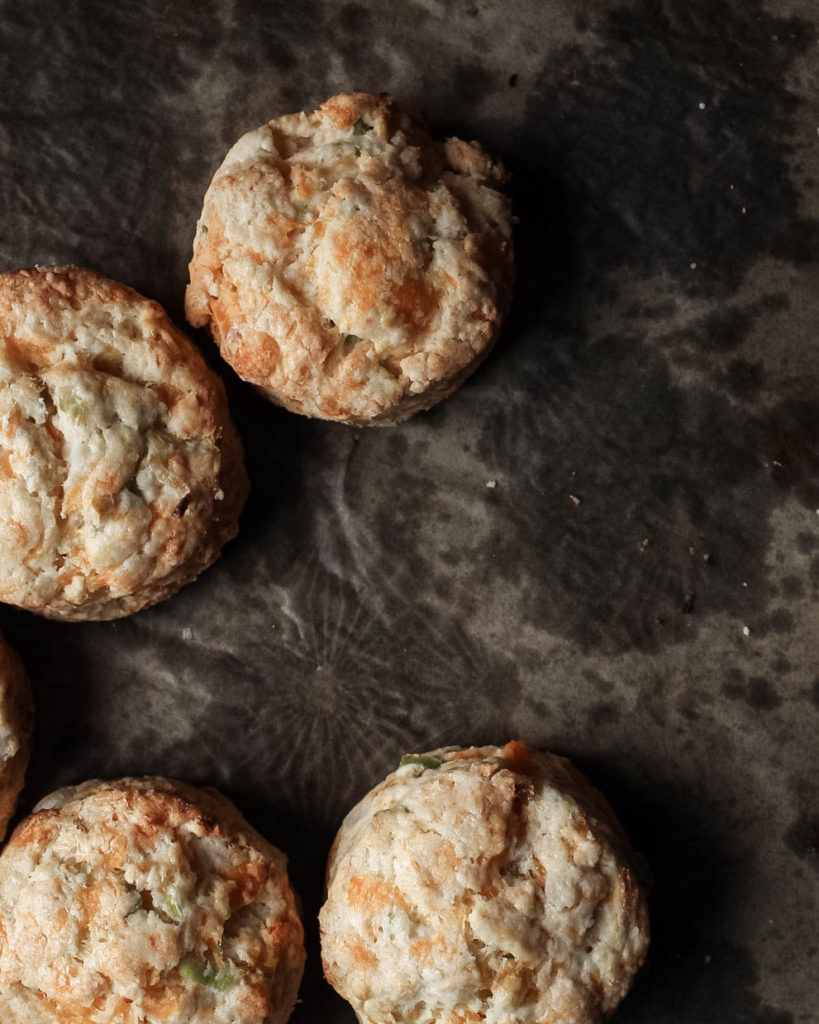 Happily, the recipe is easily adaptable. I've used ramps or garlic scallions instead of onion scallions. I've left out the scallions entirely, used gruyere for the cheese, and added some chopped sage.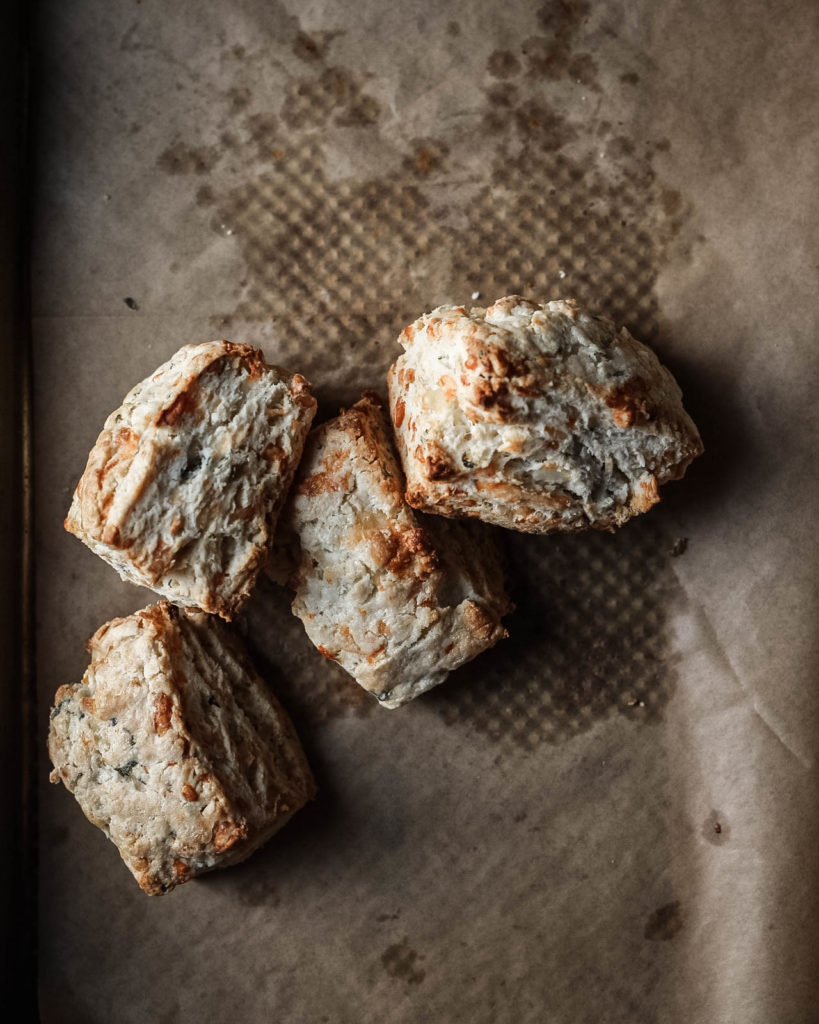 For the liquid, I've sometimes used buttermilk or a mixture of milk and yogurt (as called for in the recipe), but once used some whey leftover from an ill-fated attempt at homemade ricotta, and another time tried a mixture of regular milk and…. discard sourdough starter.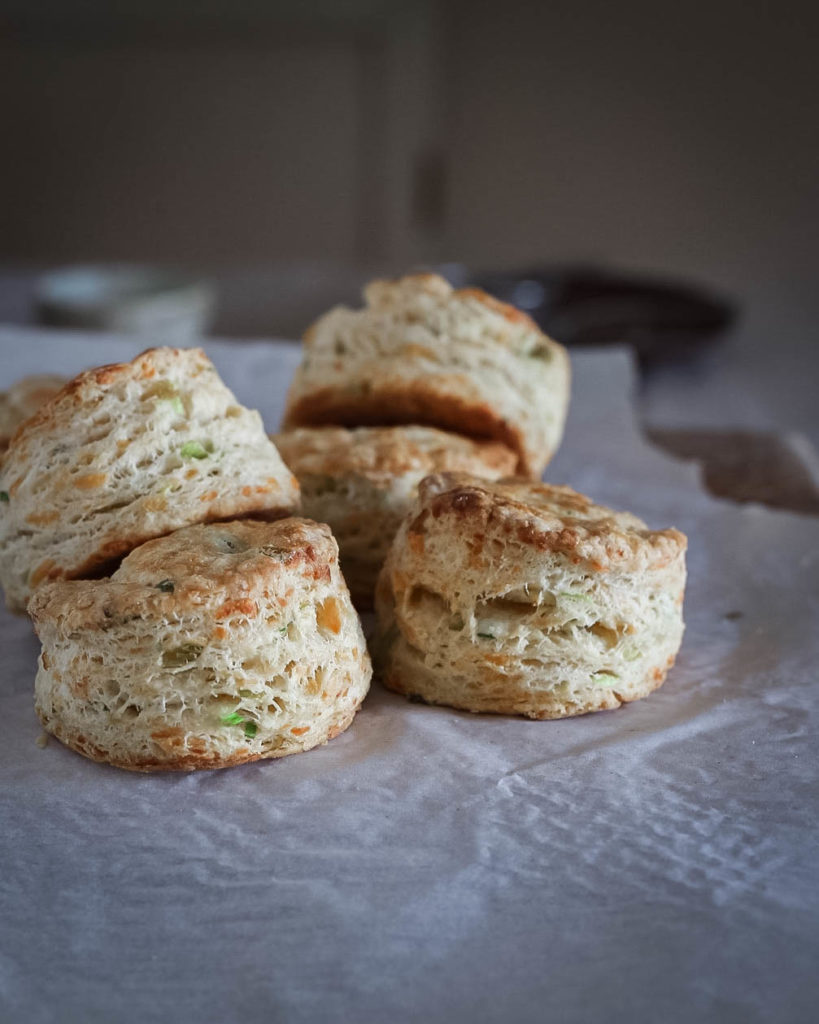 When I have butter in the freezer, I follow McTernan's recipe and grate it in. But if I don't, I'll cut in the butter with a pastry blender, or rub it in with my fingers. I usually cut round biscuits using a biscuit cutter. But sometimes, if I don't feel like re-rolling the dough, I'll do squares or triangles.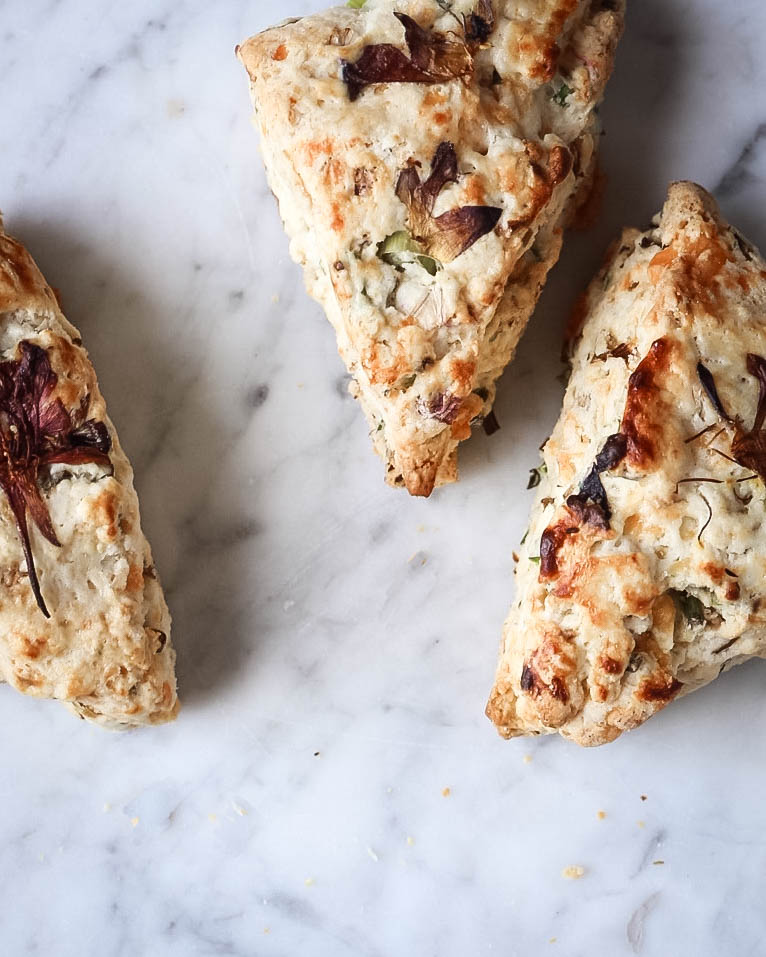 If you're looking for consistency in your biscuits, this choose-your-own adventure approach will disappoint. Some batches will be flakier; some will be cakier. Some will be richer, some will be leaner. You will surely find that you prefer some variations over others. But if you wake up craving fresh, savory biscuits, they will all hit the spot.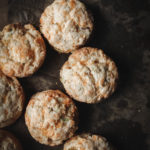 A Savory Biscuit Template
Adapted from A Common Table, by Cynthia Chen McTernan. This is truly a template. I describe three different techniques for making the dough, and list some potential ingredient substitutions in the recipe itself, but feel free to go further. I offer some additional ideas in the notes following the recipe.
Ingredients
6

tbsp

cold, unsalted butter, cut into small chunks

OR – 8 tbsp (1 stick) frozen butter (you won't use all of it)

250

g

all-purpose flour

1

tbsp

baking powder

(preferably aluminum-free)

1/4

tsp

baking soda

1

tsp

salt

110

g (4 oz)

grated sharp cheddar cheese,

or another firm, flavorful cheese such as gouda, gruyere, etc.

1/3

cup

thinly sliced scallions, green garlic (garlic scallions), or ramps

1

cup

cold buttermilk, or a mixture of 1/2 whole milk and 1/2 Greek yogurt or sour cream.

– see notes below
For the top of the biscuits:
egg wash, heavy cream, melted butter or additional buttermilk
Instructions
In a large, wide mixing bowl, whisk together the flour, baking powder, baking soda, and salt.

If you have time, pop the bowl in the freezer for 5 minutes to chill.

Incorporate the butter into the flour mixture using one of the following methods:

If you are using fridge-cold butter, add the butter chunks to the flour mixture, and toss to combine. Then, either (1) cut the butter in using a pastry blender, until the butter is distributed and reduced to pea-sized pieces, OR (2) use your fingers to rub in the butter, flattening and smashing the chunks into thin discs or shards.

If you are using a stick of frozen butter, grate 6 tbsp of the frozen butter over the flour mixture using the large holes of a box grater. Using your fingers or a silicone spatula, gently toss the grated butter with the flour mixture to combine.

If you have time, return the bowl to the freezer for another five minutes while you gather the remaining ingredients.

Add the grated cheese and sliced scallions to the flour-butter mixture, gently tossing to distribute them.

Make a well in the center of the mixture and pour in about 3/4 cup of the cold buttermilk (or alternative). Using a silicone spatula, gently toss together the wet and dry ingredients until a shaggy dough starts to form. Once the liquid is mostly incorporated, use your hands to attempt to incorporate any lingering dry bits of flour, gently kneading the dough together. If the mixture is too dry to hold together, add a bit more buttermilk, no more than a tablespoon at a time–but be cautious. It's okay if the dough still seems a bit shaggy.

Turn the dough out onto a lightly floured surface and gently pat it or roll it into a rectangle about 1/2 inch thick. Using a bench scraper or bowl scraper to help you if necessary, fold the rectangle into thirds, like a business letter. Gently pat or roll the the dough back into a 1/2 inch thick rectangle, do another business letter fold, and pat the down into a 1-inch thick rectangle.

Transfer the rectangle of dough to a parchment-lined baking sheet, and place the sheet in the freezer for 10-15 minutes.

Meanwhile, preheat the oven to 425 F.

Remove the pan from the freezer, and transfer the dough rectangle to the counter or a large cutting board. To make round biscuits, use a 2.5-inch or 3-inch biscuit cutter to cut out as many biscuits as you can, pressing straight down. Pat together the scraps and repeat until you have used up all the dough. To make triangular or square-shaped biscuits, just use a bench scraper or sharp knife to cut the dough into 6 pieces.

Transfer the cut-out biscuits to a fresh parchment-lined baking sheet. Brush the tops with egg wash (made from egg that has been lightly beaten with a splash of water, milk, or cream), melted butter, heavy cream, or additional buttermilk.

Place the baking sheet in the oven and bake the biscuits for about 13-18 minutes, until risen and golden. (The baking time will vary depending on the size of your biscuits, how chilled your dough is, and whether your oven runs hot or cold.)

Remove from the oven, allow to cool on the baking sheet for a minute or two, and devour.
Recipe Notes
As with pie dough, I believe the key to great biscuits and scones is keeping the ingredients cold, cold, cold. Hence, I stick the dough mixture in the freezer periodically throughout the prep. If you want to be even more obsessive, you can chill your bowl in the freezer before starting. However, if you are super impatient to get your biscuits on the table, you can skip the intermittent chilling.
I've listed some possible ingredient variations/substitutions above, but they are not exhaustive:
For the liquid, you're looking for some kind of acidic dairy. Thus, buttermilk or thinned sour cream or yogurt works, but in a pinch you could use sour milk (milk acidified with a bit of lemon juice). I've also successfully used whey leftover from an ill-fated attempt at homemade ricotta. Once, I even used milk mixed with discard sourdough starter.
Instead of scallions or a similar allium, you can add 2-4 tablespoons of chopped herbs like chives, sage, rosemary or dill.
Instead of cheddar or a similar firm cheese, you could use a smaller amount of a salty hard cheese like parmesan or pecorino romano.
At the lamination stage (i.e., when you pat the dough into a rectangle and do the business letter folds), you could try incorporating some caramelized onions or small pieces of roasted pear or apple.
Biscuits freeze well! To freeze them unbaked, place the cut-out biscuits on a parchment lined baking sheet and freeze them, uncovered, on the baking sheet for an hour or so until firm. Then, wrap the individual unbaked frozen biscuits in plastic wrap or foil, place them in a freezer bag for storage. (I'll admit: I often skip the wrapping-in-plastic-wrap.( You can bake the frozen biscuits straight from the freezer–just brush the egg wash or cream onto the frozen biscuits and add a few minutes to the baking time.
You can also freeze the baked biscuits, and reheat in the oven or microwave. (Make sure to freeze them the same day they are baked.)
---
---