"Carrot Cake" Cinnamon Rolls with Maple-Tahini Cream Cheese Icing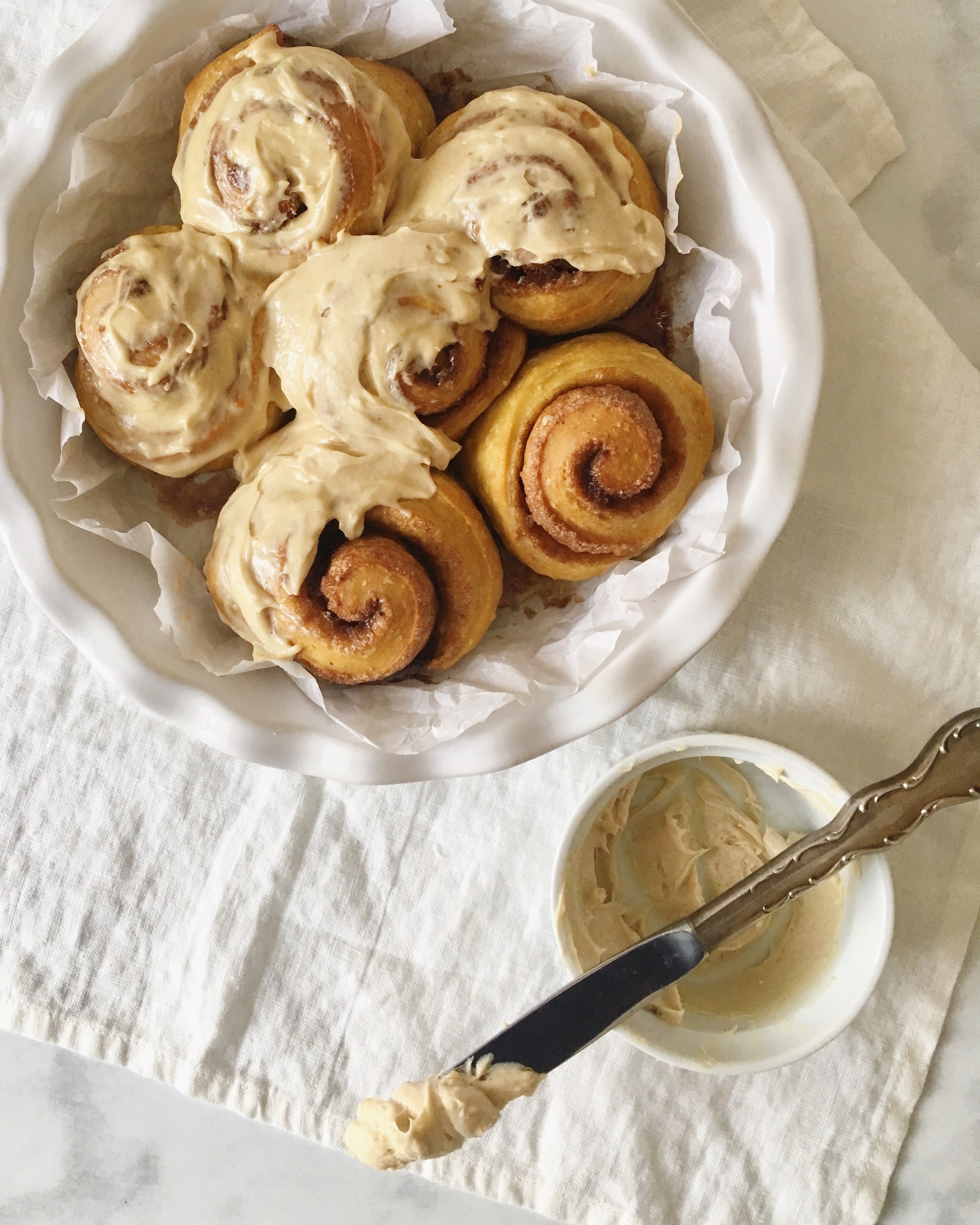 It started when, somewhere on the Internet, I saw a photo captioned "Tahini Cream Cheese Frosting." Those intriguing words immediately made me think of the Smitten Kitchen carrot muffins with tahini glaze. But they also made me think of the Smitten Kitchen carrot cupcakes with maple cream cheese icing. Then the ideas of tahini and maple and cream cheese started to meld in my head, and I could almost taste it. And I knew that the carrot-maple-tahini-cream-cheese combination had to happen.
Given the choice between a muffin and a sweet, yeasted roll, however, I will always, ALWAYS, pick the yeast bread. For the tantalizing carrot-maple-tahini-cream-cheese combination to live up to its fullest potential, I decided that I needed to find some way to incorporate it into a sweet roll.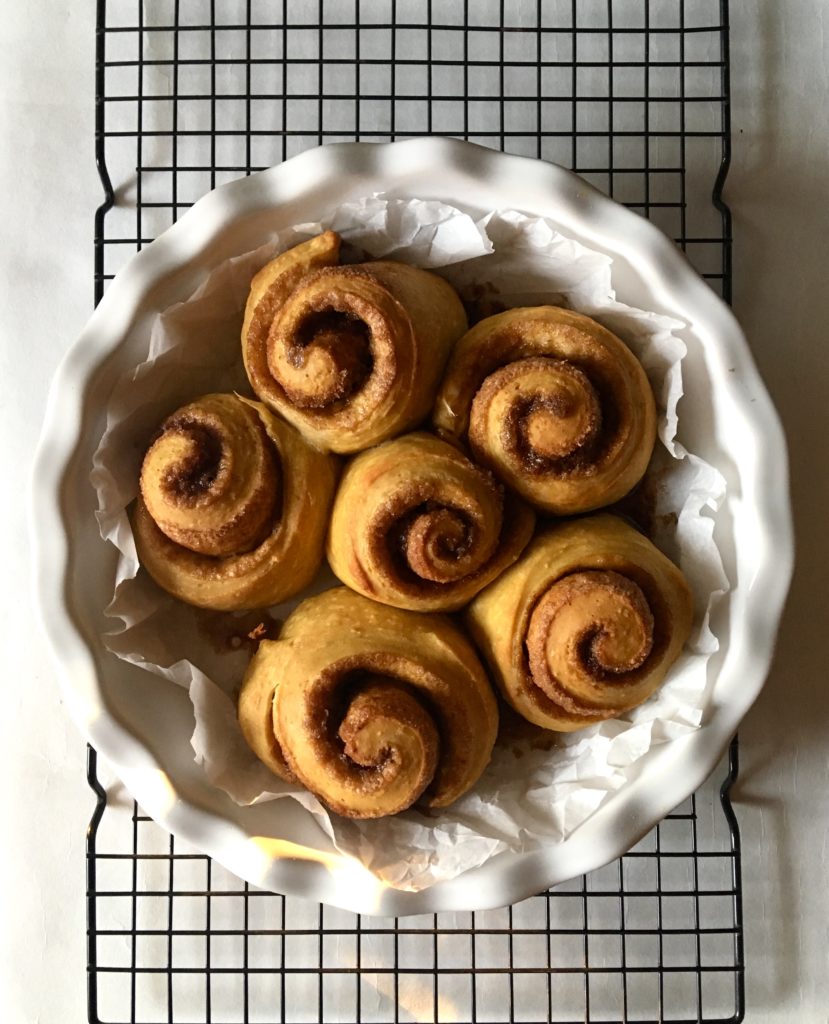 As it happens, there's a Smitten Kitchen recipe for pumpkin cinnamon rolls that I probably could have adapted for this purpose. But I decided to instead play with the pumpkin bread dough recipe in one of my new favorite cookbooks, Holiday and Celebration Bread in Five Minutes a Day, by Zoe Francois and Jeff Hertzberg. Their "bread in 5" method relies on a dough that can be made ahead of time and kept in the refrigerator for up to five days before baking, which is perfect if you, say, only want to bake a few cinnamon rolls at a time. In addition, this particular dough does not require a stand mixer. (I was especially grateful for this feature the first time I made these cinnamon rolls, which happened to be the day my stand mixer stopped working.)
And that maple-tahini-cream-cheese icing? It's everything I hoped it would be and more. Seriously, it's eat-with-a-spoon good. You need these rolls in your life.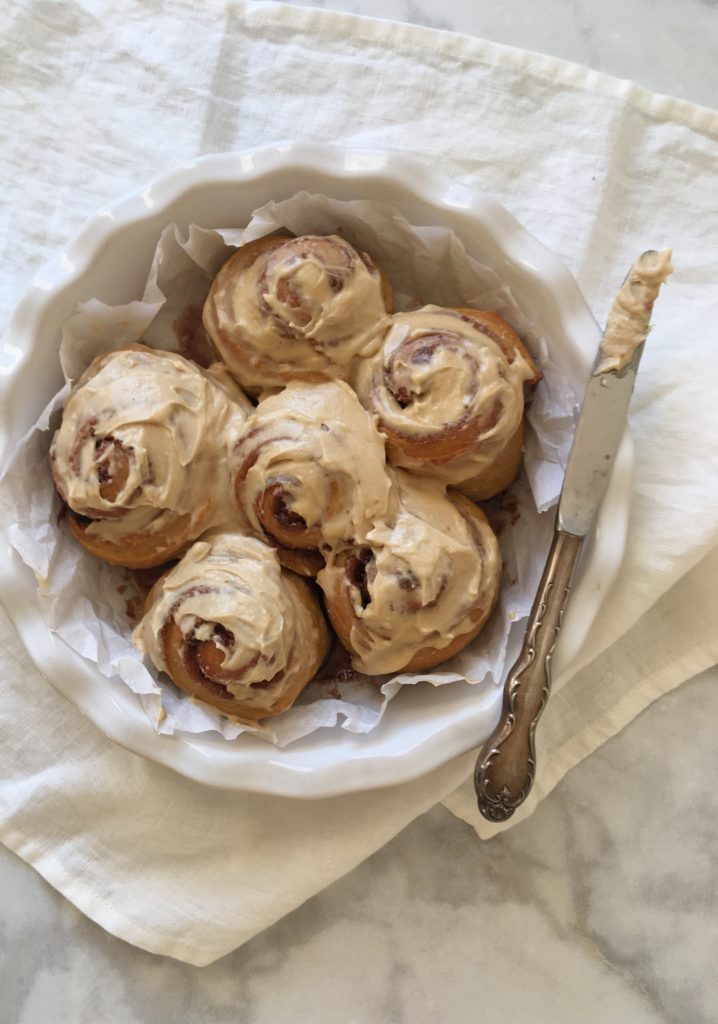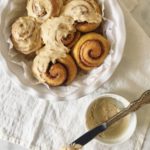 Carrot Cake Cinnamon Rolls with Maple-Tahini Cream Cheese Icing
Carrot cake, but in cinnamon roll form! Adapted from the pumpkin pie bread cinnamon rolls in Holiday and Celebration Bread in Five Minutes a Day by Zoe Francois and Jeff Hertzberg.

Ingredients
For the dough:
260

g

peeled, roughly chopped carrots

495

g

all-purpose flour

5

g / 1.5 tsp

active dry yeast

8

g / 1.5 tsp

kosher salt

1

tsp

ground cinnamon

1/2

tsp

ground ginger

1/4

tsp

freshly ground nutmeg

98

g / 1/2 cup

lukewarm water

(100 F)

85

g / 1/4 cup

honey

49

g / 1/4 cup

neutral vegetable oil
For the filling:
1/3

cup

granulated sugar

1/3

cup

packed light brown sugar

2

tsp

ground cinnamon

2

tbsp

unsalted butter,

melted
For the icing:
4.8

oz

cream cheese

at room temperature

1/4

cup

maple syrup

(preferably Grade B or extra dark)

1 generous

tbsp

tahini

(well-stirred)
Instructions
Make the dough:
Steam the chopped carrots until very tender. Cool slightly, and then puree in a food processer or blender until smooth. (It's okay if there are some bits.) Cool to lukewarm.


In a large mixing bowl, whisk together the flour, salt, yeast, and spices. Make a well in the center.


In a separate bowl, whisk together the pureed carrots, lukewarm water, honey, and oil.


Add the wet ingredients to the flour mixture, mixing them together with a wooden spoon or silicone spatula, and then your hands, until no dry bits of flour remain.


Cover the bowl loosely with plastic wrap, and allow it to rest at room temperature for 2 hours.


After 2 hours, place the covered bowl of dough in the refrigerator for at least 3 hours, and up to 5 days.

Shape the cinnamon rolls:
Line two 9-inch round (or similar sized) pans with parchment paper.


Mix the two sugars and ground cinnamon together in a small bowl.


Take the chilled dough out of the refrigerator, and transfer it from the bowl to a lightly floured surface. Dust with a bit more flour and shape the dough into a ball, stretching the surface of the dough and rotating to great tension.


Roll the dough out into a rectangle approximately 9 inches by 24 inches, with the long edge facing you. (Add a bit more flour, and keep a bench scraper handy if it begins to stick.)


Brush the melted butter over the entire surface of the dough. Sprinkle the cinnamon-sugar mixture evenly over the dough rectangle, leaving clean a strip of approximately 1 cm on the long edge that is farthest from you. Dip your finger in water, and slightly moisten that far edge of the dough.


Roll the dough into a tight, long log, starting with the long edge closest to you.


Slice the log into 12 slices, and place them, cut-side up, in the two lined pans, 6 to a pan. (There will be a lot of space between the rolls, but don't worry, they'll puff and rise to fill the gaps.)


Cover the pans loosely with plastic wrap, and allow them to rest at room temperature 75-90 minutes. (The shorter time is if your kitchen is on the warmer side; the longer time may be necessary if your kitchen is less warm.)


Place a rack in the center of the oven and preheat the oven to 350 F.

After 75-90 minutes, the rolls should appear puffed and slightly risen. Remove the plastic wrap, and bake the rolls for 25-30 minutes, until they have browned slightly and the centers feel set when poked. (The internal temperature of the dough, tested with an instant read thermometer, should be about 195 degrees.)

Ice the rolls:
Use an electric hand mixer or stand mixer to blend together the cream cheese, maple syrup, and tahini.


Spread the maple-tahini cream cheese icing over the warm rolls. Enjoy!

Recipe Notes
Although I've given instructions for making 12 cinnamon rolls, because the dough keeps for so long in the refrigerator, there is no need to bake all twelve rolls at once. The total dough weight is about 2 lbs. You can weigh out one pound of dough and use it to make six cinnamon rolls one morning (adjusting the filling an frosting quantities), and then make six fresh rolls the next morning, for instance.
The cinnamon roll recipe from which this is adapted specifies slightly greater quantities of butter, sugar, and cinnamon for the filling. I found that the quantities above were plenty–indeed, you may still have a bit of cinnamon-sugar mixture left over. But feel free to be more generous, if you think the rolls are not decadent enough.
My new favorite way to cut dough for cinnamon rolls is to use nylon thread or fishing line: take a long piece of thread, position it under the log of dough where you want to make  your first cut, then wrap it around the log and pull the ends of the thread in opposite directions to cleanly slice through the dough. Repeat.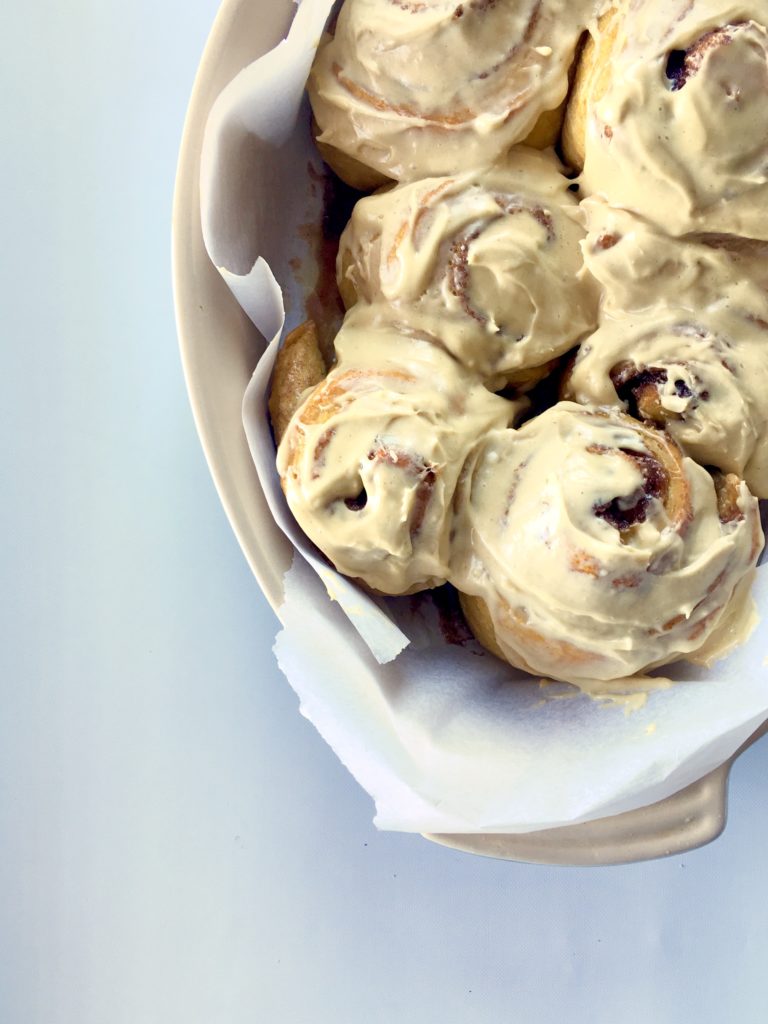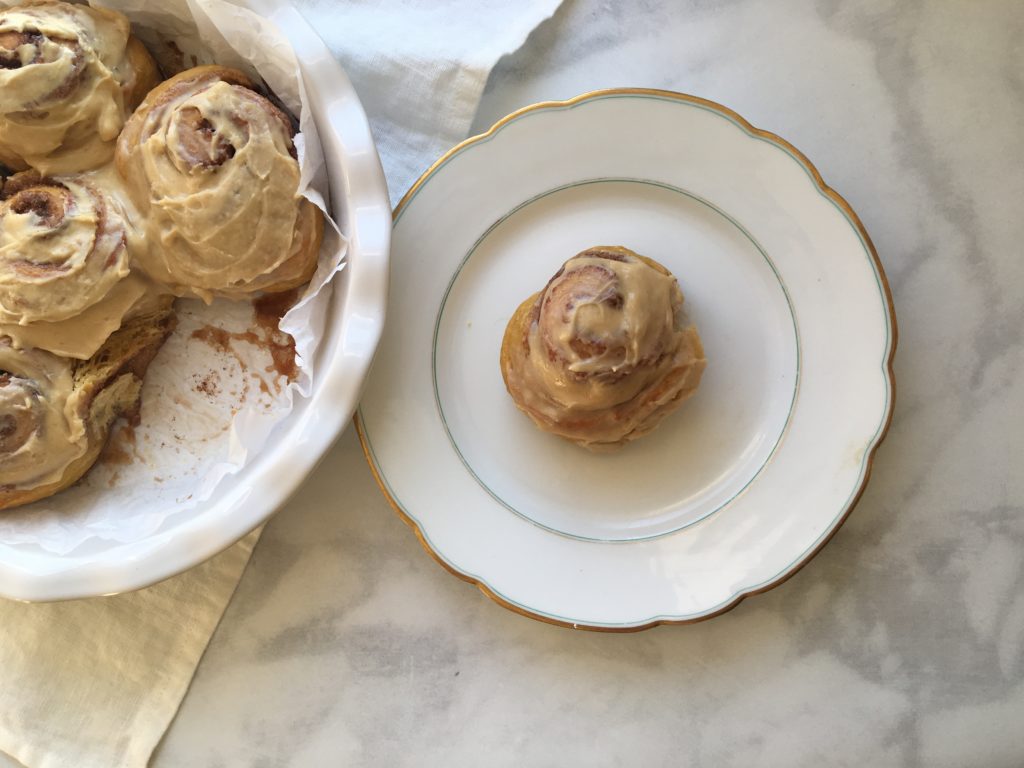 ---
---