Apple and Rosemary Focaccia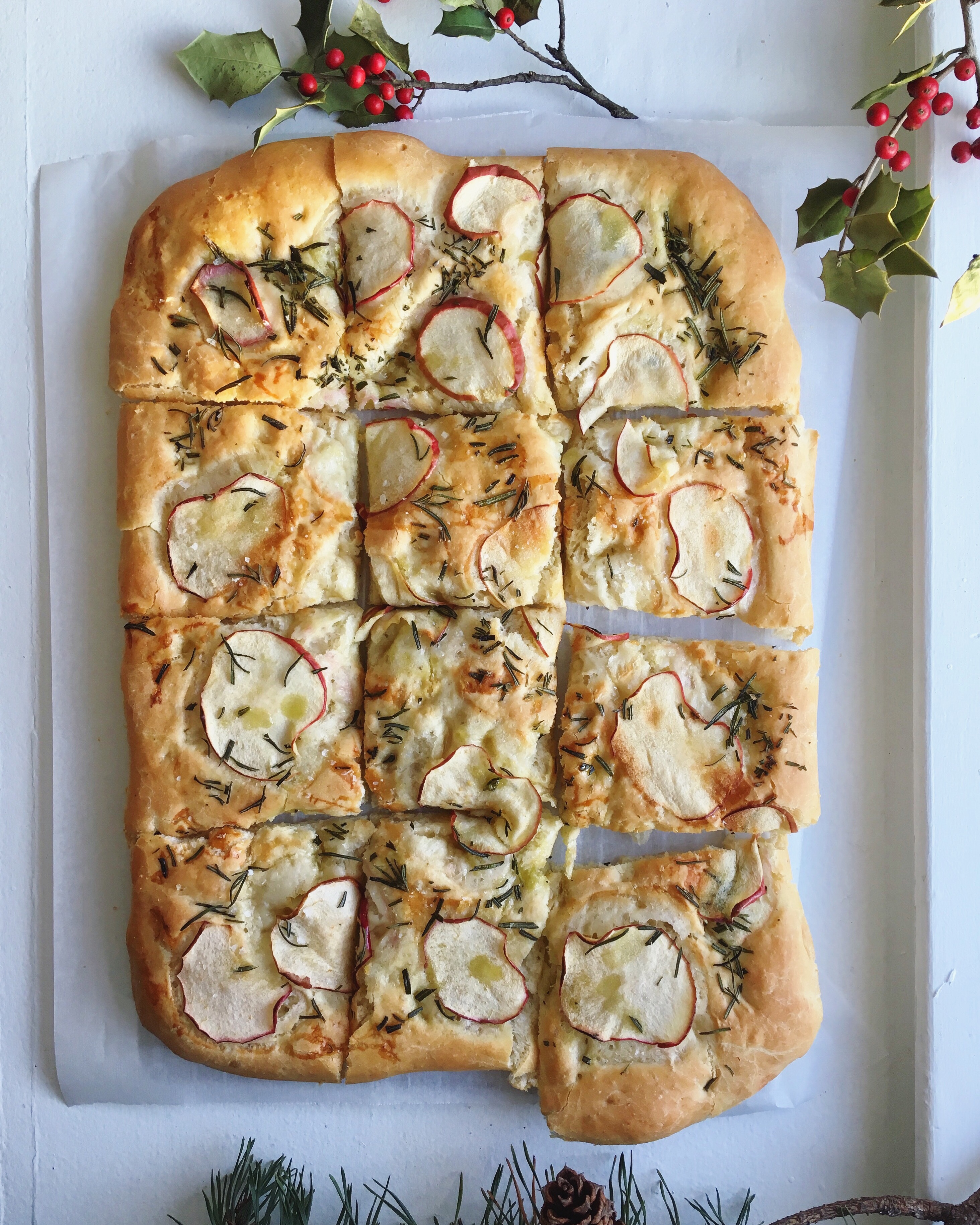 One reason I became a practicing lawyer, rather than an academic, is that I like being given problems to solve rather than having to come up with the problems myself. I think I generally do best when I am given a specific challenge to guide my productivity. This applies to my baking projects as well. Although in the last several months I've concluded that I do have some creative impulses, my creativity is unleashed most often when I get an external jolt of inspiration. This apple and rosemary focaccia is a case in point.
The world of Instagram still is relatively new to me, so when I received a message from someone at Della Pace, a woman-owned olive oil company, asking if I'd be interested in a "collab," I had to ask "what's a 'collab'?" In this case, I found out that it meant receiving some lovely extra virgin olive oil, and then baking something with said olive oil, photographing the result, and posting it on IG. A project! Browsing a few recipes already on the Della Pace website, I saw one for an apple cake. Apples + olive oil… What about apples + rosemary + olive oil? Focaccia popped into my head. A bit of internet browsing later, I had a plan.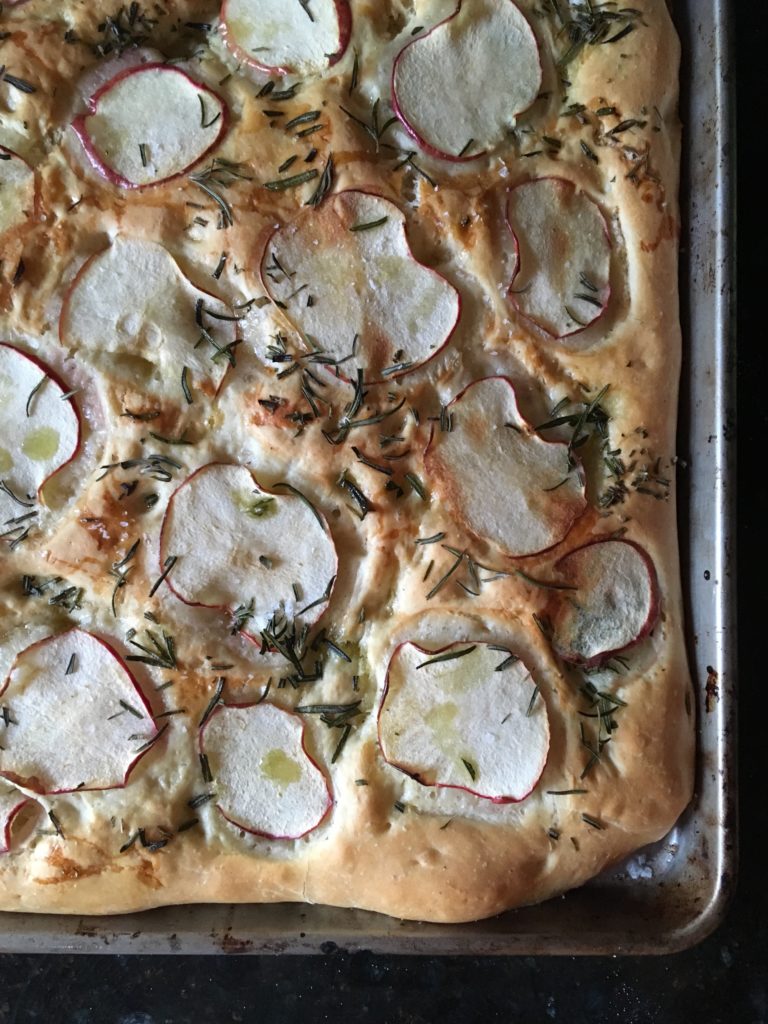 The focaccia below is based on a recipe from the King Arthur Flour website. It includes some sourdough starter, which adds a lovely complex flavor. However, the King Arthur Flour recipe includes directions for making a "sponge" with commercial yeast, which you could certainly substitute here if you don't have a starter going already. The main changes I made to the recipe were to slightly reduce the salt and add a bit of honey to the dough, and then add apples, more honey, flaky sea salt and a bit more olive oil for the topping. The apples are unpeeled and thinly sliced–if you use a red-skinned variety the visual effect with the rosemary is quite festive.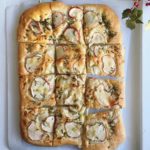 Apple and Rosemary Foccacia
A slightly sweet, slightly savory focaccia, adapted from this recipe from King Arthur Flour.

Ingredients
Focaccia Dough
227

g

ripe (fed) sourdough starter

2 1/4

tsp (1 packet)

instant (rapid rise) yeast

113

g

bottled water

(lukewarm)

241

g

all-purpose flour

1

tsp

table salt or fine sea salt

1

tsp

honey

25

g (2 tbsp)

extra virgin olive oil

(plus more for pan)
Topping
2

medium apples

(a crisp, flavorful variety)

37

g (3 tbsp)

extra virgin olive oil,

divided

37

g (3 tbsp)

honey,

divided

1

tsp

flaky sea salt,

such as Maldon

1 1/2

tbsp

rosemary
Instructions
In a stand mixer with the dough hook attachment, combine the sourdough starter, commercial yeast, lukewarm water, flour, honey, 2 tablespoons olive oil, and table salt. Mix at speed level 2 for about 5 minutes, until a smooth dough is formed.


Transfer the dough to a greased bowl, cover with plastic wrap, and allow to rise in a warm place for 1 hour.


Grease a half sheet pan with a neutral oil, or spray with a nonstick cooking spray, then drizzle about 2 tablespoons of extra virgin olive oil into the pan.


Place the risen dough in the prepared pan and gently stretch it into a large rectangle, nudging it as close to the edges of the pan as possible without tearing the dough.


Cover the pan with plastic wrap or a damp tea towel and allow it to rise for 30 minutes, until slightly puffy. Then, use your fingers to make irregularly spaced dimples in the dough, pressing almost to the bottom, but not all the way through the dough. Recover the dough and allow it to rise for an hour.

If you have a baking or pizza stone, place it on a lower rack. Preheat the oven to 425 degrees F.


Thinly slice the apples, avoiding the core. Coarsely chop the rosemary.


After the dough has risen, uncover the pan and drizzle the focaccia with 2 tablespoons of extra virgin olive oil, then with 2 tablespoons honey. Layer on the apple slices (you may not need to use a full two apples), then drizzle with the final tablespoon of olive oil and tablespoon of honey. Sprinkle on the coarsely chopped rosemary and flaky sea salt.


Place the pan in the oven, on the preheated pizza stone if you have one, and bake for 20-25 minutes, until golden brown.

Recipe Notes
Because the water in Washington, DC, is heavily chlorinated, and can kill wild yeast, I use bottled spring water whenever I am baking with sourdough starter. Depending where you live, this may not be necessary. And if you are using a sponge made with commercial yeast, even chlorinated water like DC's should be okay.
The original King Arthur Flour recipe specifies that the focaccia should be spritzed with water before it goes in the oven. I forgot to do this, and I still ended up with a golden, crispy crust, maybe because of the added moisture from the honey. Regardless, feel free to add the spritzing step if you want.
I used some sweet-tart, red-skinned heirloom apples. Many kinds of apples would be fine here, as long as they are crisp varieties that will hold their shape when baked, rather than turning to mush.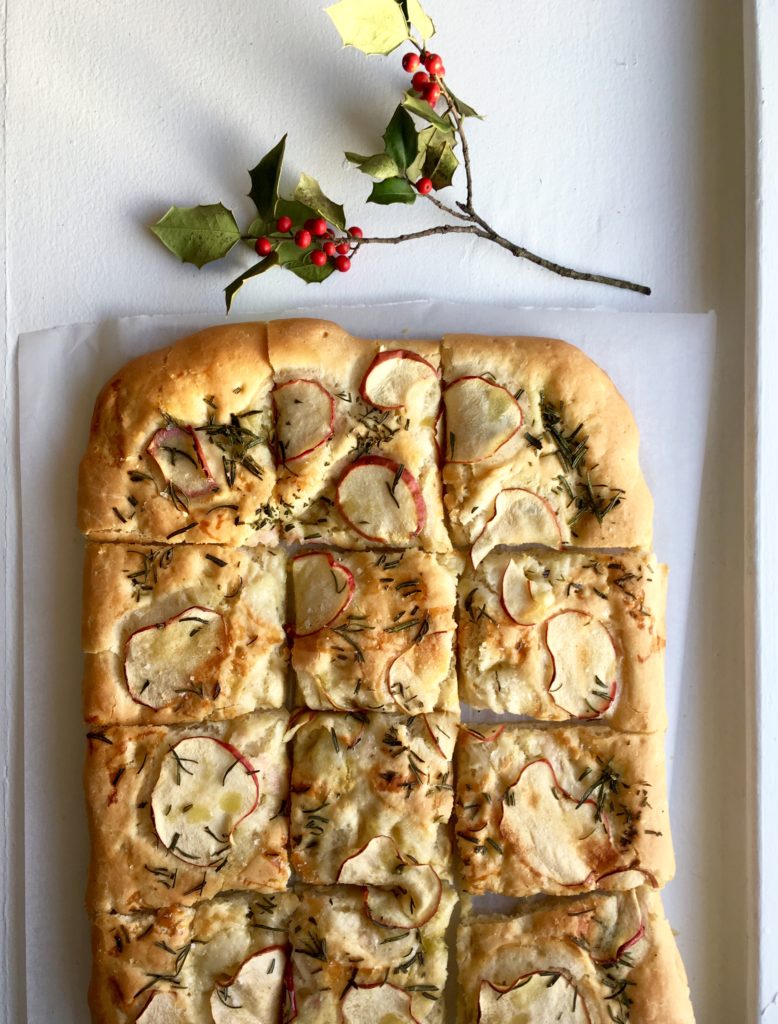 ---
---