Lemon Rosemary Olive Oil Cake with Blackberry Curd and Mascarpone Buttercream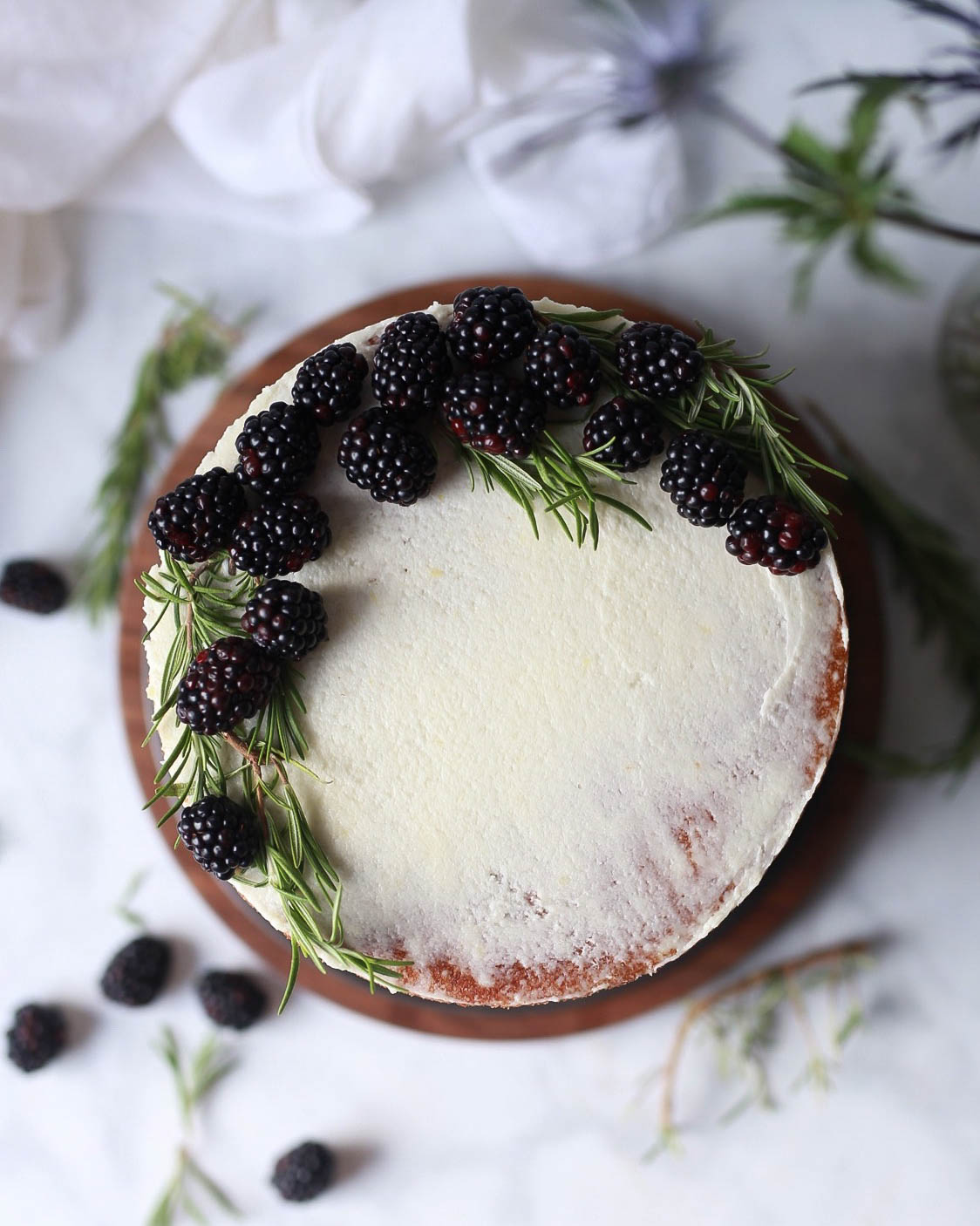 Over the past year, I have occasionally gotten Instagram comments or DMs asking me if I sell my baked goods anywhere. My response has always been "LOL I'm just a home baker." Which I am. But, for some reason, when I received a message a few weeks ago asking if I would consider making something for an event, specifically, a baby shower, something possessed me to say "sure!" I don't know if it was the definiteness of request—a specific event, happening on a specific date—or that the person who asked seemed to have tastes in baked goods that aligned with what I actually like to make. But I found myself with my first baking "commission"—two cakes.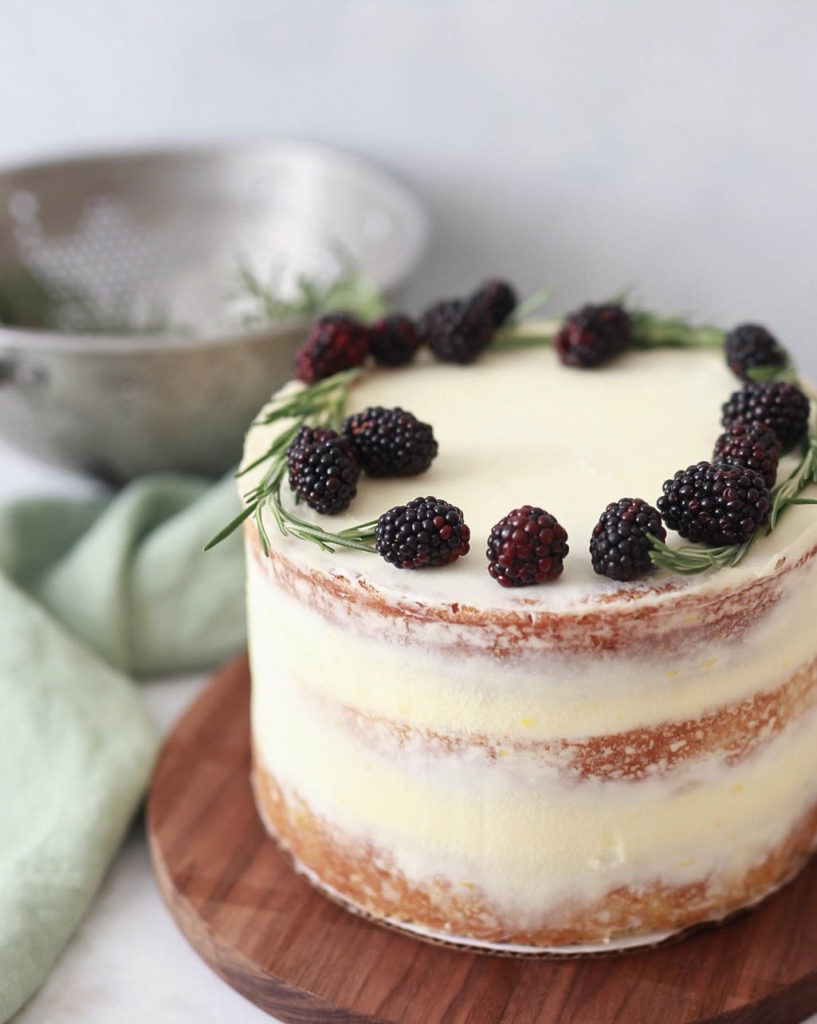 This lemon rosemary olive oil cake was the first one, which I proposed without actually having made it before or even having a recipe ready to go. To be fair, the idea did not appear out of thin air. The person who had contacted me had mentioned she liked olive oil cakes, and among the "inspiration" photos she sent me was a naked-style layer cake topped with rosemary and blackberries and figs. And I was already on a bit of a blackberry curd kick. I guess all those things were sort of percolating in my mind when I found myself typing, "How about a lemon rosemary olive oil cake with blackberry curd and mascarpone buttercream?" The response was "Yes!" So then I had some work to do.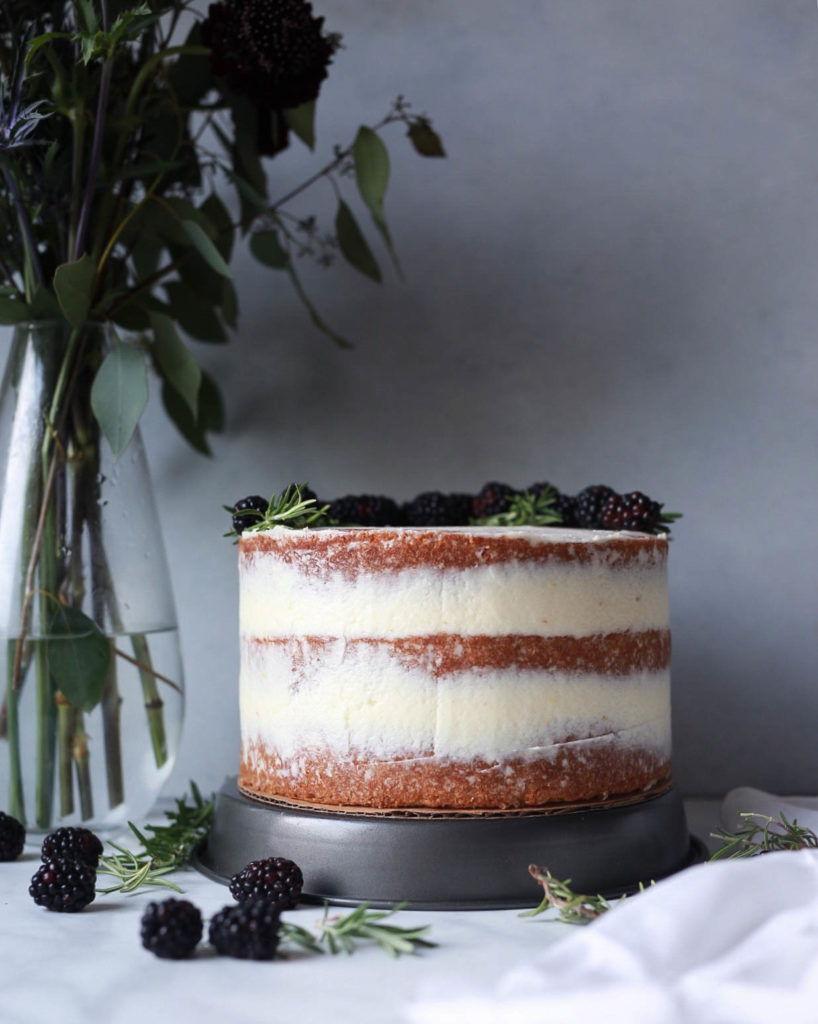 A bit of googling later, I decided to adapt a lemon olive oil cake recipe by Chelsweets. The original recipe makes a 6-inch, 3-layer cake. I was nervous about that being big enough for a 20-person baby shower, so decided to double the quantities and make an 8-inch cake. . . . Which resulted in a very large cake. Be forewarned: if you have limited fridge space or arm strength, you may want to halve the quantities below and try for a 6-inch version as in the original recipe.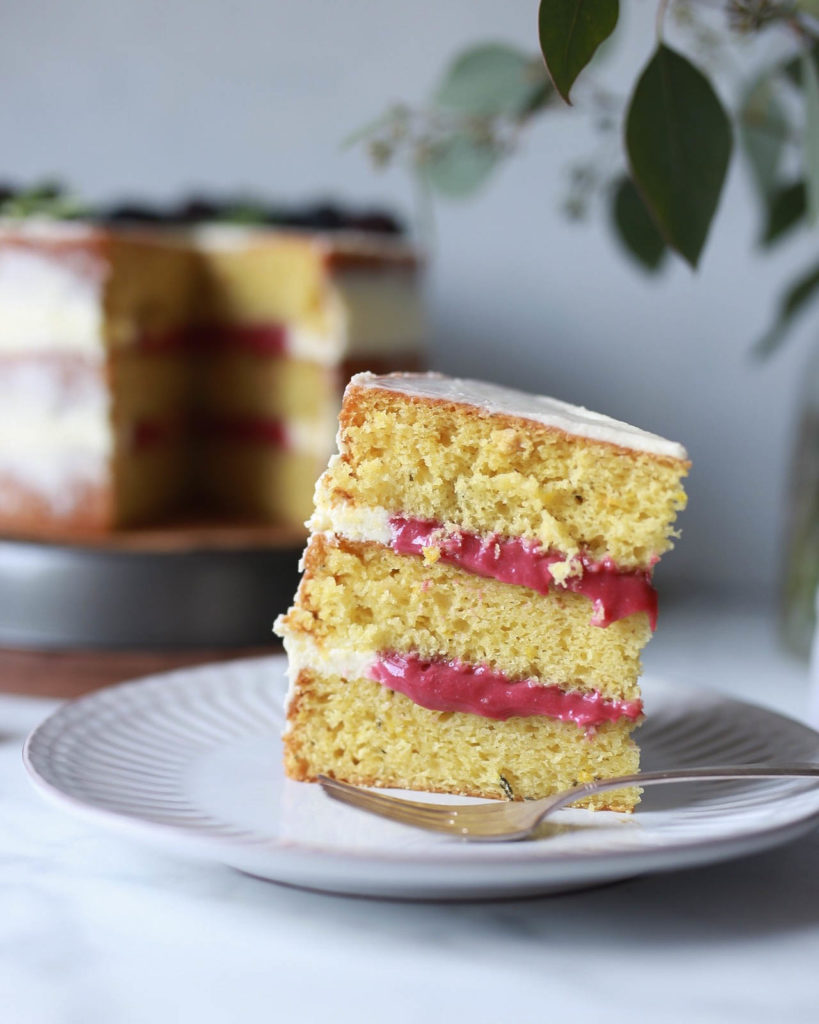 I have to admit, despite having tasted all the components, I was super nervous about whether people would enjoy the cake. Partly, this was probably the inevitable nervousness of baking on "commission" for the first time for people I'd never met. But I also know that rosemary and olive oil impart very distinct flavors, and might not be everyone's cup of tea. I was pretty much ecstatic when I heard that people, apparently, loved it. I hope you will, too.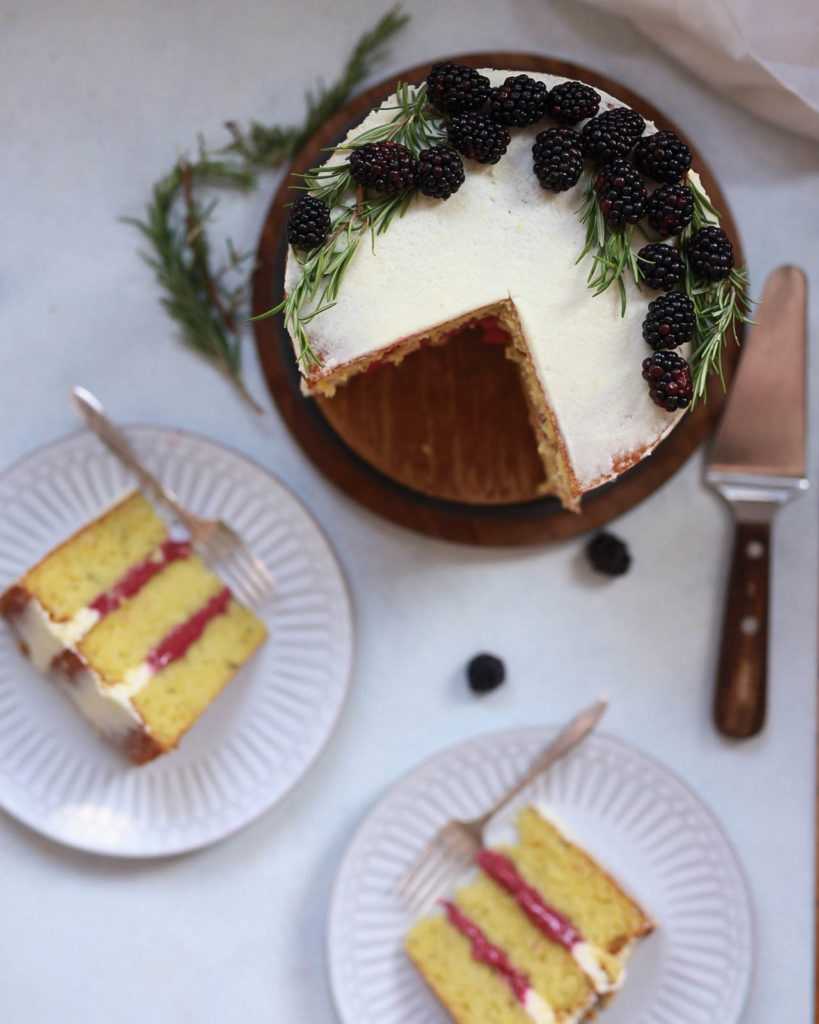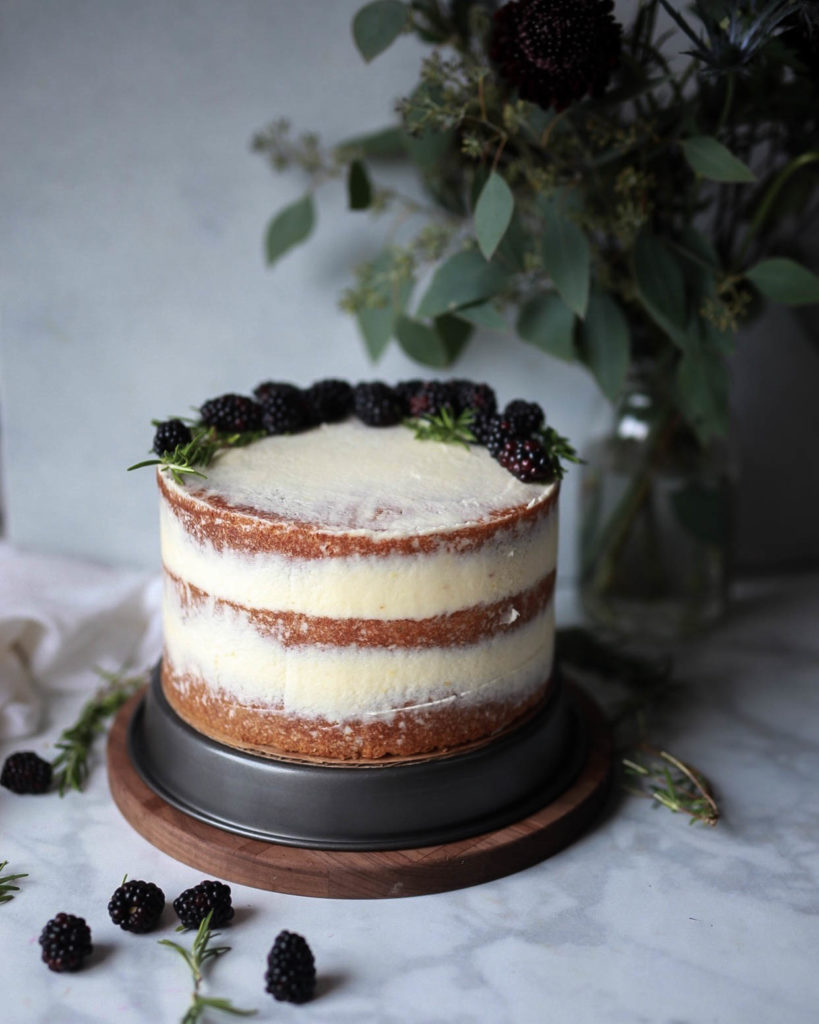 A few notes:
Use a high quality, fruity extra virgin olive oil. (Taste it first.) The olive oil flavor will come through clear and strong, and you want it to complement, not overwhelm, the other flavors.
The blackberry curd recipe makes exactly enough to fill a 3-layer, 8-inch cake. If you want to make a 6-inch version, I recommend still making the full amount of curd — it's delicious.
I've given a large measurement range for the sugar in the icing because people have different sweetness tolerances. Mine is pretty low, and one of the things I love about this cake is that no component is super sweet. If you want a sweeter frosting, err on the higher side.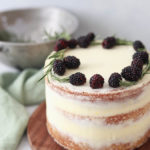 Lemon Rosemary Olive Oil Cake with Blackberry Curd and Mascarpone Buttercream
A subtly herbal layer cake filled with sweet-tart blackberry curd, frosted semi-naked style with lightly sweetened mascarpone icing. The lemon rosemary olive oil cake layers are adapted from this Chelsweets olive oil cake recipe. The blackberry curd is adapted from a recipe on the blog Sugar Salt Magic.
Ingredients
For the lemon rosemary olive oil cake layers:
4

large eggs

at room temperature

400

g

granulated sugar

500

g

all-purpose flour

2

tsp

baking powder

2

tsp

baking soda

1.5

tsp

table salt or fine sea salt

3

medium lemons

zested and juiced (see recipe below)

1.5

tbsp

finely chopped fresh rosemary

1 1/3 to 1 1/2

cups

whole milk

(see recipe below)

1 1/3

cup

extra virgin olive oil
For the blackberry curd:
170

g

fresh blackberries

1

large egg

2

large egg yolks

75

g

unsalted butter

at room temperature, cut into pats

100

g

granulated sugar

1

tbsp

cornstarch

juice of half a lemon
For the mascarpone buttercream:
6

oz.

unsalted butter

at room temperature

12

oz.

mascarpone cheese

at room temperature

250-300

g

powdered sugar

(see notes below)

zest of half a lemon

1

tsp

lemon juice
To decorate:
fresh blackberries and rosemary springs
Instructions
Make the blackberry curd:
Rinse the blackberries, then place them in a microwave-safe bowl and microwave on high for 1 minute. Use a fork to mash the berries, releasing their juices. Then press the mashed berries through a sieve until you have 1/2 cup blackberry juice.

Have the cornstarch and lemon juice measured out and ready to go – you'll need to quickly combine them later.

In a small, heavy-bottomed saucepan, whisk together the egg, egg yolks, sugar, and blackberry juice. Place on the stove on low heat, and add the butter. Heat, whisking constantly, until the butter melts and the mixture is steaming hot and starting to thicken–about 160-170 degrees F. This could take anywhere from approximately 6-12 minutes.

Quickly whisk together the cornstarch and lemon juice and add this slurry to the blackberry mixture on the stove. Continue whisking until the curd thickens substantially and the whisk leaves a trail as you mix. If you, like me, are comforted by exactitude, look for a temperature of 185 F on an instant read thermometer. At that point, remove the curd from the stove and continue whisking for a minute or two to stop the cooking.

Scrape the curd into a clean bowl or pyrex container or similar, and cover with plastic wrap, placing the wrap directly on the surface of the curd. Allow to cool to room temperature, then transfer to the refrigerator and chill for at least 6 hours or overnight.
Make the cake layers:
Place a rack in the center of the oven and preheat the oven to 350 F.

Grease three 8-inch cake pans, line the bottom and sides with parchment paper, and grease the parchment.

In a medium bowl, whisk together the flour, baking powder, baking soda, and salt. Set aside.

Finely zest and juice the lemons. Measure the juice — you should have about 1/2 to 2/3 cup. Place the juice in a large (at least 2-cup capacity) liquid measuring cup or jug, and add enough milk to equal 2 cups total of liquid.

In a medium bowl (or the same measuring jug you've been using, if it's big enough), whisk together the milk-lemon juice mixture, lemon zest, finely chopped rosemary, and olive oil. Set aside.

In a stand mixer with the whisk attachment, beat together the eggs and sugar for two minutes on medium speed, until light and thick.

Add 1/3 of the flour mixture to the eggs/sugar, mixing until just combined. Follow with 1/2 the olive oil mixture, mixing again until just combined. Scrape down the sides of the bowl, then repeat. End with the final 1/3 of the flour mixture. When that final addition of dry ingredients is almost incorporated turn off the mixer, and use a rubber or silicone spatula to scrape down the sides of the bowl and incorporate any lingering dry bits.

Divide the cake batter between the three prepared pans — you'll end up with about 605 g of batter in each pan.

Place in the preheated oven and bake for about 33-37 minutes, until a wooden skewer inserted in the middle of each layer comes out clean. (If you are unsure whether your oven runs hot or cold, start checking at 30 minutes to be safe.)

Remove cakes from the oven and cool for 10-20 minutes in the pan, then turn them out onto a wire rack to cool completely.

When the cake layers are completely cool, use a serrated knife to level the tops.

At this point, the cake can be assembled and frosted, or you can freeze the layers until you're ready to assemble the cake.

If you're freezing the cake layers, double wrap each layer in plastic wrap, then place in a plastic freezer bag. stack the layers on a baking sheet or pan to stabilize them, and place the pan in the freezer. (You can leave them in the freezer for up to 2-3 weeks.)
Make the frosting:
Using a stand mixer or electric mixer, blend together the butter and mascarpone until light and fluffy. Add the powdered sugar, a bit at a time, until you reach your desired sweetness level. Blend in the lemon juice and lemon zest.
Assemble the cake:
Place one cake layer, cut side up, on cake stand or board. Pipe a generous ring of icing around the edge. Fill the center with half the blackberry curd.

Place a second cake layer, cut side DOWN, on top of the first. Again, pipe a generous ring of icing around the edge, then fill the center with the remaining blackberry curd.

Place the final layer on top, cut side down. Spread a generous amount of icing on top of the cake, then use a bench scraper or offset spatula to smooth the icing over the top and around the sides. (If you're going for a "naked" or "semi-naked" look, you will probably have a bit of icing leftover.)

Decorate with fresh blackberries and rosemary sprigs.
Recipe Notes
Not only is the Chelsweets olive oil cake  a great basic recipe, she has a super helpful accompanying YouTube video, which taught me, finally, how to use a serrated knife to level cake layers evenly and efficiently. It also helpfully demonstrates how to do a "semi-naked" icing, if you're new to that technique.
Freezing cake layers before icing: When I first made this cake, I froze the cake layers simply because I needed to make them ahead of time, rather than to aid the icing process. But, as I happily discovered, frozen cake layers are much much easier to ice than room temperature ones. First, they're firmer and less likely to crumble, crack, etc. They also have the virtue of helping the room temperature frosting chill on contact, so you don't have to chill the cake after stacking the layers to prevent it from moving around while you ice the sides.
The rosemary flavor in this cake is distinct but still subtle. If you're a rosemary fiend, try increasing the amount to 2 tbsp.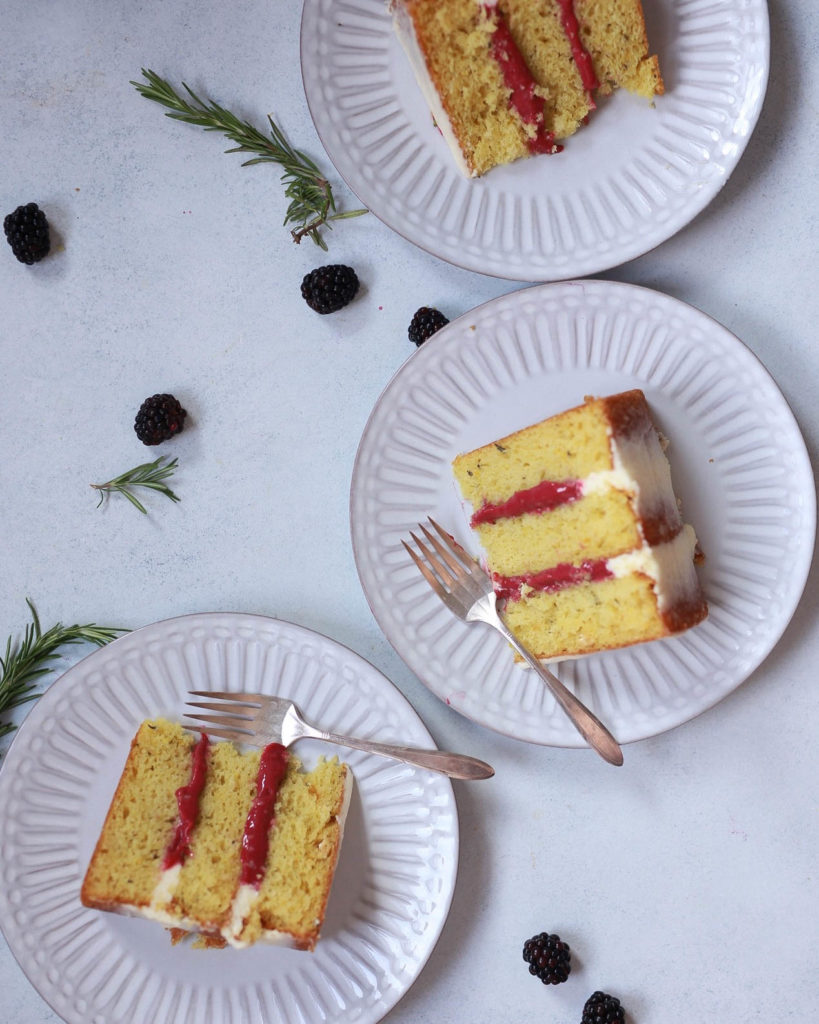 ---
---