Espresso-Hazelnut Hamantaschen with Nutella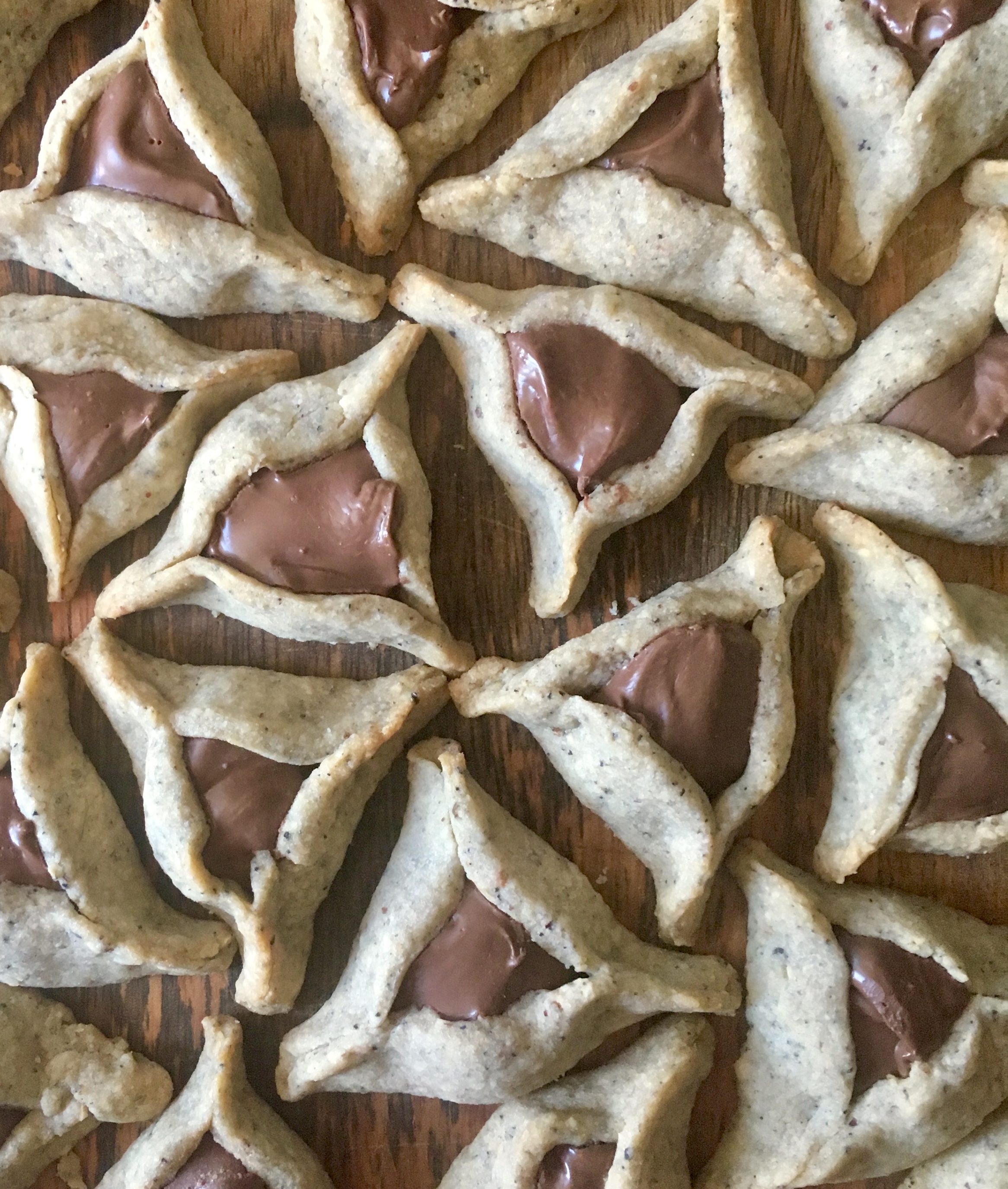 When I was a child, my mother made hamantaschen for Purim using a dough recipe that involved butter and chilling and orange zest and was very gourmet. (It was probably from Gourmet.) Her fillings were traditional—prune and, if we were lucky, apricot jam. However, we also had family friends who would send us a box of hamantaschen every year. Those hamantaschen, were, I think, less delicate than my mom's–they had to survive a journey through the mail from Minnesota to Texas after all. But, in addition to traditional and jam-filled varieties, there would be CHOCOLATE and COCONUT. For eight-year-old me, this was super exciting.
I imagine I would appreciate my mother's delicate hamantaschen dough now, and maybe even the prune filling. But, thirty years later, I still can't imagine picking a prune-filled cookie over a chocolate one.
One of the nice things about being a grown-up is that I get to bake the things I like to eat. Last year, that meant espresso shortbread hamantaschen with Nutella, from a recipe I came across on the internet. They were good, but this year, I wanted to try those flavors in a cookie with a slightly crisper texture and sharper hints of espresso. I also wondered if I might incorporate some of the 3 lb. bag of hazelnut meal that I impulse bought a few months ago. A bit of googling led me to the Washington Post's Food section and a recipe for "almond hamantaschen" that seemed ripe for adaptation.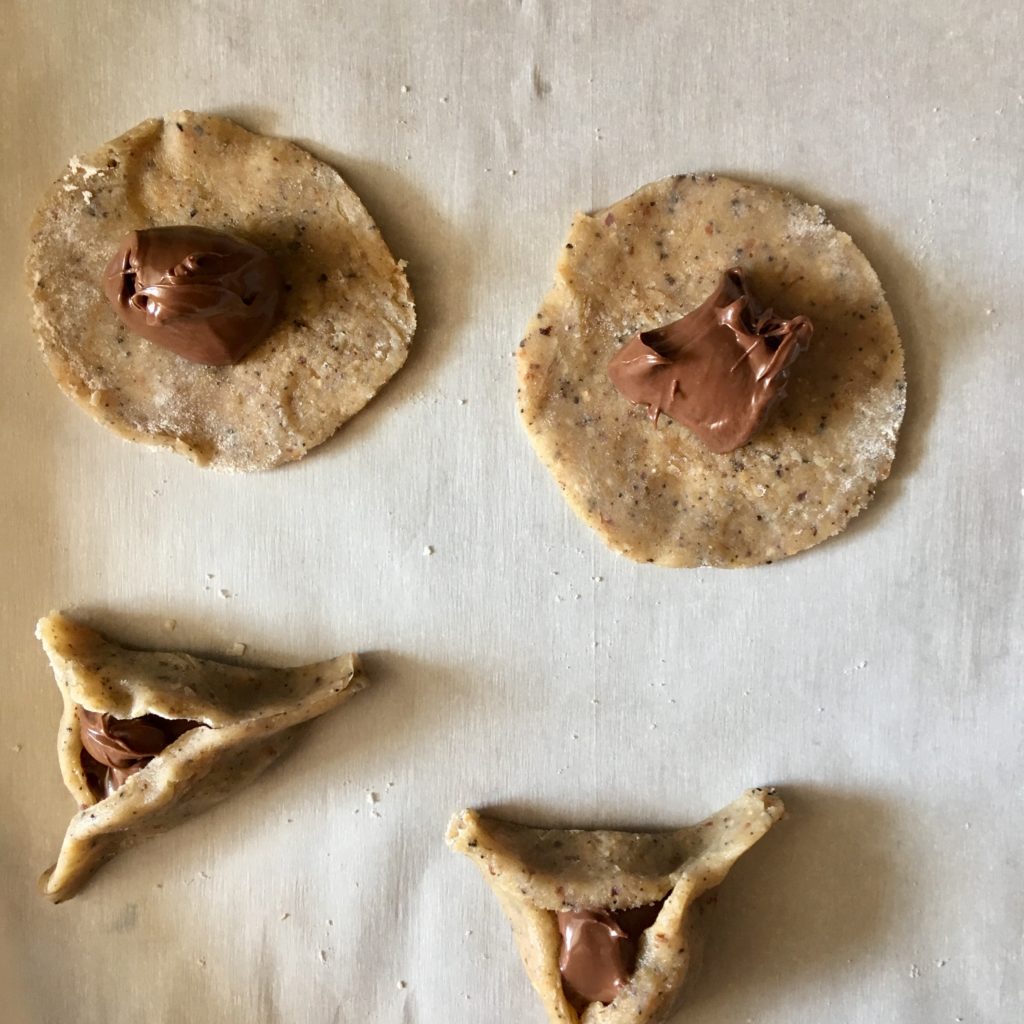 I'm pleased to say the results were exactly what I hoped for: A slightly crisp cookie with distinct hazelnut and espresso flavors. And of course, Nutella.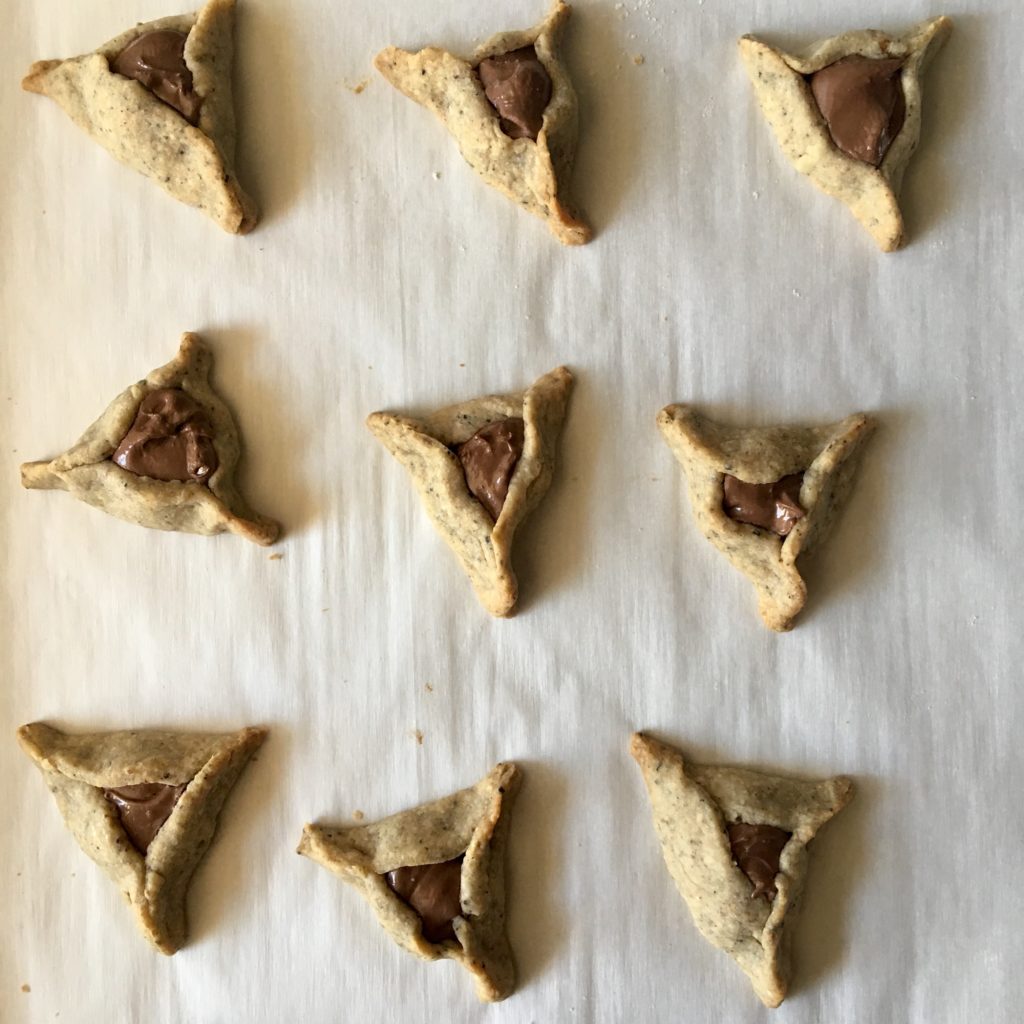 I won't pretend this is the easiest hamantaschen recipe–the dough is a cinch to make, but extremely soft and sticky to work with if it's not very cold. However, chilling the dough thoroughly, being generous with the flour when you're rolling the dough out, and keeping a bench scraper handy will make things easier.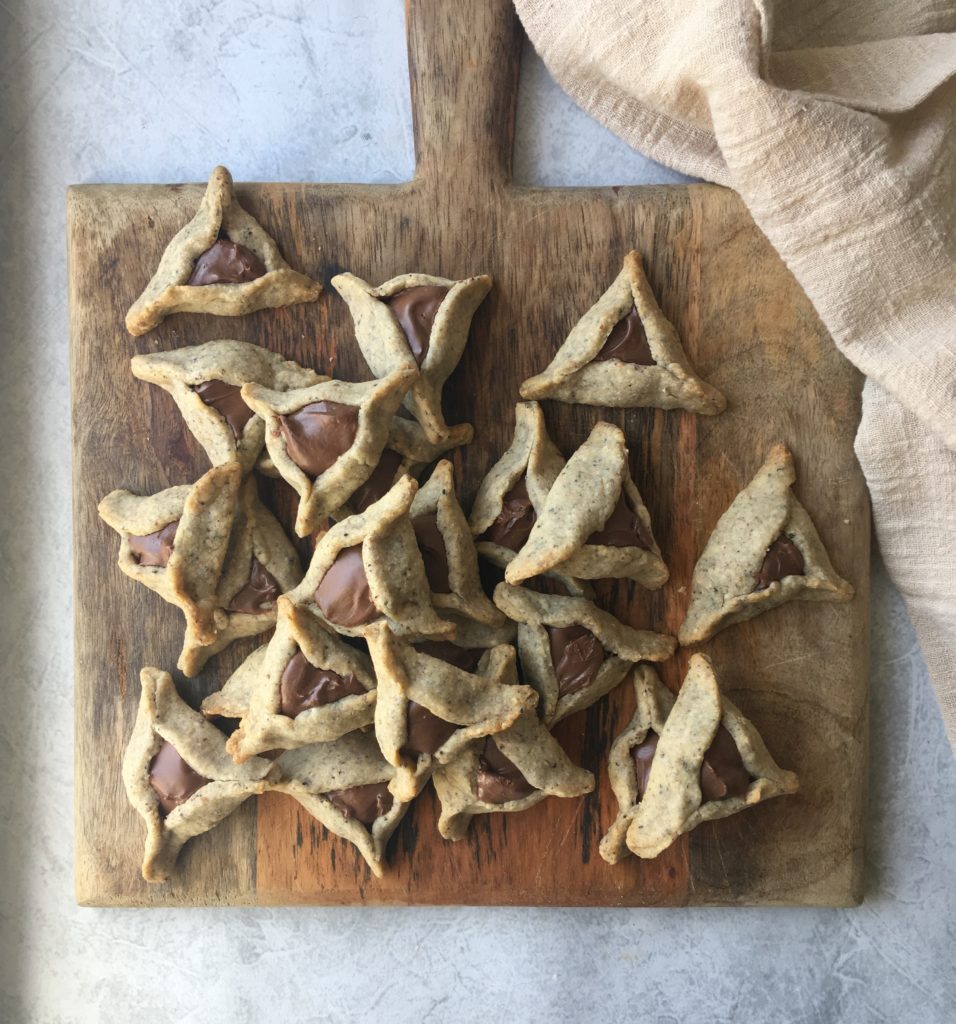 Espresso-Hazelnut Hamantaschen with Nutella
The espresso-hazelnut dough for these hamantaschen is adapted from this recipe in the Washington Post. Don't be afraid to be generous with the flour when rolling the dough out, and have a bench scraper handy.

Ingredients
140

g

all-purpose flour

(plus extra for rolling out the dough)

56

g

sugar

56

g

hazelnut meal or ground hazelnuts

small pinch of

salt

1

tbsp

finely ground espresso beans

113

g (8 tbsp)

cold unsalted butter,

cut into small pieces

1

large egg

1

tbsp

heavy cream

3/4

cup

Nutella or similar chocolate-hazelnut spread
Instructions
Combine the flour, sugar, hazelnut meal, finely ground espresso beans, salt, and butter in the bowl of a food processor. Pulse until the butter is well incorporated–you want a crumbly consistency.


Lightly beat the egg, then add the egg and cream to the mixture in the food processor. Pulse just until the dough begins to form a ball.


Remove the dough from the food processor to a lightly floured surface, and knead it a few times.


Wrap the dough in plastic wrap, flattening it into a 1-inch thick disk. Refrigerate the dough for at least two hours.


Preheat the oven to 350 F. Line 2 large baking sheets with parchment paper.


Remove the dough from the refrigerator. Divide the dough in half, and return the half you are not using immediately to the refrigerator. Turn out the other half of the dough onto a well-floured surface. Also flour your rolling pin, and have a bench scraper handy.


Roll the dough out as thin as possible–you're aiming for 1/16 inch. As you roll the dough out, use the bench scraper to periodically gently lift the dough to make sure it's not sticking. If it is sticking, sprinkle more flour on the surface beneath the dough.


Using a 3-inch circular cookie cutter, cut out circles of dough, and carefully transfer them to the parchment-lined baking sheets, about 1 inch apart, using your bench scraper as necessary to ease the dough off the work surface.


Mound a teaspoon of Nutella in the center of each circle. Lift and pinch the edges of each circle in three places, spaced evenly apart, to form a triangle. Pinch the corners together well.


Bake one sheet of hamantaschen at a time for 15 minutes, or until the corners of the hamantaschen just begin to turn light brown.


Allow the cookies to cool on the pan for a couple of minutes, then transfer to a wire rack to cool completely.


Repeat with the other half of the dough.

Recipe Notes
The dough for these hamantaschen is a cinch to make. . . . And a bit finicky to work with. The original recipe called for chilling the dough 30 minutes before rolling out. I found that, with 30 minutes of chilling, the dough was still incredibly soft and sticky, and practically impossible to work with even using a very well-floured surface. After struggling to form a few circles and get them onto the baking sheets, I gave up and stuck the dough in the freezer for about 15 minutes. That helped: while I still needed to use a non-skimpy amount of flour to roll the dough out, it was much easier to work with. So, if you don't have 2 hours to chill the dough in the fridge, you could try this fridge-then-freezer method, too.
Even well-chilled, the dough is sticky. You'll need more flour than you think you should be using in order to roll the dough out. And, regardless, you'll probably have to employ the bench scraper a bit. Don't worry, it's the dough, not you.
If you don't have a food processor (and I didn't until recently), you could instead use room temperature butter, then cream the butter with the sugar, add the egg and cream, and finally mix in the dry ingredients. The dough may need to chill for slightly longer using that method.
You probably won't need every bit of the 3/4 cup of Nutella to fill the cookies. I'm sure you'll find a use for any extra.
---
---