Linzertorte Cookies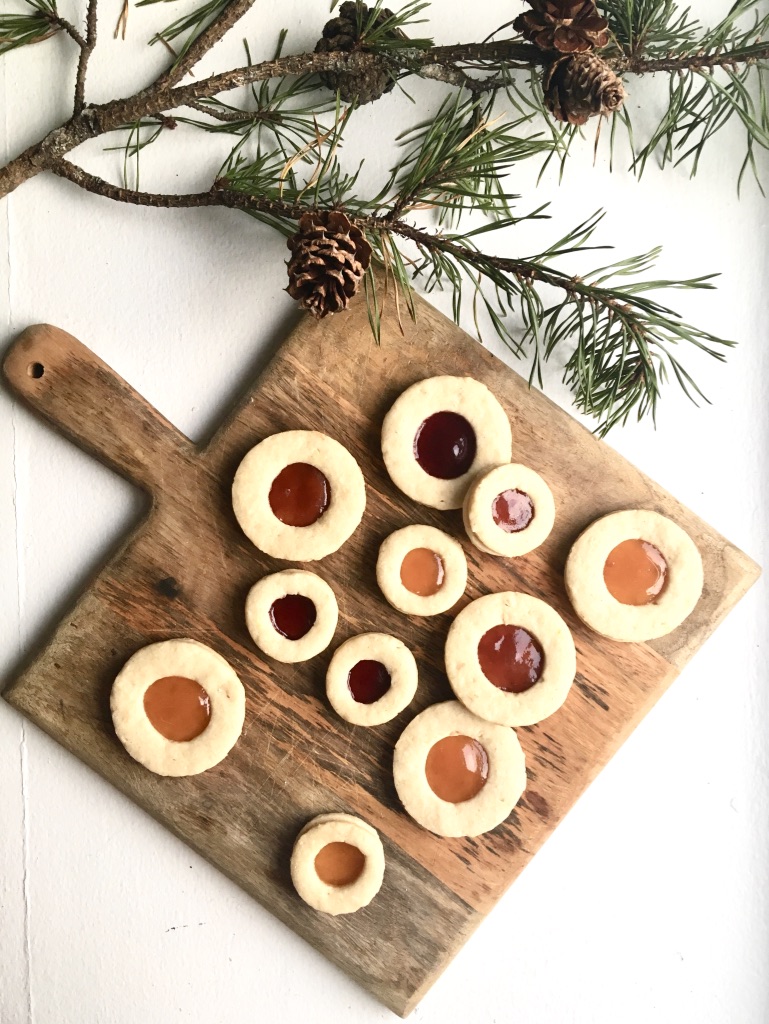 In their original form, these were "Strawberry and Apricot Linzertorte Hearts," adapted from a 1996 Gourmet magazine recipe. They're the perfect Valentine's Day cookie, or Christmas cookie, but I first made them in neither of those contexts. I stumbled across the recipe on Epicurious.com in the early 2000s, during a summer when I was training to run a half-marathon to raise money for the Leukemia & Lymphoma Society. My fundraising that summer mostly consisted of begging for contributions from family and friends, but I also did a few bake sales outside local supermarkets. In the process, I developed some strong views on bake sales. Specifically, I have strong views on what sorts of treats should be sold (and not sold) at bake sales. These linzertorte cookies, especially in their original heart-shaped incarnation, are the perfect bake sale cookie.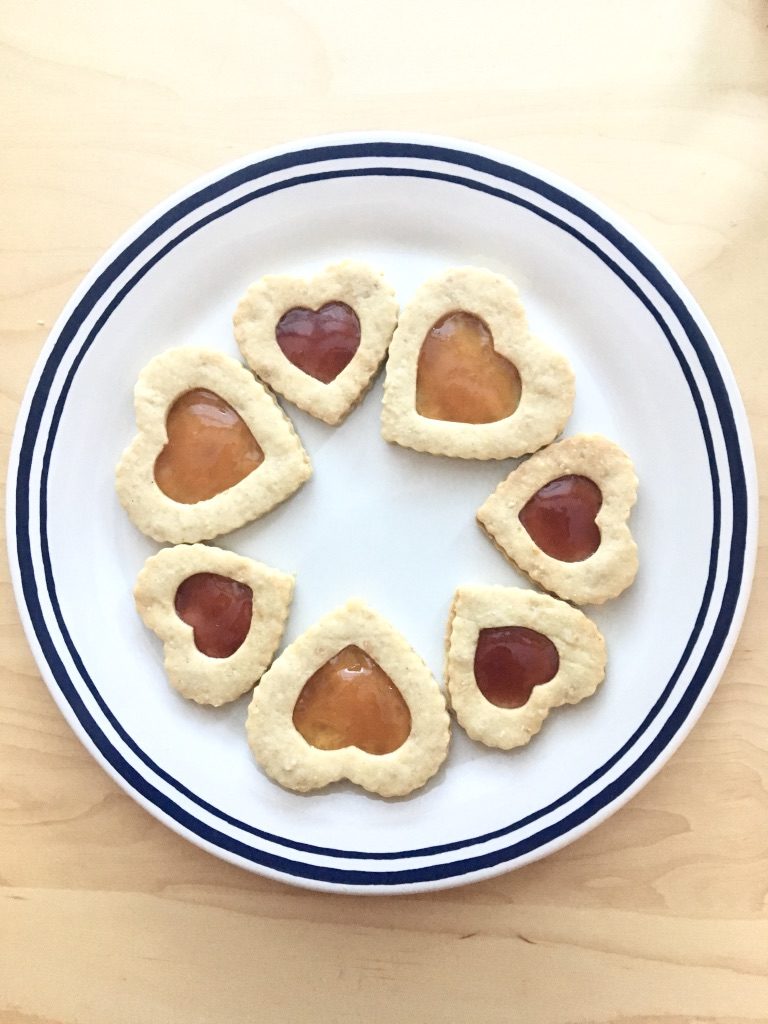 What makes the perfect bake sale cookie? Let's not mince words: Looks matter. Of course, taste matters, too. But it's a lot less likely that the 8-year-old coming out of the supermarket is going to insist that her parents buy a sandwich bag of lumpy, homely oatmeal cookies than a neatly wrapped cellophane package of crisp, jewel-like, enticingly heart-shaped biscuits. (What is the worst bake sale contribution, in my opinion? Clingfilm-wrapped frosted brownies: boringly brown, inevitably a bit smushed, and slightly greasy as the frosting melts in the summer sun.) These cookies are not only beautiful, however, they're also legitimately delicious.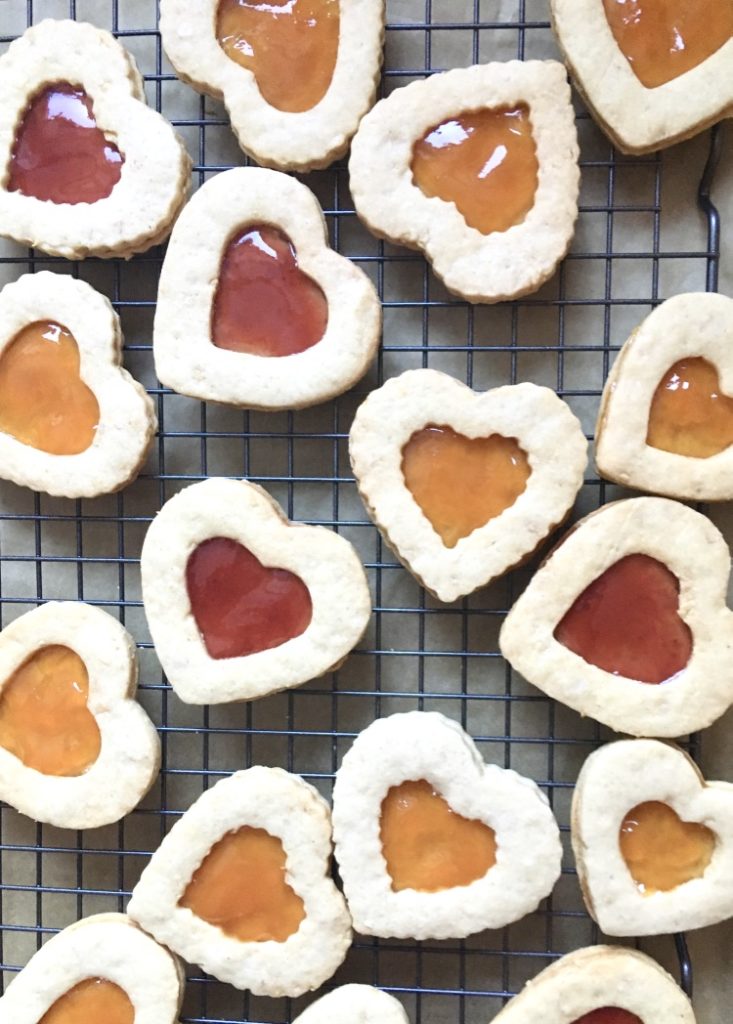 I've made a couple of adaptations to the original recipe. First, the original recipe calls for pulsing the ingredients in a food processor to make the dough. I do not currently own a full-sized food processor, so I use a creaming method instead, which works just fine. Second, the original recipe instructs you to roll out the dough to a 1/4-inch thickness. However, I find that this is just a bit too much cookie for me, once the halves are sandwiched together. So I go with 1/8 inch. Third, the original recipe suggests using a 3 1/2-inch heart-shaped cookie cutter. I tend to go with a slightly smaller size, or I make a mix of larger and smaller sandwiches.
This is not the easiest or fastest cookie to make. Chilling the dough periodically as you roll out the cookies is crucial. And the rolling, chilling, cutting, and re-rolling always takes more time than I expect, but the result is always worth it.
Linzertorte Cookies
Ingredients
1 1/2

c (150 g)

blanched almonds

toasted and cooled

3

tbsp

granulated sugar

2 1/4

c (315 g)

all-purpose flour

1/2

c (60 g)

cornstarch

1/2

tsp

cinnamon

3/4

tsp

salt

3/4

tsp

finely grated lemon zest

2 1/4

sticks (254 g)

unsalted butter

(not fridge cold)

1

c (120 g)

confectioner's sugar

1

large egg

1

large egg yolk

2/3

c

apricot jam

heated, strained, and cooled

2/3

c

strawberry jam

heated, strained, and cooled
Instructions
Pulse the almonds with the granulated sugar in a food processor until finely ground. Set aside.


Sift together the flour, cornstarch, salt, and cinnamon. Set aside.


In a large bowl with an electric mixer, cream the butter with the confectioner's sugar and lemon zest. Add the egg and egg yolk and mix until combined. Then add the ground almonds and flour mixture, mixing until just combined.


Divide the dough in half and wrap each half in plastic wrap, pressing it into a disk. Refrigerate the disks, wrapped in plastic wrap, for at least 3 hours, or up to 3 days.


Preheat the oven to 325 degrees F.


Remove one of the disks from the refrigerator, and roll it out between sheets of wax paper or parchment, or pieces of plastic wrap, to a 1/8 inch thickness. Transfer the rolled out dough to a baking sheet and place in the freezer for 10-12 minutes.


Remove the rolled out dough from the freezer and use a 2 inch to 3 1/2 inch heart-shaped or round cookie cutter to cut out cookies from the dough. For half of the cookies, use a smaller heart-shaped or round cookie cutter to cut and lift out the centers of the cookies. (These will form the tops of the cookies). Re-roll the scraps and return to the rolled out dough to the freezer. Place the cookie bottoms and tops on a parchment-covered baking sheet, spaced 1/2 inch apart. Place the baking sheet in the refrigerator if it is not full yet. Repeat the rolling, freezing, cutting, re-rolling, and freezing process with the remaining dough, adding cookies to the sheet in the refrigerator as you go. (You will eventually need a second baking sheet, or will need to roll and cut the second batch of cookies after the first batch comes out of the oven.)


When the first baking sheet is full, transfer it to the oven and bake the cookies for 12 to 15 minutes, until the edges are just beginning to turn golden brown. Remove from oven and allow the cookies to cool on the baking sheet for 5 minutes, then use a metal or silicone spatula to transfer the cookies to a cooling rack. Repeat with the second sheet of cookies.


Allow cookies to cool completely. When cool, place about a teaspoon of jam on each cookie bottom, then top with the cut-out pieces. After each cookie is sandwiched together, you can spoon a bit more jam in the center if it looks under-filled.


Serve the same day, or refrigerate for up to 4 days in a covered container between layers of wax paper.

Recipe Notes
If you do not want to bake all the cookies immediately, you can place the plastic-wrapped dough in a freezer bag and freeze it for up to a month. The night before you want to bake the cookies, transfer the dough to the refrigerator to allow it to defrost.
The original recipe calls for apricot and strawberry jam. The last time I made these cookies, I used seedless raspberry jam, too. If I used raspberry jam again, I would choose a non-seedless variety and heat and strain it; the seedless jam's consistency was a bit too thin.
Traditionally, linzer cookie tops are often dusted with powdered sugar. You can certainly do that here, but it's not necessary, and I have decided that I actually prefer the non-dusted look better in this case.
Although I don't have a full-sized food processor, I have a mini processor, which is what I used to grind the almonds. If you have neither, you can substitute 150 grams of almond flour or almond meal.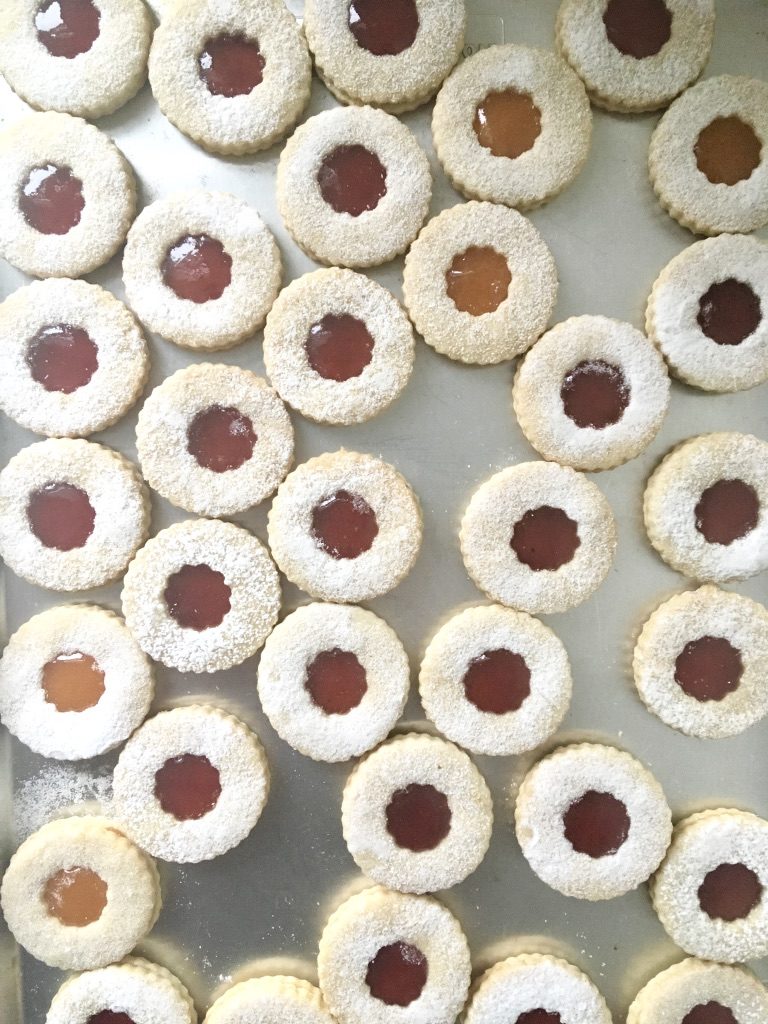 ---
---