Plum Tart with Honey Ginger Mascarpone Filling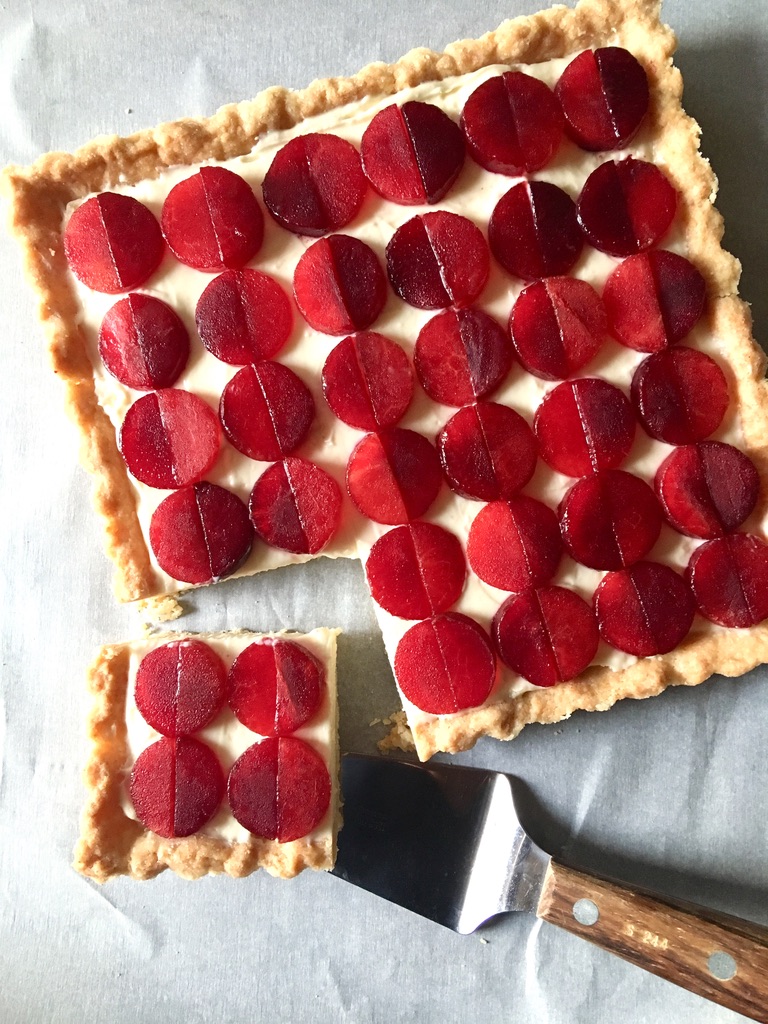 I'll admit it, sometimes my recipe ideas begin with an aesthetic vision, and the flavors follow. In this case, inspired by jewel-like plums, plumcots, and pluots at the Farmers' Market, I had a vision of a tart topped with alternating half-moon plum slices in pink and red. From plums, my thoughts turned to honey and ginger and mascarpone. I'd also been intrigued by various no-bake cheesecake recipes that had popped up in my internet searches. And I'd just bought a square tart pan, which I was eager to deploy.
So the vision took shape: A plum or plumcot tart with a no-bake honey ginger mascarpone cheesecake filling. The only hitch was the crust. My standby tart crust as of late has been the sweet pastry dough recipe in Julie Jones' cookbook Soulful Baker. But I'd just moved, and all my cookbooks were packed away. I figured a quick internet search would turn up an appropriate substitute, and quickly settled on a recipe from a reliable website. It was a standard sweet shortcrust, which I confidently mixed together and baked. What emerged was an unevenly colored (okay, burned), crumbling shell. In other word, a total failure. I wondered if I should go a different direction, perhaps a shortbread crust?
Fortuitously, as I was scrolling through my DVR'd episodes of America's Test Kitchen, I saw that the next episode in my queue featured a fresh fruit tart  That seemed promising, and, indeed, it proved to be exactly what I was looking for: a shortbread crust with the bonus of browned butter; a perfect complement to the plums, honey, and ginger.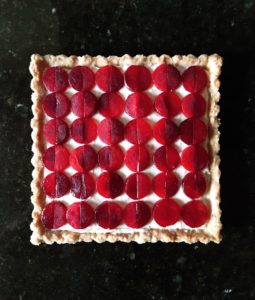 This tart is obviously flexible. You can use any plums or plumcots, though red- and pink-fleshed varieties will be prettiest. I used a cookie cutter to cut circles from 1/4 inch plum and plumcot slices, which I then halved. I attempted to alternate darker and lighter red half moons. You could also forgo the cookie cutter fiddling and simply layer plain plum slices atop the mascarpone filling.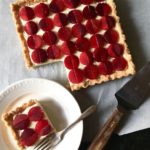 Plum Tart with Honey Ginger Mascarpone Filling
The plums or plumcots in this tart are layered atop a no-bake honey ginger mascarpone cheesecake filling, nestled in a browned butter crust. The browned butter crust is adapted from America's Test Kitchen.

Ingredients
Browned Butter Crust
1 2/3

cup

all-purpose flour

5

tbsp

sugar

generous 1/8

tsp

salt

12 1/2

tbsp (1/2 cup plus 4 1/2 tbsp)

unsalted butter

2 1/2

tbsp

water
Filling
4

oz

neufchâtel or regular cream cheese

at room temperature

1 1/2

inch piece

fresh ginger

peeled

5

tbsp

honey

5

oz

mascarpone

1/2

cup

heavy whipping cream

5-7

plums, pluots, or plumcots

ripe but firm
Instructions
Browned Butter Crust
Place rack in center of the oven and preheat oven to 350 degrees Fahrenheit.


Whisk flour, sugar, and salt together in a bowl.


Melt the butter in a small stainless steel saucepan over medium-high heat, swirling occasionally, until the foam eases up. When the butter solids begin to turn golden and the butter has a nutty, toasted aroma, remove the pan from the heat and add the water. The mixture will bubble up. When the bubbling eases up, add the browned butter to the flour mixture and stir to create a dough.


Transfer the dough to a 9-inch square or 10-inch round fluted tart pan with removable bottom. Set aside for 10 minutes, until the dough is just warm.


Press the dough evenly across the bottom and up the sides of the tart pan. You will use about 2/3 of the dough for the bottom and 1/3 for the sides.


Place the pan on a wire rack set on a baking sheet, and bake until the crust is golden brown, about 25 to 30 minutes, rotating the pan halfway through.


Allow the baked crust to cool for at least an hour.

Filling
Using a microplane grater, grate the ginger into a fine-mesh strainer set over a small bowl. Press the grated ginger to extract the ginger juice. Discard the solids. Set the ginger juice aside.


Using an electric mixer, whip the mascarpone and heavy whipping cream together until stiff peaks form. Transfer this mixture to another bowl and set aside.


Again using the electric mixer (no need to clean the bowl or beaters), blend the cream cheese with the ginger juice and honey. Then fold in the reserved mascarpone mixture. (Taste the mixture--if you would like it to be sweeter, fold in a bit more honey or a few teaspoons of sugar.)


Spread the filling in the cooled tart crust, and place in the refrigerator to chill for at least three hours.


Slice the plums, plumcots, or pluots as desired, and layer the slices atop the chilled mascarpone filling. Store in the refrigerator until ready to serve. (It will be best served the same day.)

---
---