Halva + Tahini "Forgotten Cookies"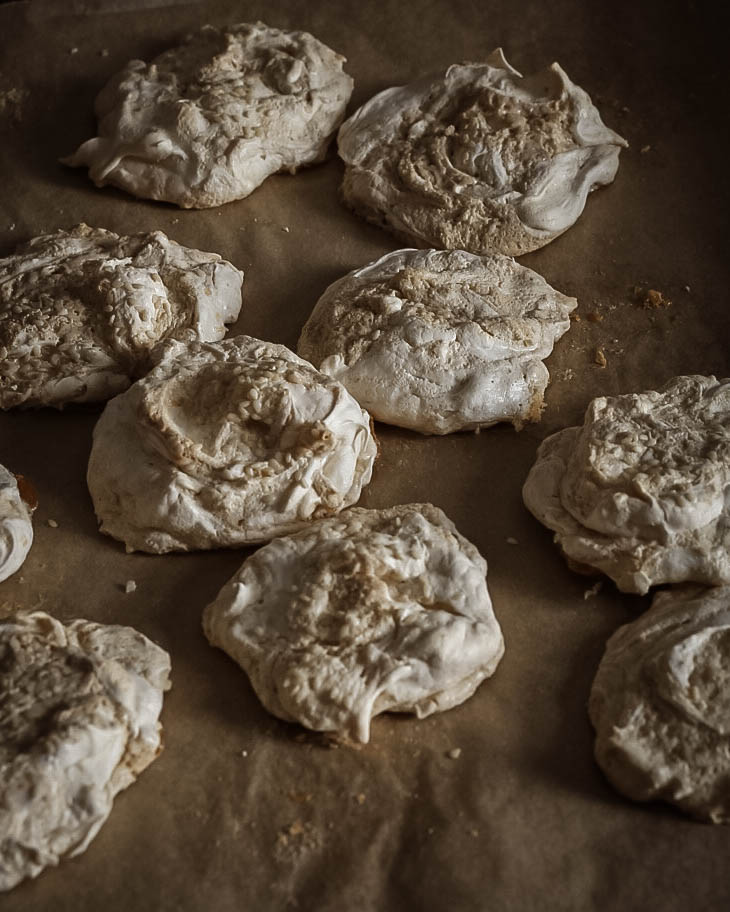 Passover desserts generally come down to eggs: separated and whipped into a frenzy for sponge cake; blended with coconut or almond flour for macaroons; or beaten with sugar for meringues. These "cookies" are, basically, meringues. They're adapted from a recipe by one of my baking heroes, Nigella Lawson. They are called "forgotten" cookies because after you scoop the mounds of meringue onto parchment and pop them in the oven, you immediately turn the oven off, and then leave the cookies there–forget about them–overnight. In the morning (or really, any time 5-8 hours later), you open the oven and the cookies are done–crispy on the outside, perfectly marshmallow-y on the inside.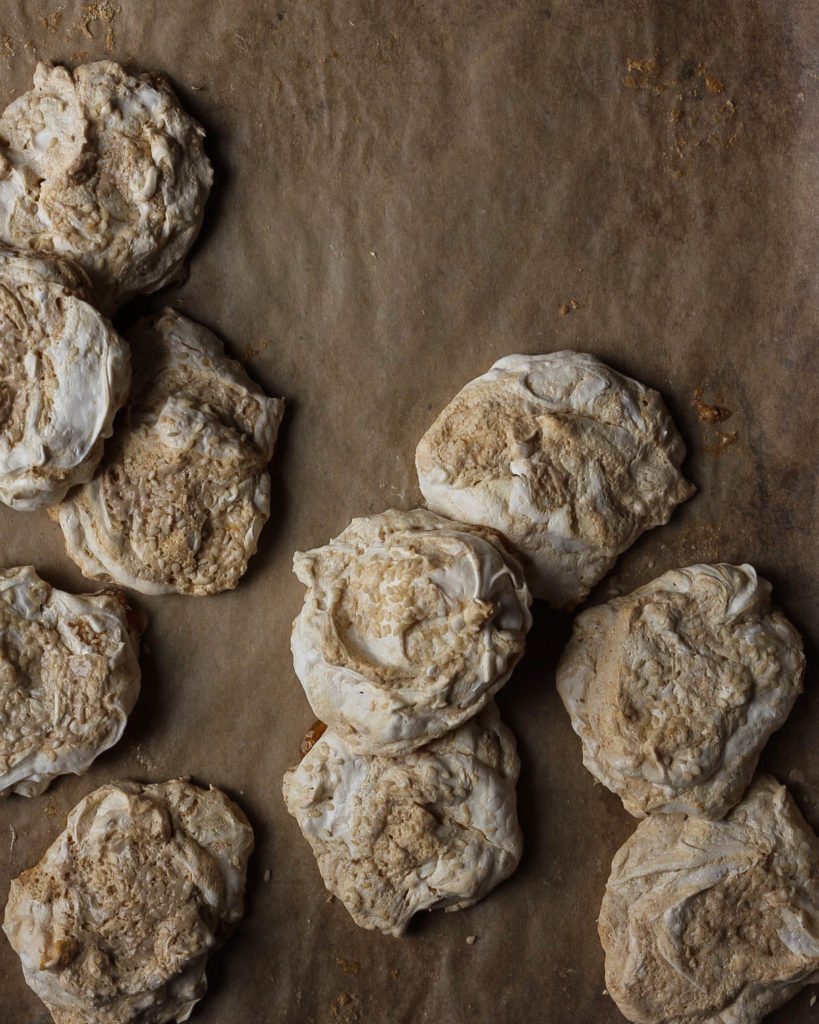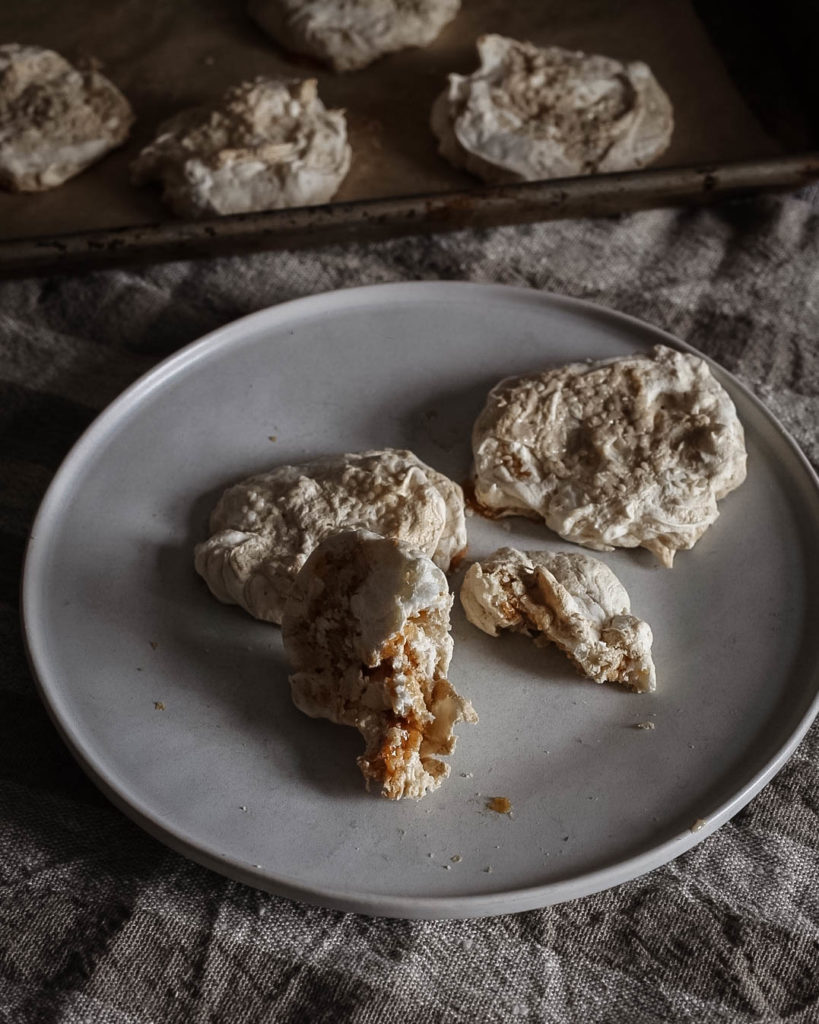 The original recipe features a hint of cardamom, and pistachios and chocolate chips mixed into the meringue. But after recently seeing a rendition with Nutella swirled in, my mind turned to the jar of tahini sitting in my pantry, and the open container of halva in my fridge . . . and the sesame praline I had leftover from decorating a carrot cake a few weeks ago. A vision of a sesame variation took form. The cookies that resulted were exactly what I was hoping for–many layers of sesame goodness, with the tahini nicely cutting through the sweetness of the meringue.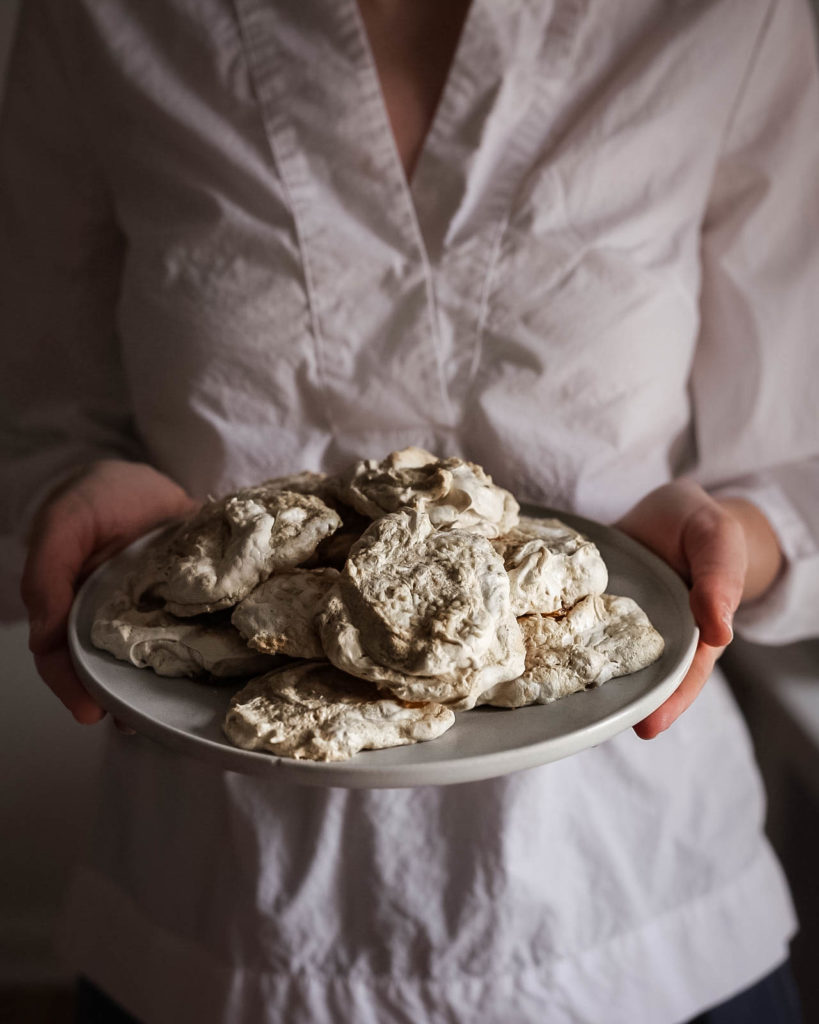 A few notes:
The original recipe calls for caster (superfine) sugar, which dissolves more easily than regular granulated sugar, helping prevent a grainy meringue. I was out of superfine sugar, though, so I used a trick I learned from Molly Yeh, and heated my regular sugar in the oven for a few minutes before incorporating it into the egg whites.
Instead of ground cardamom, I flavored the meringue with a 1/2 tsp of vanilla bean paste. But you should feel free to use either or both — cardamom and sesame are a great combination.
You should also feel free to get creative with the mix-ins: mini chocolate chips and pistachios (as in the original recipe) would be great additions, as would other chopped nuts or even finely chopped dried fruit.
Halva + Tahini "Forgotten Cookies"
Adapted from At My Table, by Nigella Lawson. These meringue-based cookies are gluten-free, dairy-free, and Passover-friendly. Oh, and they're delicious.
Keyword
gluten-free cookies, gluten-free desserts, halva cookies, meringue cookies, passover cookies, passover desserts, sesame cookies, tahini cookies
Ingredients
2

large egg whites (about 75 g total)

pinch

salt

100

g

sugar

1

tsp

cider vinegar or white wine vinegar

1

tsp

potato starch or cornstarch

1/2

tsp

vanilla bean paste

90

g

crumbled halva

50-60

g

chopped sesame praline candy, mini chocolate chips, chopped pistachios, or other mix-ins

2

tbsp

tahini

– whipped until smooth
To finish:
1

tbsp

tahini

– whipped until smooth (optional)

2

tsp

sesame seeds

(optional)
Instructions
Line one large baking sheet or two medium baking sheets with parchment paper. Preheat the oven to 400 F.

Spread the sugar on one of the baking sheets in an even layer, and heat in the preheated oven for 7-8 minutes. Remove the pan from the oven and reduce the oven temperature to 350 F.

Meanwhile, using a hand mixer or stand mixer with whisk attachment, whip the egg whites with a pinch of salt until soft peaks form. Turn the speed to low and gradually add the heated sugar. Turn the mixer to high and continue beating until the mixture is glossy and forms firm peaks.

Use a rubber or silicone spatula to fold in the potato starch, vinegar, and vanilla bean paste. Now fold in the crumbled halva and other "mix-ins" — mini chocolate chips, sesame praline candy, etc. Finally, swirl in the 2 tablespoons of tahini — don't try to fully incorporate it.

Use a spoon to drop 12-14 mounds of the meringue mixture on the lined baking sheet(s). If you want, swirl a bit more tahini into the top of each mound, and sprinkle over some sesame seeds.

Place the cookies in the oven, and then place a sticky note on or near the oven door to remind you that the cookies are in there! Now, turn off the oven, and forget about the cookies for the next 5 hours, or overnight. The cookies will be cooked by the residual heat, yielding crisp outsides and marshmallow-y insides.
Recipe Notes
Feel free to adapt the mix-ins based on your preferences and what you have on hand. In addition to the crumbled halva, I mixed in some chopped sesame praline candy. If you want to follow suit, you can make your own sesame praline by following the basic instructions for the hazelnut praline in the chocolate chunk, rye, and hazelnut praline cookies on this blog, just substituting lightly toasted sesame seeds for the chopped hazelnuts. I recommend making a half quantify.
The original Nigella Lawson cookies are flavored with a bit of ground cardamom. Feel free to go that route instead of, or in addition to, using the vanilla bean paste.
The original recipe calls for leaving the cookies in the oven overnight. I did not plan well, and ended up mixing and baking them in the morning. 5 hours in the oven was more than sufficient. Basically, once the oven and cookies have fully cooled, you should be good to go.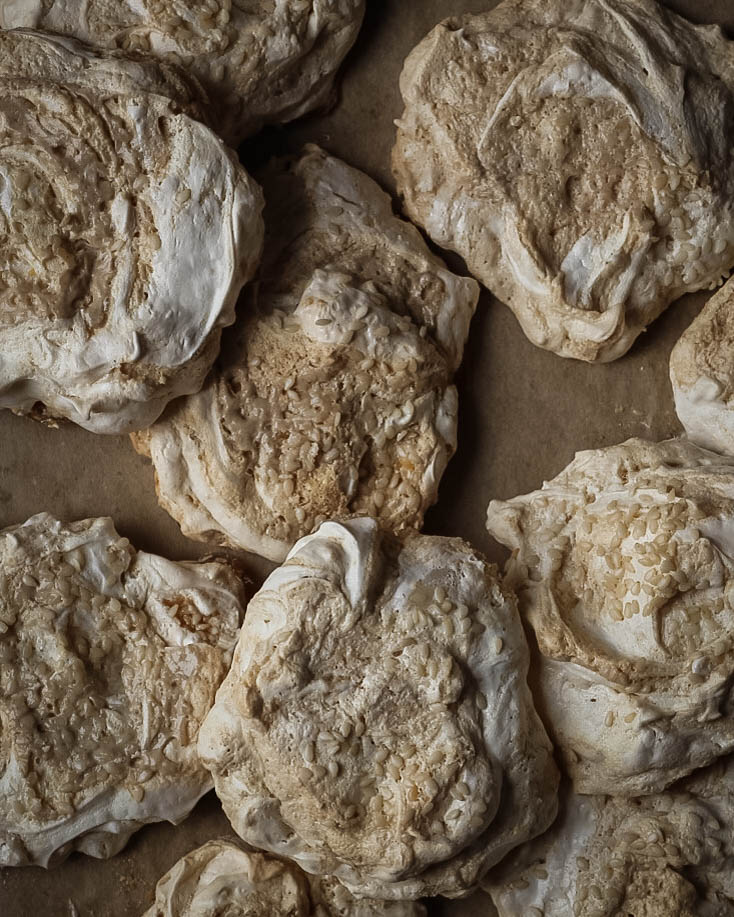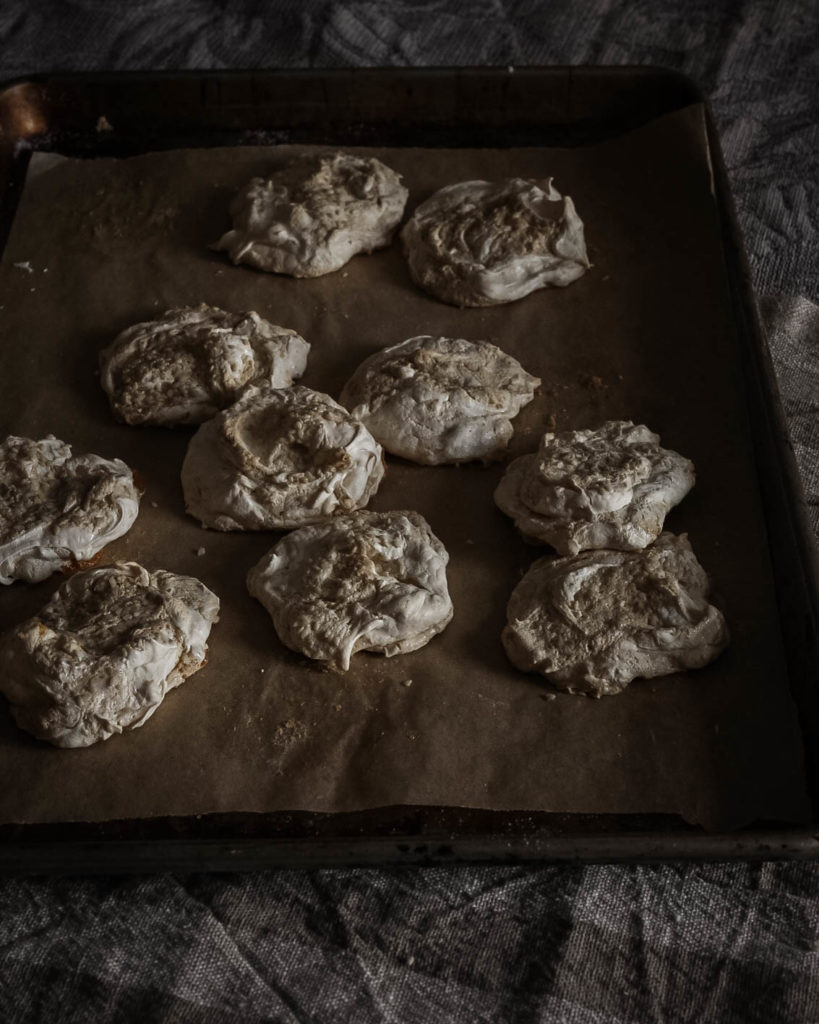 ---
---