Vegan, Gluten-Free Chocolate "Caramel" Tart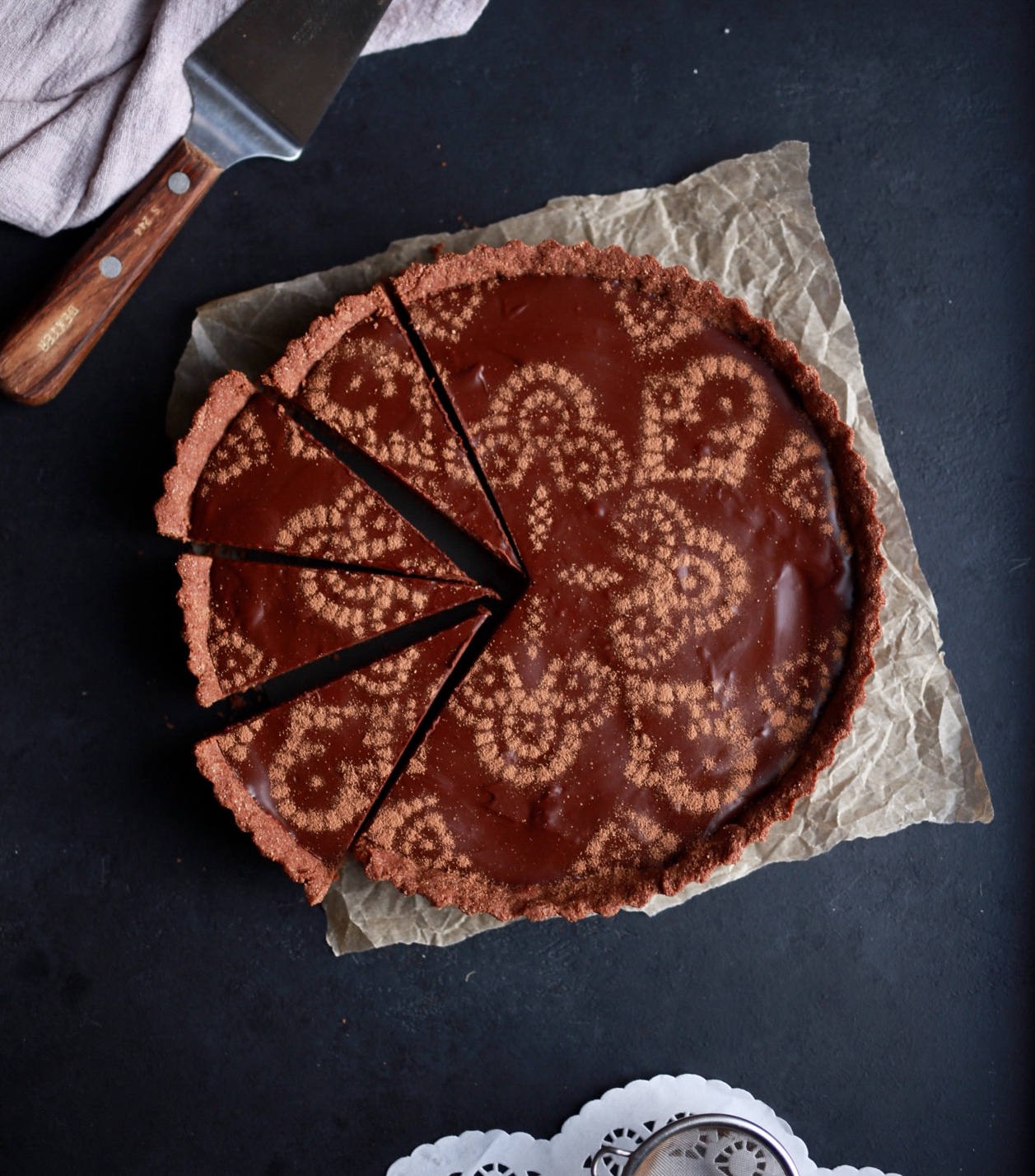 This chocolate "caramel" tart was born of a desire to redeem myself after a baking fail. It was Passover, but I had found some lovely pink rhubarb at the market and couldn't get the idea of a rhubarb tart out of my head. I decided to try an almond flour crust, but, rather than following any actual recipe, I figured I would just do as I would for a normal crust–some butter, sugar, a pinch of salt, and egg yolk to bind everything together. The crust baked up nicely and the tart–which was topped with a gorgeous lattice of poached rhubarb–looked beautiful. But when I attempted to release it from the tin . . . it wouldn't budge. The egg yolk had basically welded the tart to the tin. I suppose I could have just moved on, waited for Passover to end, and returned to my normal tart-baking routine. But I needed redemption.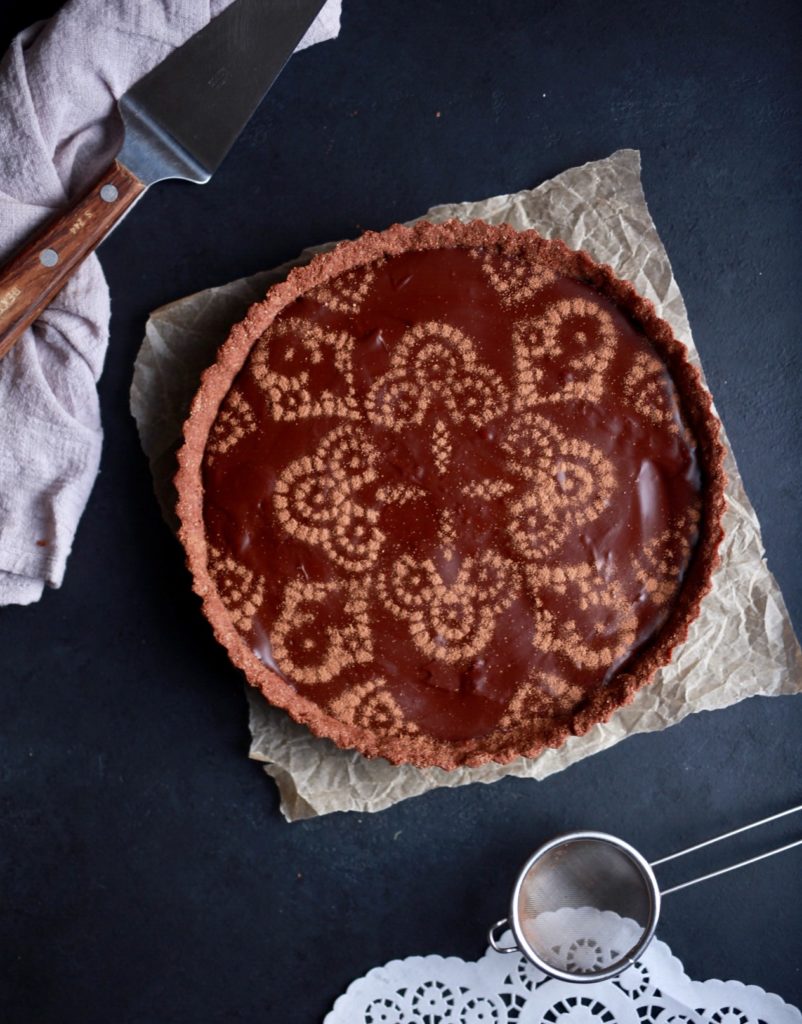 Nonetheless, I didn't have time for another rhubarb lattice or anything similarly fussy. A chocolate tart with a simple ganache filling seemed doable. This time, after a bit of googling, I decided to follow an actual recipe for an almond flour crust. (Looking for chocolate, I adapted this one.) While a ganache filling would have been the easiest route, truth be told, that seemed like a bit too much chocolate for my taste. Then, in the course of my almond-flour-tart-crust googling, I happened across a recipe for vegan caramel. Although the ingredients and technique were totally different, it brought to mind the dairy-free cacao-caramel bites I made a few months ago from the "Fresh & Light" section of Donna Hay's remarkable tome, Modern Baking. Those morsels involved a "caramel" made of soft, sticky dates whizzed in the food processor with nut butter, coconut oil, and raw cacao powder, and they were a huge and unexpected hit with my friends.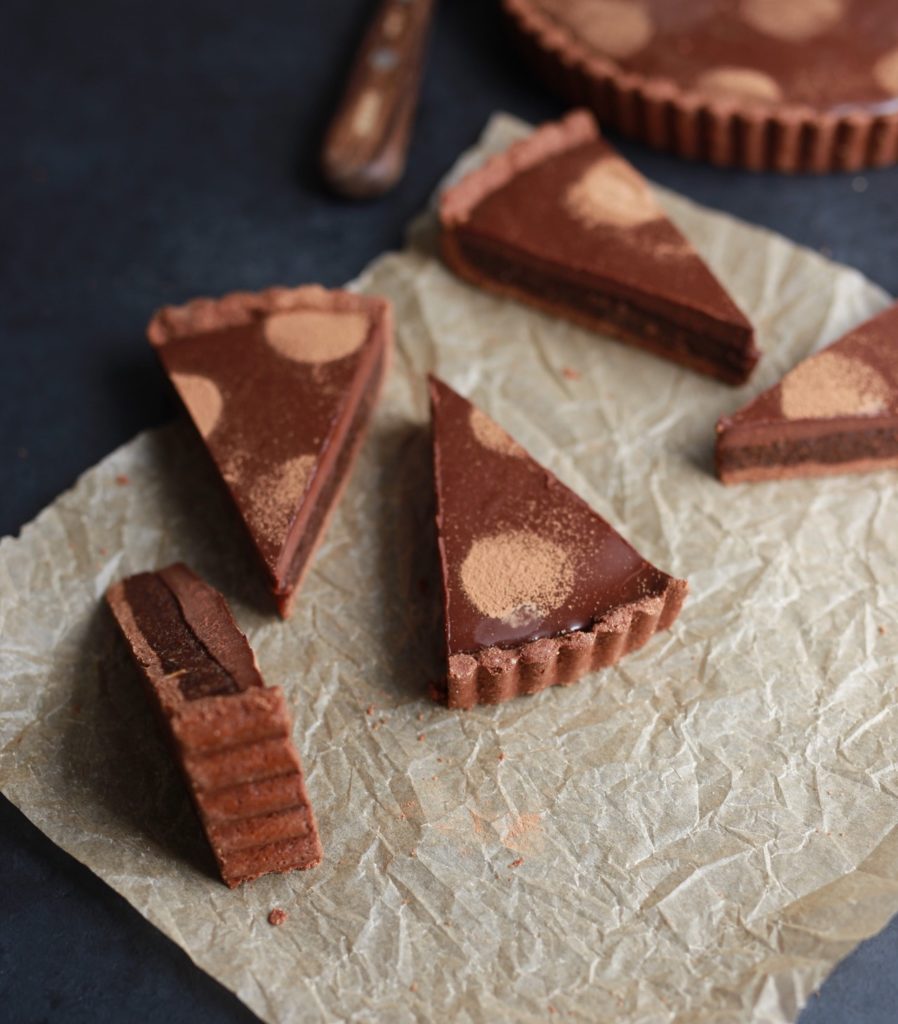 Since I was already making a gluten-free, dairy-free crust (thanks, coconut oil), I figured, why not go all in? The vegan, gluten-free tart that resulted was, if I do say so myself, rather a triumph. It's sweet and satisfying, but not TOO sweet. The only refined sugar is from the dark chocolate in the vegan ganache. It released from the tin easily. (Hallelujah!) And it is probably the easiest, fastest tart I have ever made. Be forewarned, though: the "caramel" is in scare quotes for a reason. This tart tastes a bit, well, healthy. But in a good way. And the thick layer of chocolate ganache does add some level of decadence, dairy-free though it is. (I splurged and used some Valrhona feves–the quality of the chocolate does make a difference here.)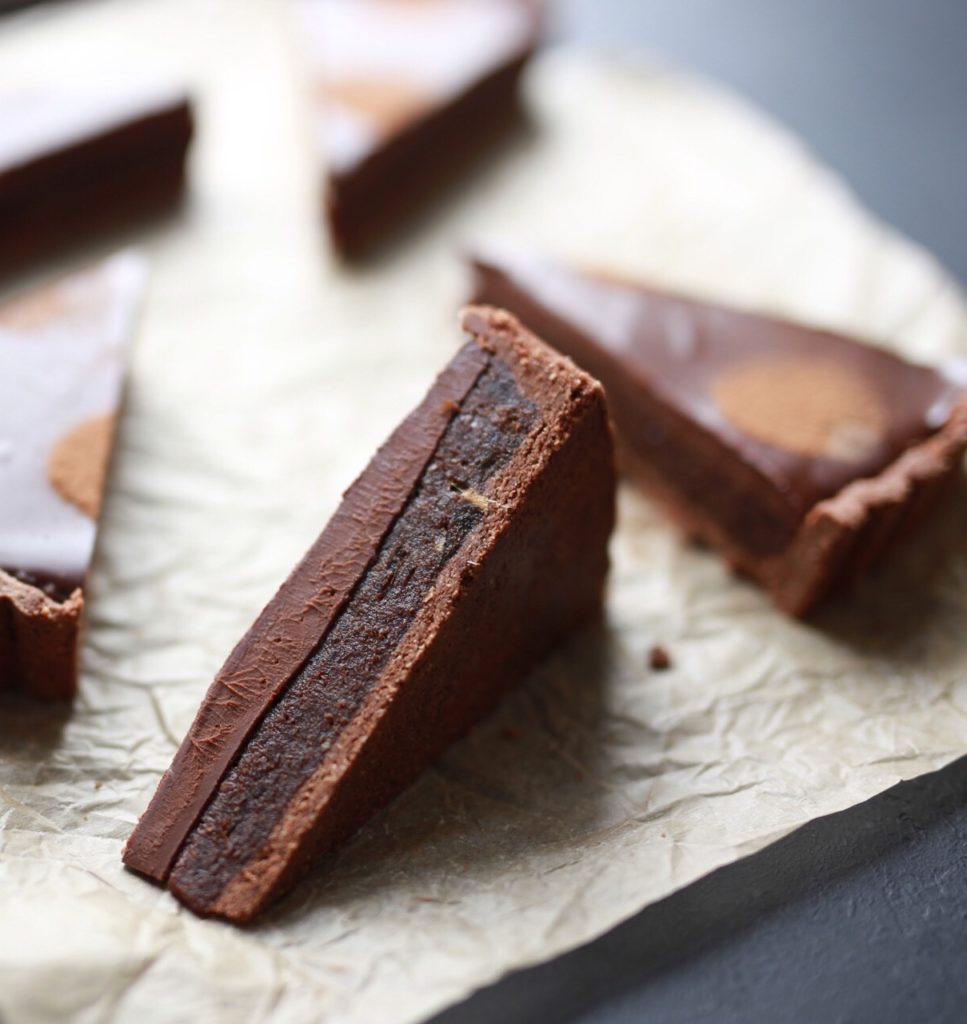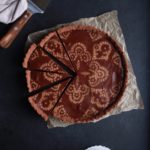 Vegan, Gluten-Free Chocolate Caramel Tart
The "caramel" for this dairy-free, gluten-free tart is made of soft dates blended with almond butter, coconut oil, and cacao powder. The vegan chocolate ganache topping adds a bit of decadence. The date caramel filling is adapted from Modern Baking by Donna Hay. The crust is adapted from this recipe, on the blog Gimme Some Oven.

Ingredients
Crust
2

c. / 200 g

almond flour

1/4

c. /23 g

raw cacao powder (or cocoa powder)

pinch

salt

3

tbsp

maple syrup

1/4

c.

coconut oil,

melted (plus more for greasing tin)
Date Caramel Filling
500

g

soft Medjool dates

pitted

75

g

almond butter

1.5

tsp

vanilla paste or vanilla extract

5

tsp

coconut oil,

melted

21

g

raw cacao powder (or cocoa powder)

pinch

salt
Vegan Chocolate Ganache
224

g / 8 oz

dark chocolate (60% to 70%)

chopped (I used Valrhona Manjari 64% bittersweet)

3/4

c.

full-fat coconut milk
To finish:
raw cacao powder (or cocoa powder)
Instructions
Preheat the oven to 350 F.
Grease a 9-inch tart pan generously with melted coconut oil.


In a large bowl, whisk together the almond flour, cacao powder, and salt. Add the melted coconut oil and maple syrup and mix with a sturdy spoon or silicone spatula until evenly incorporated.


Press the almond flour crust mixture into the tart pan. (You can use a measuring cup or similar to help press it evenly along the bottom and up the sides of the tin.)


Bake the tart crust for 15 minutes, until it appears dry and firm. Set aside to cool.

Make the date caramel filling:
After the crust has cooled for a bit, combine the dates, vanilla, cacao powder, melted coconut oil, pinch salt, and almond butter in a large capacity food processor. Blend until smooth.


Transfer the date caramel mixture to the cooled tart crust, gently and evenly pressing it in with a silicone or rubber spatula.

Make the chocolate ganache:
Place the chopped dark chocolate in a medium, heatproof bowl.


In the microwave or in a small saucepan on the stove, heat the coconut milk until simmering. Pour the hot coconut milk over the chopped chocolate, and leave to steep for about 30 seconds to a minute.


Mix or whisk the chocolate into the coconut milk until smooth, then immediately pour the ganache mixture over the date caramel-filled tart. Use an offset spatula to spread and smooth out the ganache.


Transfer the tart to the refrigerator and allow to chill (for at least an hour or two, and preferably overnight) until the ganache is firm.

Decorate the tart:
Dust the chilled tart with cacao powder or cocoa powder, using a stencil if you want to get fancy.

Recipe Notes
For the caramel, use the softest, stickiest, gooiest dates you can find. Medjool are probably your best bet among widely available varieties. When I made Donna Hay's caramel-cacao bites, I used fantastically soft and sweet Persian dates from the culinary mecca Kalustyans, in New York City. But Medjools should work fine, as long as they are extremely soft.
To make the caramel, you do need a large food processor (rather than a mini one), and its motor does need to be able to handle some heavy-duty blending. (If you try to mix the filling in a wimpy food processor, you may damage the motor.)
To cut the tart, use a large, sharp knife that has been heated by placing the blade in (or under) hot water, then drying it off.
Try to let the tart come to room temperature before serving–the filling texture will be relatively firm regardless, but allowing it to come to room temperature will keep it from being too chewy.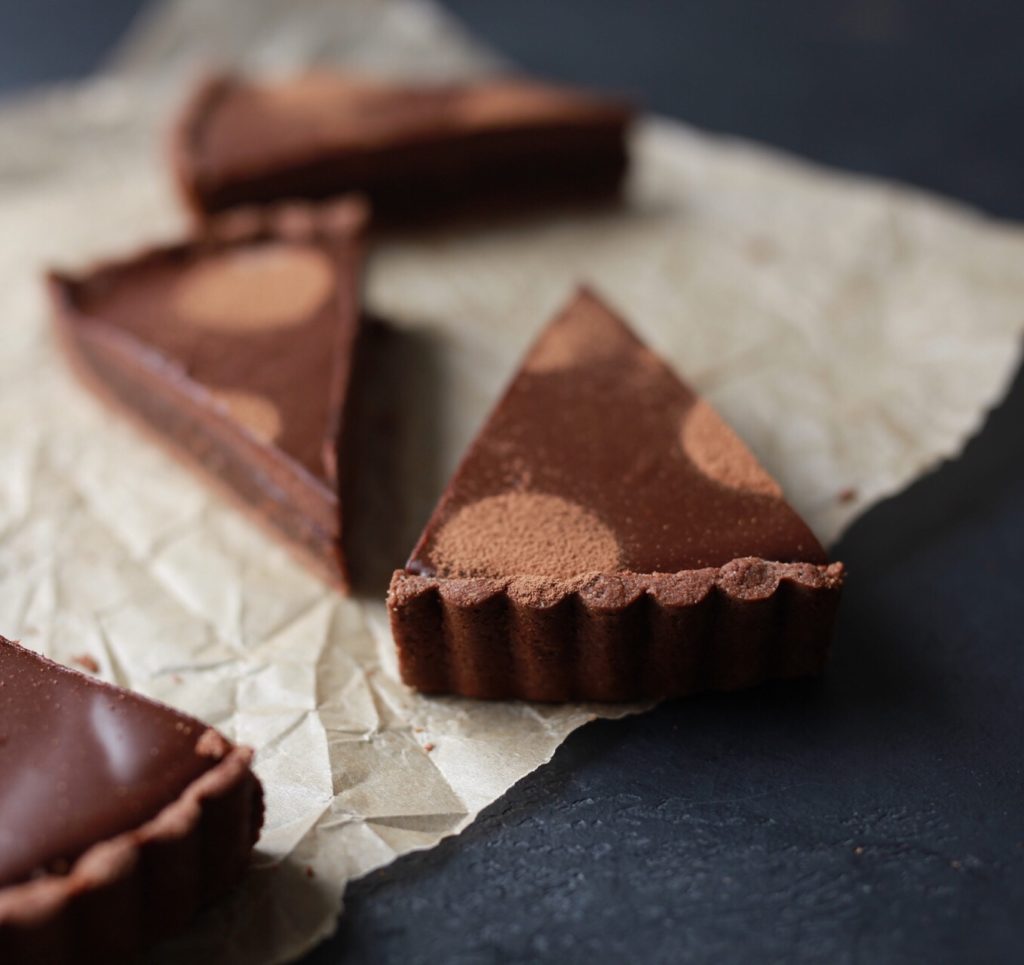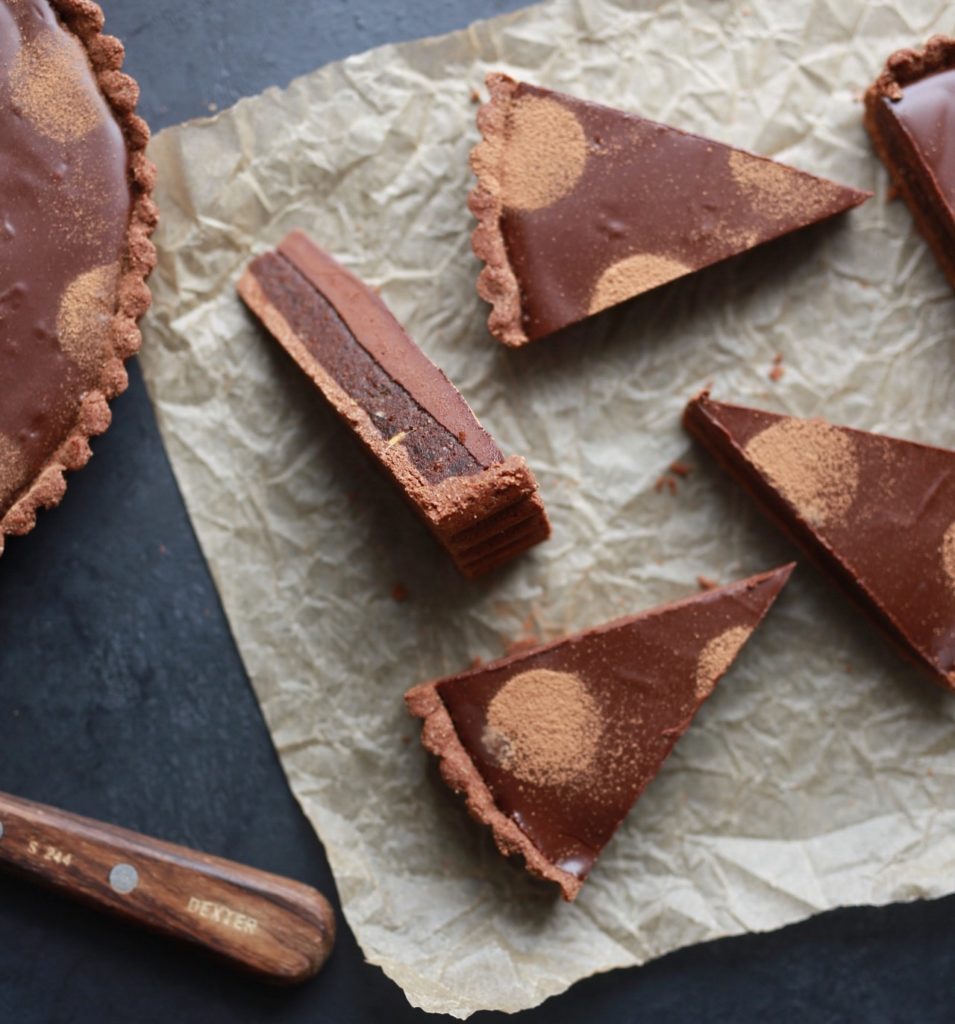 ---
---