Peanut Butter-Banana Brownies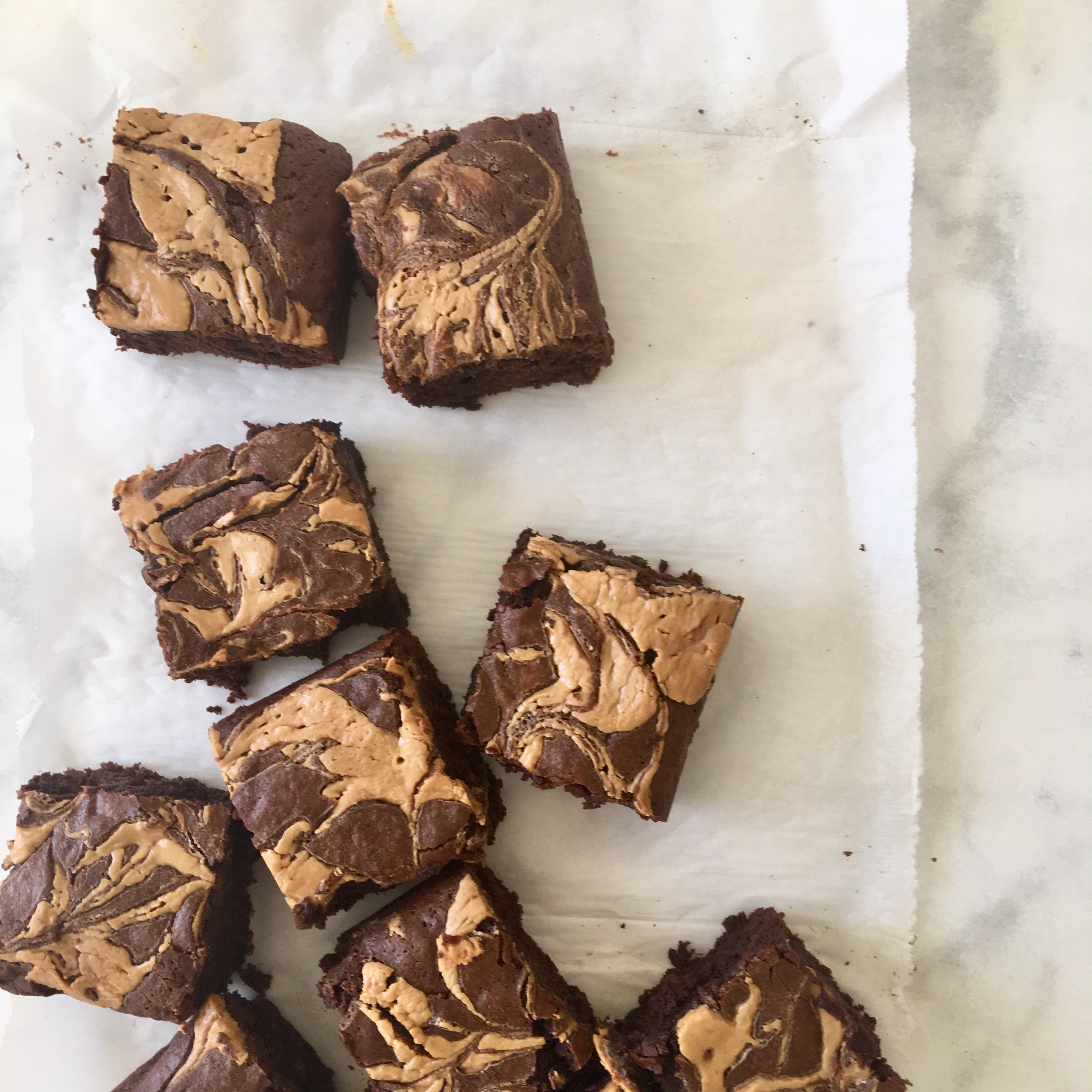 To be honest, I'm not sure what put the idea for these peanut butter-banana brownies into my head. A couple of weeks ago, I had some overripe bananas sitting on my counter, and my plan was to turn them into chocolate chip banana bread. Then, for some reason, I thought: "I wonder if I could incorporate the mashed bananas into a brownie, replacing some of the butter?" Then I thought of how chocolate + banana + peanut butter is a classic flavor trinity, and I contemplated my imagined brownie incorporating a peanut butter swirl as well.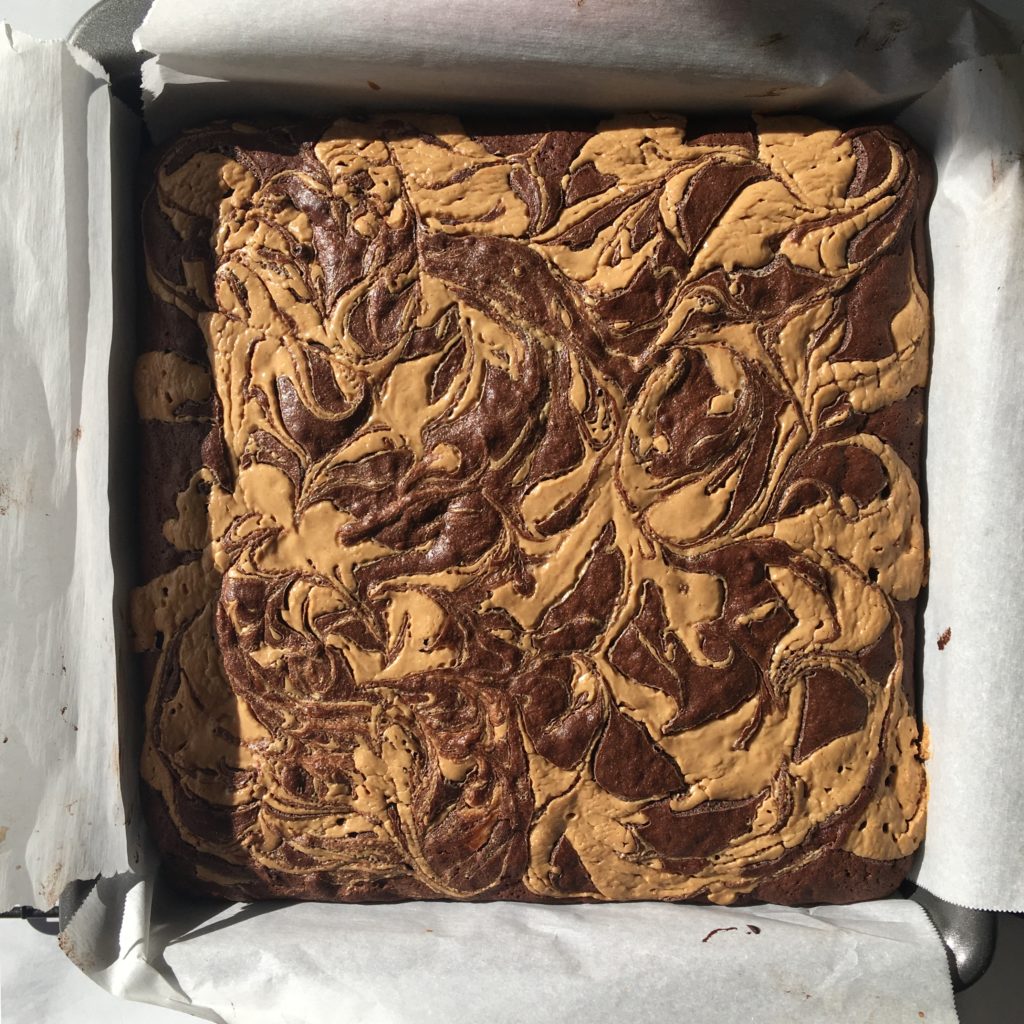 With this vision formed, I was determined to see it through. The next question was what brownie recipe should be my starting point. I considered several of my favorites — including Alice Medrich's Cocoa Brownies, as well as the King Arthur Flour recipe I've become sort of obsessed with. However, then I remembered (how could I forget!) the unimaginably delicious Tahini-Halva Brownies from Sweet, by Yotam Ottolenghi and Helen Goh. They're amazing, and since the original recipe has a tahini swirl, it seemed readily adaptable to my peanut-swirled vision. The Sweet recipe also includes a generous amount of butter, which made me optimistic that replacing half of it with banana would not be disastrous.
My first attempt at the brownies was definitely not a failure–the chocolate and banana and peanut butter complemented each other perfectly. And the texture was so rich and fudgy that I don't think anyone missed the extra butter. But the result was still not quite what I had envisioned. I had mixed 50 grams of peanut butter with some of the banana and a bit of heavy cream, which, instead of making the peanut butter more swirl-able, just led it to seize up. So, aesthetically, I wasn't satisfied. I also thought the chocolate-banana-peanut-butter balance was not quite right–I wanted more peanut butter.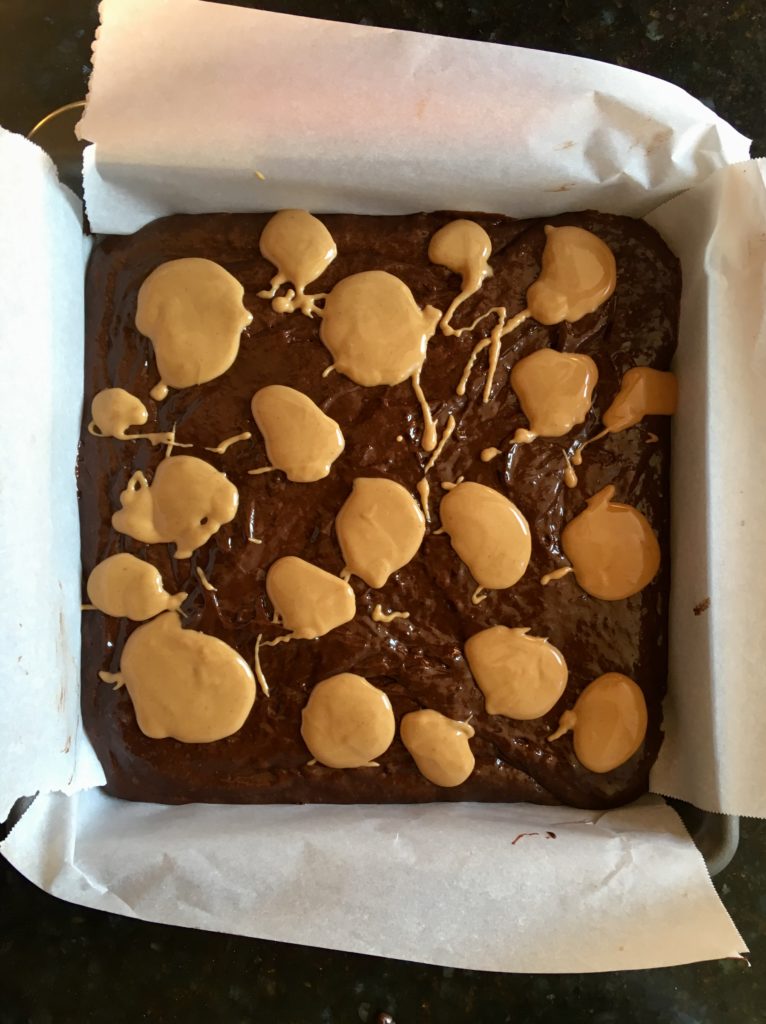 Before my next attempt, I decided to actually look at some recipes for chocolate-peanut butter brownies, to see what the peanut butter element involved. In most cases, the peanut butter was mixed with powdered sugar, and sometimes also with melted butter and/or egg, to create, basically, a sweet peanut butter batter. That wasn't what I was going for–I wanted the peanut butter to work like the tahini in the Ottolenghi/Goh original: a simple, creamy, slightly bitter (in a good way!) counterpart to the sweet brownie batter. In the end, I simply heated the peanut butter gently to allow it to be more readily swirled, and almost doubled the amount. Perfection.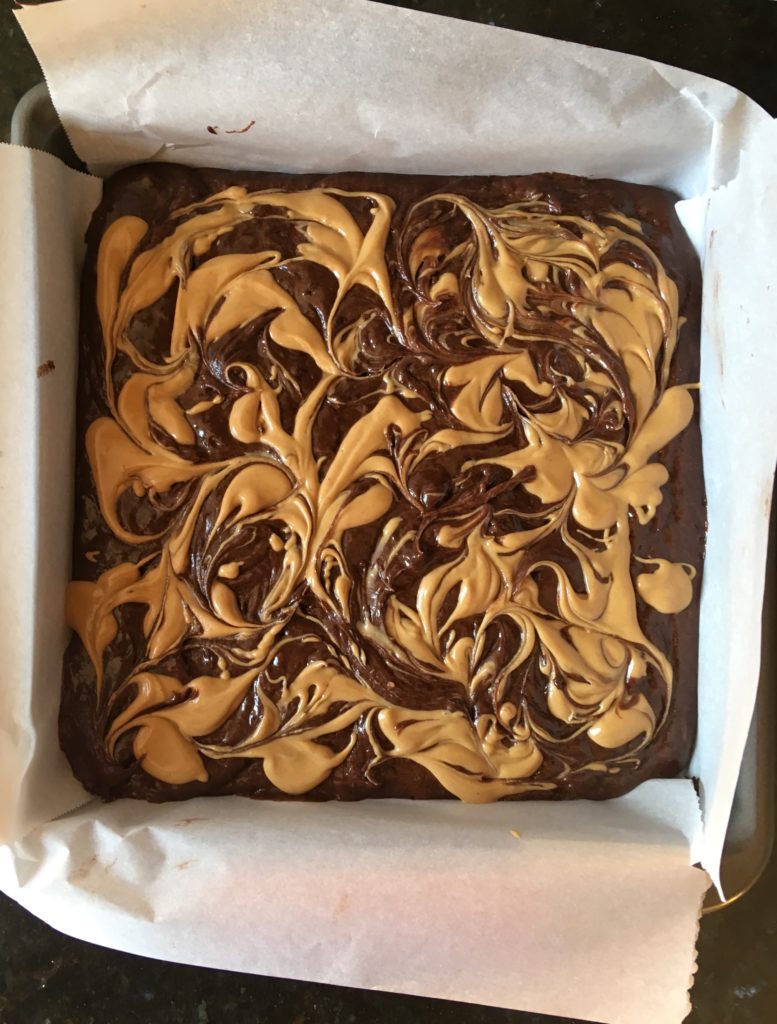 Afterwards, it occurred to me that the flavor profile of these brownies has a lot in common with another recipe from Sweet–the chocolate banana pecan cookies. So this is basically just another mash-up of two Ottolenghi recipes. That's not a bad thing.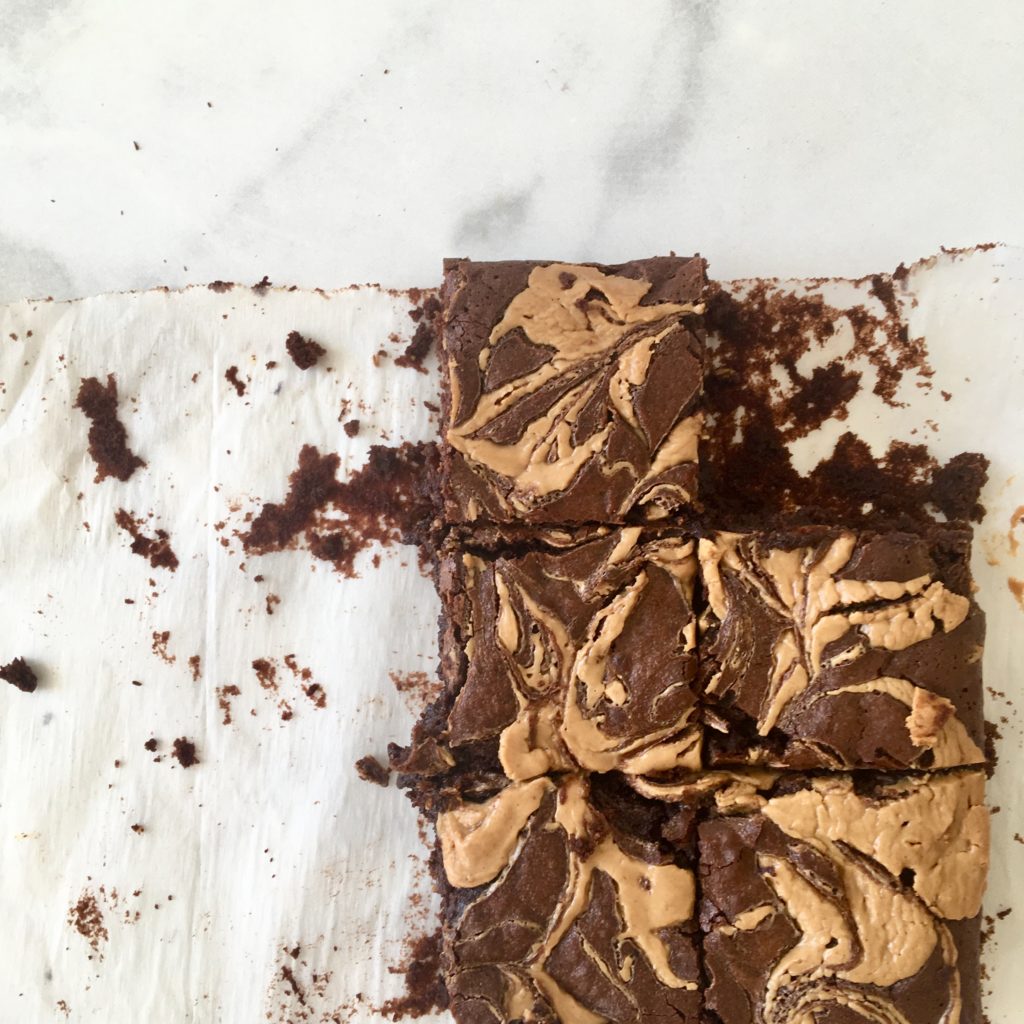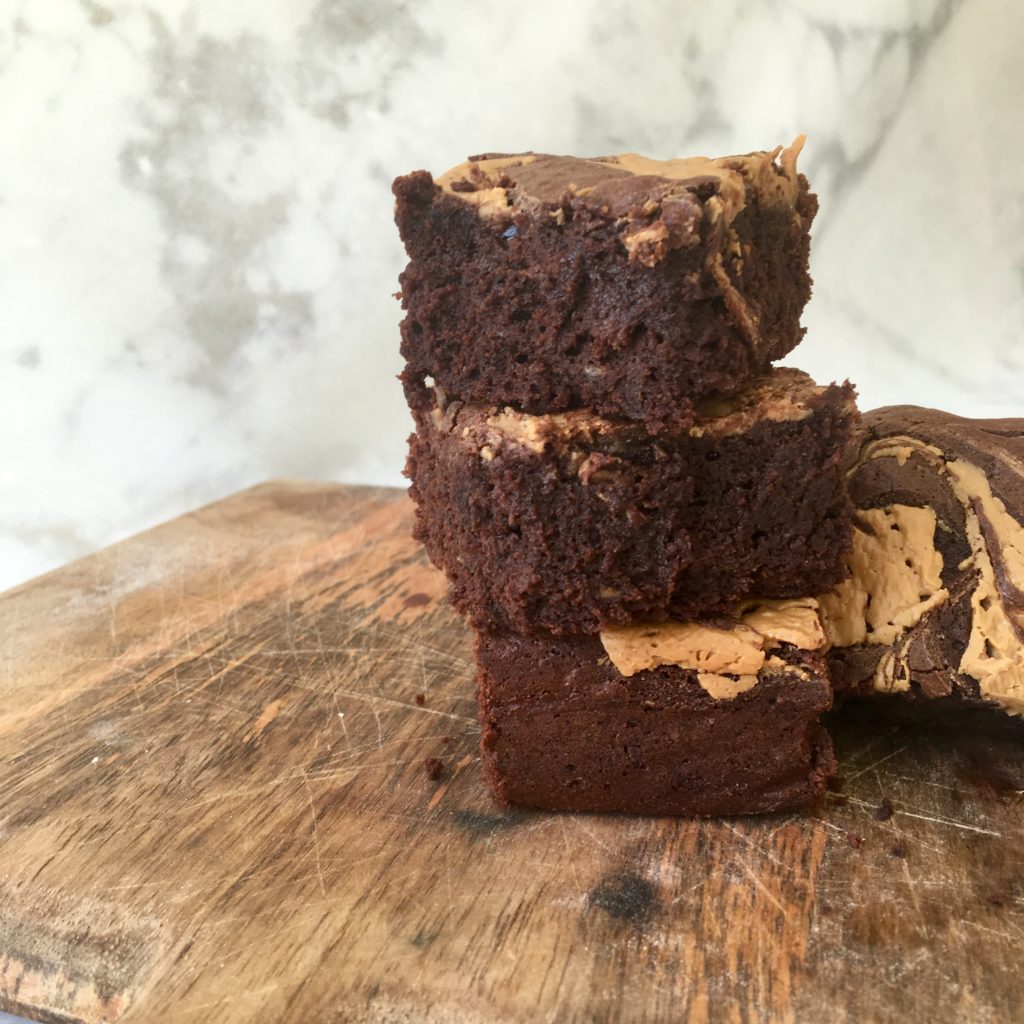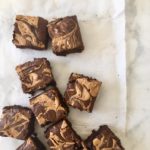 Peanut Butter-Banana Brownies
A chocolate-banana batter is swirled with peanut butter for a decadent, yet not too sweet, brownie. Loosely adapted from Sweet, by Yotam Ottolenghi and Helen Goh.

Ingredients
125

g

unsalted butter

cut into chunks

200

g

semisweet chocolate

chopped

60

g

unsweetened chocolate

chopped

135

g

mashed banana (very ripe)

– approximately 2 small bananas

4

large eggs

280

g

sugar

120

g

all-purpose flour

30

g

Dutch-process cocoa powder

1/2

tsp

table salt

75 – 90

g

smooth peanut butter

(see notes)
Instructions
Preheat the oven to 400 F. Line a 9-inch square baking pan with baking parchment.


In a heavy-bottomed saucepan over low heat, melt the butter together with the chopped semisweet and unsweetened chocolate, stirring occasionally. As soon as almost all the chocolate and butter is melted, turn off the heat and stir to help melt the last few bits.


Allow the melted butter and chocolate to cool to just warm, and then mix in the mashed banana.


Meanwhile, sift together the flour, cocoa, and salt.


In a large bowl, use an electric mixer to whisk the eggs with the sugar until pale and creamy, about 3 minutes. Add the chocolate-butter-banana mixture and fold it in with a rubber or silicone spatula, being careful not to overmix.


Fold in the sifted flour, cocoa, and salt, just until fully incorporated.


Scrape the brownie batter into the parchment-lined baking pan.


In the microwave or a small saucepan, gently heat the peanut butter until it softens to an almost liquid consistency. (30 seconds in the microwave at 40% power should do the trick.)


Spoon dollops of the peanut butter on top of the brownie batter. Then run a skewer or toothpick through the batter to create a marbled effect.


Place the pan in the preheated oven and bake for 23-25 minutes, until there is just a slight wobble in the center.


If you can restrain yourself, cool completely before slicing.

Recipe Notes
For the peanut butter, I used Simply Jif, which is either barely sweetened or unsweetened, and relatively low sodium, but creamier than the "natural" style peanut butters. However, feel free to use a sweeter peanut butter, or to try a natural peanut butter. (If you do, let me know how it turns out!)
When I made these the second time, I used about 90 grams of peanut butter–if you use that amount, the brownies will be . . . very peanut butter forward. I liked that, but if you want a slightly less peanut-butter-heavy result, use 75 grams.
These are very fudgy brownies–even after they are fully cooled, the brownies toward the middle of the pan will be very gooey. Most people think that's a good thing.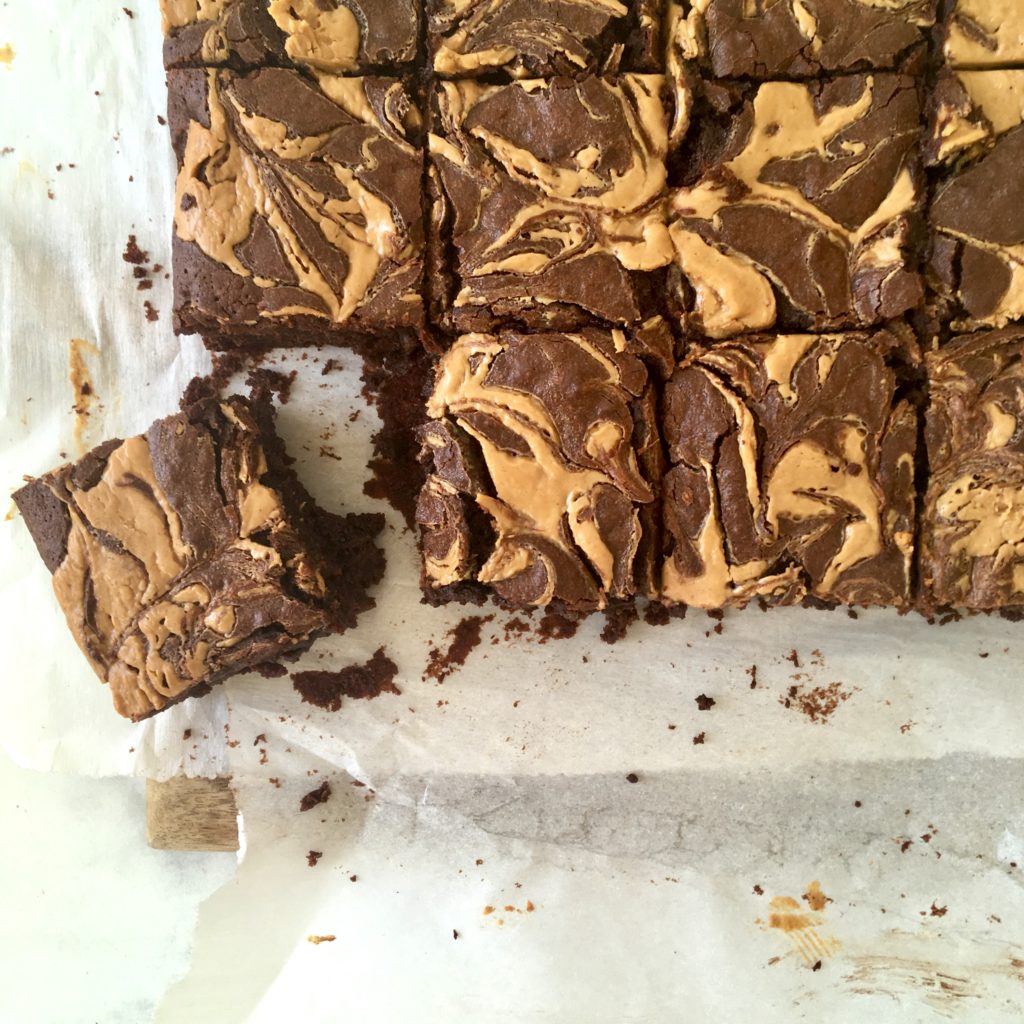 ---
---